Click for larger image © Jane Warburton / Saddo Boxing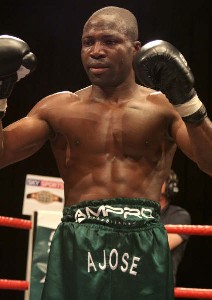 Friday night at the Peterlee Leisure Centre in County Durham, England saw the Commonwealth Light Welterweight Title Contest between the Champion, undefeated London based Nigerian Ajose 'Ring Marshall' Olusegun, and local challenger, Nigel Wright, of Hartlepool on a Barry Hearn/Matchroom Sport promoted Friday fightnight.
Both are southpaws, both aged 28, both are 5 feet 9 inches tall, both have a reach of 71 inches, both made their debuts in 2001 and both men have had 21 fights! That's a lot of similarities! But in the ring - their styles are completely different.
In the opening seconds, Wright, bearing a Beckham-style tattoo on his back, goes into a messy grapple with Olusegun but he does land a decent right jab to the face of the Nigerian and keeps focussed as he works in the centre of the ring. Olusegun is the favourite to win but it's a good first round for Wright.
Olusegun looks to me to be a bit irritated in his corner and Wright seems to have settled in to the fight better than his opponent.
Midway through round four and Olusegun is hurt by a right from Wright that finds it's mark 'bang on the chin'; his legs wobble and he hangs on to Wright to recover.
The Champion comes out for round five with more intention after that tough fourth round and Wright sustains a cut under the right eye, midway through the frame. But it's not long before Olusegun looks sloppy again throwing some wild swinging shots.
Wright continues to use the jab and after a minute of round seven, Olusegun is looking uncomfortable and glances across at his corner. But he starts to increase his work-rate in the closing half-minute and a punch just gets through Wright's defence.
It's a better round eight for Olusegun, and Wright sustains another cut - this time across his left brow.
In the opening half-minute of round nine, Olusegun throws a barrage of shots at Wright, who covers up well. But his right hand drops momentarily and a shot flies in from the Champion, although Wright takes it well.
Olusegun looks better this round. Wright still looks focused but he is throwing less punches now whereas Olusegun has increased his work-rate and has thrown a lot of body-punches. This can also be said for rounds ten and eleven, with Wright's corner urging him to pick-up the pace in the closing frame.
The twelfth and final round sees both men enjoying some success as they pull out all the stops for what might be the deciding round. "There's only one Nigel Wright," the home-crowd cheer.
With scores of 116-113, 116-113 and 116-113 on all three scorecards, Olusegun retains his title by unanimous points decision.
Afterward, Olusegun, 22-0 (11), gave Wright, 18-3-1 (9), respect, "He gave me a good fight," said the Champion, who insisted that he was ready to fight Ricky Hatton and Junior Witter.
A disappointed Nigel Wright said that he'd "switched off again (in the later rounds) ...I got a bit lazy," he admitted.
There was also some great undercard action at Peterlee Leisure Centre.
Exciting prospect Paul Truscott of Middlesborough faced Samir Kasmi of France, in an eight round featherweight contest. A mature fighter, despite his youthful 21 years, Truscott has been working with English Super Bantam titlist Rendall Munroe and is respected by many of the boxing community.
Truscott impressed with some great body-shots throughout the fight, but in the closing minute of round six a sudden flurry from the Frenchman sees Truscott caught by an uppercut. He has been hurt from the shot and his nose is bleeding profusely. This was the only real blip for Truscott and the fight goes the distance with the Englishman winning on points 79-75 after eight.
Truscott improves to 10-1 (0) while Samir Kasmi drops to 7-7 (2). Afterward, Truscott told Sky Sports Presenter Ed Robinson, that he'd 'learned a lot from the fight'.
Also on the undercard was Hartlepool boxer and former European, Commonwealth and British Super Bantam Champion Michael Hunter, making his second comeback bout after suffering defeat to Canadian, Steve Moliter, 11 months ago in an IBF title fight.
Wearing his trademark camouflage shorts, Hunter faced Syria's Youssef Al Hamidi, in a six round super featherweight contest. Throughout the bout, Hunter looked unimpressive but wins on points 58-57.
Despite a 3-7-1 (1) record, Al Hamidi has proven to be quite a difficult opponent to beat. Two of his three wins have come against undefeated prospects with far more experience but it's his performance in losses where Al Hamidi has really shined.
He lost to British Super Feather Champ John Simpson, 16-5 (6), by a score of 77-75 in an eight rounder, dropped a 58-57 verdict against two time British Super Feather title challenger Ricky Burns, 20-2 (4), in a six rounder, lost a six rounder to Lee Cook, 7-0-1 (3), by scores of 58-56, narrowly dropped a four rounder to Akaash Bhatia, 3-0 (0), via marks of 39-38 and now has pushed a former triple champion to the wall, losing by a single point after six rounds.
Afterwards, Hunter, 28-1-1 (12), admitted that he'd 'be better next time...fitter and better at the weight'.
Six foot five inch tall North East Boxer Chris Burton made light work of Blackpool's Mathew Ellis in a six round heavyweight contest. The taller Burton's punishing body-shots in the closing seconds of round two forced a retirement from former domestic contender Ellis.
This takes Burtons record to 10 straight wins, six by stoppage, while Eliis falls to 19-5-1 (9).
Middleweight Geard Ajetovic, 16-1-1 (8), picked up an eight round win over Francis Cheka, 13-5-1 (8), on points, 80-74, and seasoned Irish light heavyweight Brian Magee, 29-3-1 (19), stayed busy with a four round win over Mark Nielsen, 6-4 (2), with a score of 40-37.
Heavyweight prospect David Dolan, 7-0 (3), outpointed ex-British and Commonwealth Cruiserweight title challenger Lee Swaby, 22-19-2 (11), on a score of 60-55 after six rounds, super bantam Gavin Reid, 4-1 (2), posted a 40-36 decision over Tony McQuade, 2-3-0 (2), after four and at middleweight, Danny Thornton, 25-12-3 (5), posted a 40-38 win over Martin Marshall, 8-13-3 (0) in a four rounder.