Saddoboxing.com's countdown to Three-division world champions Manny Pacman Pacquiao Vs Eric Morales taking place Saturday, November 18 , from the Thomas & Mack Center in Las Vegas , NV , and broadcast live on HBO Pay-Per-View.

PACQUIAO V MORALES BOXING COUNTDOWN...

Manny Pacquiao Won via 3rd Round KO
Forum RD by RD Manny Pacquiao Vs Erik Morales RD by RD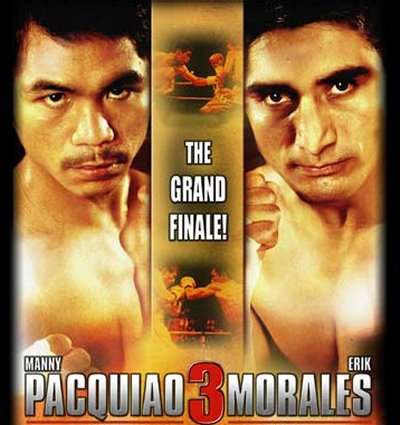 Manny Pacquiao

Record: 42 Wins 3 Losses 1 Draw
KO Ratio: 70.2%
Age: 27
Stance: Southpaw
Reach: 67"
Height: 5' 6½
Trainer: Freddie Roach
Notable Wins...
Marco Antonio Barrera
Erik Morales
Website: Manny Pacquiao

Erik Morales

Record: 48 Wins 4 Losses
KO Ratio: 65.3%
Age: 30
Stance: Orthodox
Reach: 72"
Height: 5' 8
Trainer: Jose Luis "Maestro" López
Notable Wins...
Marco Antonio Barrera
Manny Pacquiao
No Official Website: Erik Morales
Pacquiao v Morales I - Morales Won UD
Manny Pac vs Morales II - Pacquiao Won TKO RD 10
Common Opponent: Marco Antonio Barrera
Pacman Won TKO 11th rd - El Terrible Won SD, Lost UD, Lost MD
Pacman-Morales Promotion: Top Rank
Tickets: www.unlvtickets.com
Venue: Thomas & Mack Center, Las Vegas
TV: HBO PPV BOXING
Pacquiao-Morales
It's official. Three-division world champions MANNY "PAC MAN" PACQUIAO and ERIK "EL TERRIBLE" MORALES will get it on for the third time to determine who really is the best man inside the ring. Pacquiao and Morales each own a victory over the other in their two previous fights – both considered "Fight of the Year" candidates -- which have attracted over 700,000 pay-per-view buys combined. The announcement was made by Bob Arum, chairman of Top Rank and Shelly Finkel, Pacquiao's manager. Promoted by Top Rank, in association with Wynn Las Vegas, Pacquiao-Morales III will be a 12-round super featherweight bout, taking place Saturday, November 18 , from the Thomas & Mack Center in Las Vegas , NV , and broadcast live on HBO Pay-Per-View.
"Erik is very determined and he is anxious to take on Pacquiao for a third time," said Arum. "These two great champions have always given it their all, each and every second in the ring, especially against each other. I expect this third fight to be the most exciting of the trilogy – and that's saying something!"
Finkel put it more simply. "Manny will start training in August. He is thrilled to have this rubber match to show he is the better man."
"For drama and excitement, there's nothing quite like the deciding match of a great boxing rivalry", said Mark Taffet, HBO Senior Vice President of Sports Operations & Pay-Per-View. "We have every expectation that Pacquiao-Morales 3 will result in their trilogy being as memorable as Barrera-Morales and Gatti-Ward."
Pacquiao, (42-3-2, 32 KOs), from General Santos City , The Philippines, returns to the ring looking for his third victory of 2006. He won a 12-round unanimous decision over former world champion Oscar Larios on July 1 at the sold-out Araneta Coliseum in The Philippines, the same arena that hosted Ali-Frazier III – the "Thrilla in Manila ."
On January 21, Pacquiao avenged his previous loss to Morales scoring a dramatic and historic victory dealing "El Terrible" his first-ever knockout loss, stopping him in the 10 th round, utilizing his secret weapon -- the savage punch known as "Manila Ice." Pacquiao has gone 16-1-2 in his last 19 bouts with 15 of his victories coming by knockout , including a sensational stoppage of world champion Marco Antonio Barrera. A former WBC flyweight, IBF jr. featherweight and The Ring magazine featherweight champion, Pacquiao is the WBC's and the WBO's No. 1 contender and mandatory challenger for the 130-pound titles and a consensus Top-3 "Pound-for-Pound" fighter. He is trained by Freddie Roach.
Morales, (48-4, 34 KOs), from Tijuana , Mexico , is universally recognized as one of the best boxers in the world at any weight, pound-for-pound. He is also one of the most exciting and has fought in several of the most sensational battles of recent years, including his 12-round unanimous decision victory over Pacquiao in their first battle. A former WBC super bantamweight champion, two-time WBC featherweight champion and WBC super featherweight champion, Morales became the second fighter from Mexico to win world titles in three weight divisions – Julio Cesar Chavez was the first. Like Chavez, Erik is also a certain future Hall of Famer.
Morales' Hall of Fame caliber resume boasts victories over Pacquiao, Marco Antonio Barrera, Carlos Hernandez, Jesus "El Matador' Chavez, Guty Espadas, Paulie Ayala, Injin Chi, Kevin Kelley, Wayne McCullough, Junior Jones, Jose Luis Bueno, Daniel Zaragoza and Hector Acero-Sanchez.
Morales is also a true sportsman as he displayed after his loss to Pacquiao in January.
"I ran into a guy with a lot of ambition who wanted to win very much," said Morales. "He was in great condition and was obviously well-prepared to fight me. It was a very tough, intense fight. I think I had some good moments early, but was getting very tired as the fight was going in the later rounds. I have nothing but respect for Pacquiao, he's a good person and he beat me. You won't hear any excuses from me."
Tickets to Pacquiao-Morales III, priced at $500, $300, $200, $100 and $50, go on sale This Wed nesday , August 16, and can be purchased at the Thomas & Mack box office, online at www.unlvtickets.com or by calling (702) 739-FANS. The Pacquiao-Morales III pay-per-view telecast will begin at 9 p.m. ET / 6 p.m. PT. It will be distributed domestically by HBO Pay-Per-View and will be available to more than 56 million pay-per-view homes. The telecast will be available in high-definition television for those viewers who are HDTV capable. HBO Pay-Per-View is the leading supplier of event programming to the pay-per-view industry. Pacquiao vs. Morales daily updates can be found during fight week at www.HBO.com.
Pacquiao Vs Morales III Tickets
Three-time world champion Erik 'El Terrible' Morales weighed 142 pounds a month before fightime and said he felt "unbelievably strong" while at a press conference in Mexico City.
Morales has been training in the mountains at the Otomi which is north of Mexico City. There, Erik's father, Jose, has been directing the training.
Morales and Pacquiao are fighting in the super featherweight division, at 130 pounds.
"Not only am I am on weight, but I feel stronger than ever," said Morales told the fight press in Mexico City.
"We are definitely going to win - maybe even by knockout," said his father, Jose.
As of a month before fightime, over 10,000 tickets have been sold for Pacquiao vs. Morales III 'The Grand Finale' at the Thomas and Mack Center in Las Vegas.
"Ticket sales are phenominal," said Bob Arum, CEO of Top Rank.
Pacquio vs. Morales III is promoted by Top Rank in association with Wynn Las Vegas. Pacquiao vs. Morales III will be broadcast on HBO Pay Per View.
Morales Pacquiao 3 undercard
Two big, fiery punchers -- 'Mighty Mike' Arnaoutis, rated #1, and Ricardo Torres, rated #2 -- will battle for the vacant World Boxing Organization (WBO) Jr. Welterweight Championship on the Pacquiao vs. Morales III 'Grand Finale' championship boxing event at the Thomas and Mack Center on Saturday, Nov. 18.
Aranaoutis, 17-0-1 with nine knockouts, is from Athens, Greece. He now lives and trains in Atlantic City, N.J. Torres, who was in that wild knockout war with Miguel Cotto, is 29-1, 27 KOs. He is from Barranquilla, Colombia.
"I am very excited about this world title fight. My matchmakers tell me Arnaoutis and Torres will be a real scorcher of a match," said Bob Arum of Top Rank.
Star Boxing CEO Joe DeGuardia said "we are excited that Mighty Mike Aranoustis will have the opportunity to fight for the vacant WBO vacant title. It will give the world an opportunity to find out what we already know, that Mike is the toughest and best Jr. Welterweight in thw world.
"Mighty Mike came to us from Cestus Management earlier this year and we promised them that by the end of the year he would fight for the world title," DeGuardia said. "We delivered on our promise and we are confident that Mike will deliver on November 18 and give the Greek Americans their only World Champ."
The WBO 140 pound title was vacated when champion Miguel Cotto moved to the 147 pound division. Cotto will box Carlos Quintana for the vacant WBA welterweight crown in Atlantic City, N.J. on Dec. 2.
Aranaoutis stepped up in class of opposition significantly in three fights in 2004, and rose to the occasion each time. He had a tremendous 12-round battle that ended in a draw against Juan Urango that August. Urango currently holds the IBF jr. welterweight world title. In Mike's next two fights against Jesse Feliciano (KO1) in October and Juaquin Gallardo (KO3) in Demember, he showed that he can be a devastating puncher.
Mike was very impressive in his two recent fights against previously undefeated opponents - Marc Thompson (14-0), and Jose Leo Moreno (12-0). Mike stopped both of them in the first round.
Regarding his nickname, Arnaoutis said, "When I first met (advisor) Mike Michael, I was in the Lennox Lewis center in London. One day when I was sparring with Steve Murray, a European contender, Mike saw the way I fought and called me, 'Mighty Mike.' That was in 2000."
Torres didn't receive much fanfare before challenging Cotto in September, 2005. Torres was a late substitute and complete unknown in the U.S. - he had never fought here before, and had only fought once outside of his native Colombia.
But he gained a legion of fans with his performance. It was a sensational battle, one of the best fights of the year - Ricardo scored a knockdown and staggered Cotto several times, but Cotto scored four knockdowns and knocked out Ricardo in the seventh round.
Boxing News reported, "Torres took the fight on three weeks' notice, after Gianluca Branco fell out. What a warrior."
The 'Grand Finale' undercard will include WBC Light Flyweight champion Omar Nino of Mexico in a defense over former champion Brian 'Hawaiian Punch' Viloria of Waipahu, Hawaii.
Super featherweight Juan Carlos Salgado, 16-0-1, 13 KOs, of Mexico City will make his Top Rank debut. Vanes 'Nightmares' Martirosyan, an unbeaten super welterweight, of Glendale, Calif., is scheduled for six rounds.
Pacquiao vs. Morales III 'The Grand Finale' is promoted by Top Rank in association with Wynn Las Vegas. Pacquiao vs. Morales III will be broadcast on HBO Pay Per View.
Morales Pacquiao 3 Weigh-in
Click for larger image © Natasha Chornesky / Saddo Boxing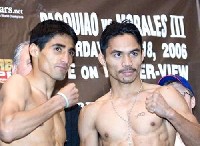 Both Eric Morales and Manny Pacquiao weighed in at 129 pounds for their highly anticipated rubber match, scheduled for Saturday night at the Thomas & Mack Center in Las Vegas, Nevada.
Morales quickly put to rest any lingering questions regarding his ability to make the weight, as he showed up lookng physically much better than he has at recent weigh-ins.
The weigh-in was open to the public and brought in legions of fans from Mexico and the Phillipnes to support their fighters. If the buzz at the Thomas & Mack Center for the weigh-in is any indication of the intensity level for Saturday, the 17,000 plus fans in attendance and HBO pay-per-viewers around the world are going to be in for a real treat.
Undercard weights
Mike Arnoutis, 138 pounds versus Ricardo Torres, 139
pounds for the Vacant WBO Light Welterweight Title
Omar Nino Romero, 107 pounds versus Brian Viloria, 108
pounds for the WBC Light Flyweight Title.
Pacquiao v Morales 3 Ringside Report
By Mark DeSisto
Click for larger image © Natasha Chornesky / Saddo Boxing
Manny Pacquiao showed Eric Morales and the rest of the boxing world that he is frighteningly fast, powerful, and right in his prime by scoring a devastating 3rd round knockout over the Mexican legend to retain his WBC International Super Featherweight Title.
The opening round of the trilogy started with both working behind the jab and a couple of nice counters from Pacquiao, particulary a nice right hook. Morales got in a good shot against the ropes, but Pacquiao landed a few more shots to take the first round.
The two warriors exchanged furiosly in round 2, electrifying the 18,276 fans in attendance at the Thomas and Mack Center in Las Vegas, Nevada. Morales had his moments and landed some good shots against the ropes but Pacquiao spun out and landed a left hand to put Morales down and set the Fillipino fans afire. The legs of Morales seemed a little unsteady but being the warrior that he is, Morales finished the round with a flurry of punches sending Pacquiao backwards and throwing the Mexican fans into a frenzy with a few words for Pacquiao.
Pacquiao and Morales continued the heated exchanges in round 3, but Pacquiao's advantage in speed and power was evident as a flurry of punches puncutated by a straight left hand put Morales down with a strong left. Morales bounced up from the knockdown and fought back gallantly in continuing to trade with Pacquiao. Morales landed some punches but couldn't hurt Pacquiao and found himself on the canvas again after getting hit with another straight left hand. Morales remained seated on the canvas thru the ten count and conceded defeat at 2:57 of round three.
After the competitiveness of the first two bouts, the quick ending to the fight suprised many, including Pacquiao trainer Freddie Roach. "I think the weight loss was too much for Morales. We expected the fight to go much longer. According to Compubox statistics,Pacquiao landed an
amazing 51 of 71 power shots in the 3rd round. "I was faster and bigger than Morales" stated Pacquiao. "For the first time in my career, I felt my opponent's power", said Morales. "Maybe it's getting to be that time" (retirement). If the guaranteed hall of famer Morales, now 48-5(34KO's), does decide to retire, there's no doubt the proud warrior went out on his shield , with guns blazing.
Click for larger image © Natasha Chornesky / Saddo Boxing
Undercard Action.
The opening bout of the HBO pay-per-view portion of the Top Rank promoted card got the Mexican and Fillipino fans roaring early as Mexico's Omar Nino retained his WBC Light Flyweight Title with a majority draw in his rematch with Brian Villoria.
Villoria had lost the title to heavy underdog Nino back in August in a lacklustre, hesitant performance by the Fillipino known as the Hawaiian Punch.
Villoria came out fast early and landed a solid right hand but then essentially sat back and posed with Nino in a feeling out type first round.
The previously unheralded Nino proved early on that he is a crafty boxer that Villoria continued to have difficulty landing any flush punches. Nino upped his aggression level in round 3 with some body shots and the best combination of the fight, a right hand-left hook combo that got Villoria's attention.
The combatants let some leather fly in the fourth round, after Villoria was angered by some borderline low blows from the champion in round four. The pace of the fight settled down a bit until Villoria hit Nino with a cuffing right hand to the back of the neck that threw Nino off balance, his right hand perhaps touching the canvas, prompting referee Joe Cortez to rule a questinable knockdown. Nino was effective enough in the eyes of one of the judges to salvage a 10-9 round for Villoria, instead of the usual 10-8 rounds scored with a knockdown.
Nino stepped up his activiy levels to sweep rounds 6-8 and had a particularly strong seventh round, landing a vicious uppercut. Villoria wasn't using the jab like Nino and was simply not throwing enough leather. As the fight was slipping out of Villoria's hands, his fortune changed in round 9, when a two punch combo struck an off balance Nino for a legitimate knockdown, giving Villoria a 10-8 round.
The combatants let their fists fly early in round 10 with neither gaining a clear advantage before things settled down for a close round.
Villora was ahead on the scorecards after the 10th round and let the fight slip away with inactivity in rounds eleven and twelve. Nino was the only one pressing the action, utiizing an effective jab, while Villoria was doing much posing, seemingly waiting too long for the perfect shot. With Nino sweeping the last 2 rounds, one judge favored Nino, 115-112, while the other 2 judges saw the fight even at 113 apiece for the majority draw. Villoria did much better than the first encounter but still was far to hesitant and inactive against a crafty boxer to regain his title.
Click for larger image © Natasha Chornesky / Saddo Boxing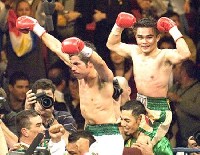 In the co-undercard feature, Colombia's Ricardo Torres was awarded a controversial 116-111, 114-113,113-114 split decision over Greece's Mike Arnaoutis to capture the vacant WBO Light Welterweight Title. Most ringside media members were suprised by the scoring, particularly at Adalaide Byrd's lopsided score favoring Torres.
Although Arnaoutis did appear to outbox Torres for most of the fight, like Villoria, Arnaoutis at times seemed too passive and let victory slip away. Torres spent much of the early rounds in pursuit of Anrnaoutis, unable to catch up to "Mighty Mike". However, Arnaoutis wasn't punching enough in the judges eyes, who were apparently favoing Torres aggression over Arnaoutis safe boxing.
The southpaw Arnaoutis started to sit down on some punches in the mid rounds and caught Torres with a hard countering left and a follow up right to put Torres on the canvas towards the end of round seven. Torres was clearly hurt and instead of going in for the finish, Arnaoutis, to this writer's astonishment, reached out to touch gloves with Torres before running out of time in the round to damage Torres further. Arnaoutis seemed to let Torres off the hook again after hurting the Colombian with a right hook in the eighth round. Torres was clearly more hesitant after feeling the Greek's power, but Arnaoutis got complacent and gave Torres some confidence as Torres jabbed away to finish round the round on a positive note and take the round on the judges cards. Torres rode his new confidence to take rounds nine and 10 and Arnaoutis showed some urgency late in the fight and swept the final round but by then it was too late and Arnaoutis suffered the first loss of his career to fall to 17-1-2(9KO's). Torres, who has lost only to former WBO champion Miguel Cotto in his only other fight in the United States, improved his record to 30-1(27KO's)
Click for larger image © Natasha Chornesky / Saddo Boxing
Manny Pacman Pac Vs Erik Morales Boxing Undercard
correct at time of printing
Mike Arnaoutis vs Ricardo Torres
Omar Nino Romero vs Brian Viloria
Joksan Hernandez vs Bernabe Concepcion
Juan Carlos Salgado vs Marcos Licona
Fernando Beltran Jr vs Edel Ruiz
Vanes Martirosyan vs Edgar Reyes
Alejandro Perez vs Oscar Martinez
Ernel Fontanilla vs Oscar Blanquet
Boxing News on Manny Pac Morales
Boxing News of Manny Pac Pacman, Erik Morales from around the internet brought to you by the saddoboxing.com news wire...