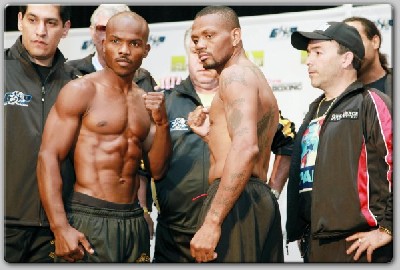 © Tom Casino / Showtime Boxing
The big fight this weekend sees Nate Campbell stepping up to light welter tonight for a crack at Timothy Bradley's WBO belt at Agua Caliente Casino in Rancho Mirage, CA.
At 37 years of age, Campbell, 33-5-1 (25), has had a long and winding career with many ups and many downs. He comes into this bout after having won the two biggest fights of his career, a thrilling split decision over Juan Diaz for the IBF, WBO and WBA lightweight belts in March, 2008 and a hard fought majority decision against big punching Ali Funeka in February for what was to have been a lightweight title fight except Campbell couldn't make weight.
Having outgrown the 135 pound division, Campbell will try his hand at light welter and challenge Bradley, 24-0 (11), who won the WBC title in May, 2008, defended it against Edner Cherry before taking Kendall Holt's WBO strap by decision in April.
25 year old Bradley gave up the WBC belt in order to face Campbell and could be in for a rough night depending on which Nate Campbell shows up for work. Will it be the Galaxxy Warrior who gave Diaz a brutal beating or will it be the Campbell who was stopped twice by Robbie Peden at super feather?
Bradley has the edge in youth, size, strength and possibly quickness but no one in the sport has more heart than Campbell, who also knows that this will likely be his last title fight if he loses.
This is one of those truly 50-50 bouts but there's no telling what can happen once the bell rings and who could ask for more than that?
The undercard features a world title clash between Junior Witter, 37-2-2 (22), and Devon Alexander, 18-0 (11), for the WBC belt Bradley won from Witter and then gave up.
Witter is a bit like Campbell in that he runs hot or cold on any given fight while Alexander is a highly touted but unproven prospect who is stepping up for his first real big fight.
Thus sets up the second completely unpredictable fight on the bill tonight at Agua Caliente Casino.
The combatants are equal in height and Alexander is a southpaw while Witter can box from either stance but the biggest difference here is age. Witter is 35 while Alexander is just 22 and that could be the deciding factor.
If Witter can retain the focus and composure he lost against Bradley, his greater experience and punching power should take him to a victory against the untested Alexander.
But, if Alexander turns out to be quicker and can take Witter's confidence away with sharp counters or unrelenting pressure, the youngster from St. Louis will walk away with the WBC belt around his waist.