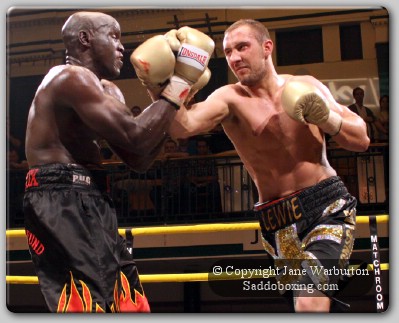 Click the image to view all photos from this Event
The latest installment of Matchroom's three round wars, the Prizefighter tournament, hit London's York Hall last night with the usual series of shocking upsets as the cruiserweight class enjoyed their second go round.
By far the favorite going in, ex-WBO heavyweight champ Herbie Hide, 49-4 (43), won his opening bout as he knocked down but couldn't put away big hearted Welsh novice Wayne Brooks, 5-3-2 (2).
Hide won by a wide unanimous decision but a cut sustained from a head clash in the second round put the big punching "Dancing Destroyer" out of the tournament, replaced by Nick Okoth.
Other opening round bouts saw undefeated Jon-Lewis Dickinson, 8-0 (2), have his hands full with inexperienced but iron-chinned Londoner Leon Williams, 4-2 (2), but managed to pull out a split decision.
Former British heavyweight title challenger Mark Krence, 25-8 (6), dropped towering southpaw Zahid Kahut, 4-2 (0), in the first but had to settle for a UD verdict, while ex-Commonwealth kingpin Darren Corbett, 29-6-1 (16), outpointed durable John Anthony, 7-12 (5).
The second round saw the entrance of seasoned journeyman Okoth, 9-28-5 (3), who made his presence felt immediately by winning a close UD over Corbett.
Krence was unceremoniously shown the door by Dickinson, who achieved the first stoppage of his career by clattering the more experienced man so much in the initial frame that Krence couldn't answer the bell for the second round.
This set up the unlikely final of Dickinson against Hide's replacement Okoth in a rematch to their four round bout of a year ago, which Dickinson won by a single point.
This time, Dickinson brought his newly discovered punching power to bear upon Okoth, who was canvassed in the first and third before getting sent down again for a KO loss at 1:08 of the third and final frame.
Jon-Lewis Dickinson wins Cruiserweight Prizefighter 2 and at just 23 years of age, should be looking toward a bright future in the division as the top men in the UK are almost all well into their 30's.