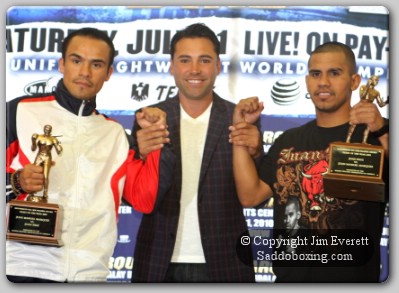 Click the above Image for more Photos
Wednesday in the lobby of the Mandalay Bay in Las Vegas, Golden Boy Promotions held a final press conference to promote "Fight of the Year: The Rematch" the Unified Lightweight World Championship fight between Juan Manuel Marquez, 50-5-1 (37), and Juan Diaz, 35-3 (17).
The bout will be televised live on HBO Pay Per View this Saturday, July 31 at the Mandalay Bay Events Center, Las Vegas, NV.
During the press conference, Oscar De La Hoya presented both fighters with their trophies from their 2009 Fight of the Year. "Their first fight was an epic battle back and forth which is why the Boxing Writers Association of America chose their fight as the best fight of 2009," said De La Hoya.
"It is a different story now. It is 2010, Juan Diaz is a different fighter and Juan Manuel Marquez is a different fighter. They have more experience under the belts, more training under their belts. It is going to be an explosive fight.
"If you have never seen Juan Diaz fight, if you've never watched him on HBO, he is an exciting fighter. He knows how to please his public and his fans. He has a big heart, a tremendous heart. You can never count him out. You can never count out Juan Diaz. He can be down and out but he can get back up and win the fight.
"Juan Manuel Marquez ducks no one. He always comes forward and fights. He wants to give the crowd a great show. This card is so stacked; I asked Richard if he could make room for me. I can't make weight it is too soon. We are in store for a great night of boxing from the first bell to the last."
Juan Diaz's manager Willie Savannah commented about the upcoming event, "We have had a great, great training camp. I have been with Juan since he was eight years old. He has never been out of shape, but I have never seen him as in shape as he is for this fight. I think the public is going to see a boxing machine come Saturday night. The Mexican warrior is going to be out on Saturday night because that is who he is."
"I want Juan to fight with a purpose. I heard the odds are three to one in favor of Juan Manuel. I am telling you to go out and bet your house on Diaz."
Diaz's Trainer Ronnie Shields addressed his expectations for the fight, "It's a pleasure to be here. Juan is in great shape. For the first fight was definitely one of the best fights I have ever been involved in. Juan Manuel Marquez is one of the best fighters in the world. We went back to the drawing board and tweaked a few things that Marquez capitalized on in the first fight.
"This is going to be a great fight. When you have styles like Juan Diaz and Juan Manuel Marquez, you have one of the best fights you have ever seen in your life."
Marquez's trainer Ignacio "Nacho" Beristain spoke eloquently of his opponent, "Juan Diaz was saying that he is a warrior. He is a great warrior. They call him the 'Baby Bull' for a reason and combine that with Juan Manuel Marquez and you will have a great fight.
"Golden Boy Promotions put together a great undercard and I think all of the fights are going to be good ones.
"Willie Savannah is a great trainer and a great manager. He has built great warriors and great fighters. He and I have known each other for many years and we have a very friendly rivalry."
Diaz was visibly excited about the upcoming rematch, "I came to Mandalay Bay 10 years ago for Vargas vs. Trinidad and I was out enjoying a great fight. Now I am here, and I am the main event. I am very excited and thankful to be here for this fight. I know it is a big and important fight and I am excited.
"The last two years of my boxing career have been a roller coaster ride. Starting with the Nate Campbell fight which was my first loss, then I beat Michael Katsidis, and then lost to Juan Manuel Marquez, then beat Paulie Malinaggi and then lost to him. It just makes sense that I am going to win this fight and I am going to keep winning from now on.
"During a lot of the interviews with the media, people have been asking about my heritage and nationality. Am I 50 percent this, 25 percent, 100 percent that? I don't want to be any of that. I am 100 percent warrior. I fight for all of my fans whether it is Mexicans, Mexican-Americans, Blacks, Whites or Asians. I want to give everyone a great fight. I want to make all of the fans happy. I am going to give all of the 'Baby Bull' fans a great fight.
It is time for the new generation to step up and reign over the lightweight division."
A calm and stoic looking Marquez addressed the media, "Everyone knows Juan Diaz is a great fighter and I have prepared myself very hard for this fight. When people say 'Why Juan Diaz again?' I always want to make the biggest fights and here you have two great fighters.
"I think this fight is going to be better than the first one because Juan Diaz is a great fighter and a great warrior and I am too. I like to fight. Everyone who knows me knows I like landing so many punches.
"I want to dedicate this to all of my fans around the world, my family, my kids, my wife and the Mexican fans around the world. I have prepared very hard and I am ready."