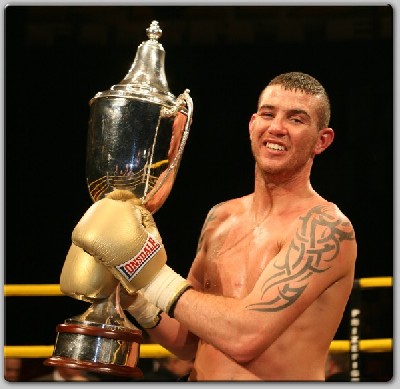 © Lawrence Lustig
Travis Dickinson made Prizefighter a family affair on Saturday, claiming the Light Heavyweights II title in a dramatic night at London's Olympia to join brother Jon-Lewis as a Prizefighter champion, live in 3D on Sky Sports.
Dickinson faced reserve fighter Sam Couzens in the final after pre-tournament favourite Tony Dodson was forced to pull out of the tournament with severe cuts above his right eye having come through tough fights against Michael Banbula and Menay Edwards to reach the final.
Dodson's misfortune was Couzens gain though, and the Titchfield 24 year-old was keen to take his golden ticket to the £32,000, trading blows with his 22 year-old opponent at the beginning of the final.
But Dickinson had looked the part all night after opening with a quarter-final victory over slick southpaw Llewellyn Davies and began to dominate the final towards the end of the first round. Halfway through the second round he then landed a left hook that rocked Couzens and although he made the count, the referee stopped the action to hand Dickinson the trophy.
"I'm just speechless, that's the best I've ever boxed," said Dickinson, who extends his unbeaten professional run to ten fights. "I knew he was going to come at me as it was his World title fight but I felt stronger and stronger as the night wore on and I think I proved a worthy winner on the night.
"Having two Prizefighter trophies in the house is amazing, Jon has been great in the build up and this isn't just for me, it's for the family and everyone who's worked with me. I want to fight for big titles and this is the start of that."
Margate's Jack Morris won the opening bout of the night against Romford man Billy Slate by split decision but broke his hand in the process. Justin Jones won the toss of the coin to step into Morris' place for the semi-final against Dickinson – a contest that the Newcastle man dominated to reach the showdown with another reserve in Couzens.
"I had to fight three fresh fighters on the night which was tough – but I never felt in any danger. Llewellyn is a quality fighter and an awkward customer and I knew that if I got past him I would be in great shape, and that's how it went," added Dickinson.
Cuts have been the scourge of many Prizefighter contenders, but for the popular Liverpudlian Dodson, his withdrawal from the contest was particularly cruel. The 30 year-old dominated his quarter-final with Banbula – but a clash of heads opened an old cut above Dodson's eye and another cut above that soon developed as he won a unanimous decision.
A clubbing right downed Edwards in the first round of their semi-final but the cuts soon opened as Edwards literally smelt blood and retaliated. Dodson sensed the danger as they reached the third round and he floored Edwards just seconds into it to claim the victory, but there would be no clash with Dickinson, much to Dodson's distress.
"I'm gutted to be honest, but the cuts are really bad," said Dodson. "I felt great out there, loved every minute of it – and I really think I would've won it had I faced Travis. This was made for me and I could tell the crowd loved my fights, but congratulations to Travis though, he fought well on the night."
Crayford fighter Edwards reached the semis after getting through the fight of the night, stopping St. Albans' Joe Smyth in the second round of the fourth quarter-final.
The pair had to be separated at Friday's weigh-in and their bout exploded from the first bell as Smyth roared into action, getting in and out quick to rock his tall opponent, who couldn't use his significant reach advantage. Smyth dominated the first round but the second was a classic example of how quickly things can change in Prizefighter.
Edwards rocked Smyth early in the second and although Smyth countered it was the Kent man who powered through, unloading a barrage of punches on Smyth, who was pinned against the ropes by the ruthless Edwards with nowhere to go. The referee stopped the rollercoaster contest with 1.13 left on the clock of round two, but Edwards versus Smyth is a brewing rivalry that could be revisited again.
Results:
Quarter-finals -
Jack Morris beat Billy Slate – split decision 29-28, 27-30, 29-28 (Morris forced to withdraw with broken hand).
Travis Dickinson beat Llewellyn Davies – unanimous decision 30-27, 30-27, 29-28.
Tony Dodson beat Michael Banbula – unanimous decision 30-27, 29-28, 29-28.
Menay Edwards beat Joe Smyth – referee stopped in second round.
Semi-finals -
Travis Dickinson beat Justin Jones – unanimous decision 30-27, 30-27, 30-27.
Tony Dodson beat Menay Edwards – third round KO (Dodson forced to withdraw due to cuts above right eye).
Final -
Travis Dickinson beat Sam Couzens – second round KO.