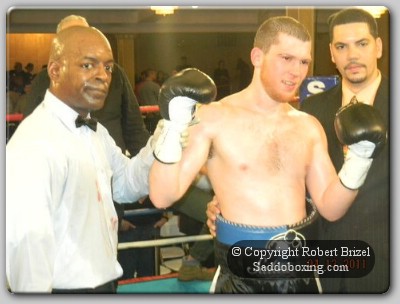 Last Wednesday, welterweight Dmitry 'Star of David' Salita an eight round decision over trial horse Ronnie Warrior Jr. in the main event of the EXODUS boxing card at The Oceana Club in Brighton Beach Brooklyn. The five bout card was broadcast live on The Jewish Channel and Gocastlive.net.
Salita, now 33-1-1 (17), Brooklyn, New York via the Ukraine, won his third consecutive bout since losing his WBA Light Welterweight title bid against Amir Khan in December 2009. His opponent, southpaw Ronnie Warrior Jr., now 13-5-1 (4), Oklahoma City, Oklahoma, appeared in great physical condition, but fought a mostly defensive bout while looking for counterpunching opportunities.
The ring was never cut off, so Warrior came forward in the earlier rounds, with Salita moving side to side. Salita came forward in the later rounds, with Warrior on his bicycle.
Warrior kept his hands up the entire bout in a style reminiscent of Joshua Clottey, but just did not offer much of an offense to go with it. Salita threw a lot of jab flurries with a rare power punch. Simply put, Salita's left jab was busy all night and was throwing punches all night.
Warrior managed only two flashes of offense. In the first round, Warrior knocked Salita down with an unintentional head butt. Referee Benji Estevez then allowed a brief rest period.
Warrior's other moment of offense was with less than a minute left in the eighth and final round, and the outcome of the bout already long decided, Warrior landed a surprisingly powerful left uppercut which cut Salita above the corner of the right eye. The fight ended before the cut could bleed or become a factor, but it was a great punch by Warrior.
The last win by Warrior was in May 2007, a second round stoppage of Jeremy Stiers in Oklahoma. He was then inactive for over two and a half years, until January 2010, when Warrior returned and lost an eight round decision to unbeaten welterweight prospect Raymond Serrano.
Result: Dmitry Salita UD8 Ronnie Warrior Jr.
Scoring: 80-72 twice and 79-73
Undercard Bouts
Hamid Abdul-Mateen UD 4 Bakari, Cruiserweights
Scoring: 40-36 from all three judges
Rafael Vazquez TKO3 Jose Luis Melendez, Junior Lightweights
Time of stoppage 1:48
Mike Ruiz UD6 Gregory Hackett, Junior Middleweights
Scoring: 60-53, 59-54 and 58-55 Ruiz
In an exciting six round war far closer than the scoring indicated, Hackett executed his game plan, coming forward with a John Ruiz heavyweight type strategy of landing a few straight lefts, and then holding on and tying up his opponent right away. Mike Ruiz stayed agile, moving left as the counter puncher.
Hackett continued to press the action to win round one. Mike Ruiz came forward in round two, landing left jabs frequently to win the round. The third round featured great center of the ring exchanges, Ruiz won the third but missed a lot, as Hackett kept his distance and landed some good counters.
Ruiz appeared to win the fourth and fifth round, more forward and pressing the action, with Hackett more defensive and engaged in tying Mike Ruiz up. Ruiz appeared to win the sixth round on aggression. Hackett was dropped by a short left to the head for a flash knockdown trying to get inside, but was not hurt.