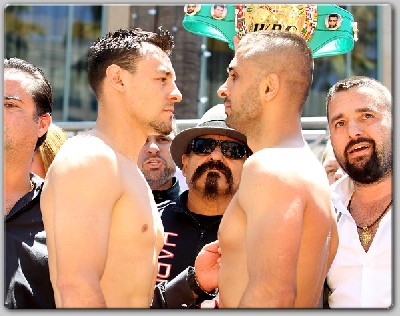 © Tom Hogan - Hoganphotos / Golden Boy Promotions
Former two-weight champion Robert Guerrero jumps up two divisions tonight in order to face big-punching Turkish welter Selcuk Aydin for the vacant Interim WBC title at HP Pavilion in San Jose, CA.
This interesting clash pits hard-nosed southpaw boxer Guerrero against Aydin, a stand-up European style slugger and features so many variables that it's difficult to envision how this will turn out.
When checking the respective records of the combatants, it's plain to see that Guerrero, 29-1-1-2 NC (18), has faced the higher caliber of opposition than Aydin, 23-0 (17) and the Californian has had six world title bouts, going 5-0 with one No Contest, while his Turkish counterpart has engaged in no world title opportunities.
Guerrero has defeated the likes of Malcolm Klaasen, Martin Honorio, Joel Casamayor, Eric Aiken, Vincente Escobedo, Jason Litzau and Spend Abazi while most recently turning back Michael Katsidis in April of last year.
The 29 year old has held the IBF featherweight and super feather crowns, Interim WBA/WBO lightweight belts and the NABF feather strap.
There are two No Contests on Guerrero's CV, against Daud Yordan in 2009 and against future IBF/WBO featherweight king Orlando Salido in 2006.
In contrast, Aydin's resume is sprinkled with less glamorous names that that of Guerrero, with the 28 year old from Trabazon having knocked out former European welter boss Jackson Osei Bonsu, achieved a points verdict over tough South African Lucky Lewle, a split decision against Said Oulai and posted two difficult wins against previously unbeaten Romanian southpaw Jo Jo Dan.
Over the course of those victories, Aydin has acquired the WBC international and WBC Silver baubles while being a long-term but unfulfilled WBC number one challenger.
While Guerrero certainly does have the advantage in experience against Aydin, the one important factor that could dull that edge is the fact that the American's achievements have all come at either featherweight, super feather or lightweight.
This is obviously and important distinction and one which Team Aydin is banking on their man, essentially a career welter, being able to employ in a meaningful manner in the ring.
And that will likely translate into how well Guerrero can take the punches of Aydin, a fighter who has earned the sobriquet "Mini-Tyson" for his heavy-handed attributes.
Guerrero will bring the better boxing skills into the ring and it is unlikely that he'll have the power to trouble Aydin, which could make things interesting in the later rounds.
Perhaps the best indicator of how this contest could turn out is Aydin's two clashes with Jo Jo Dan, like Guerrero, a tall, aggressive southpaw without a concussive punch.
In both bouts, Dan went right after Aydin, trying to back up the Turk, but didn't have enough pop in his gloves to truly trouble "Thunder for the Black Sea", who gave up ground, waiting for Dan to get out of position before striking and producing two very entertaining bouts.
If Guerrero's chin can take the inevitable hits from Aydin, his pressure style could very well be effective in keeping his rival from mounting an effective offense and produce a points win after 12 contentious rounds.
But if Guerrero is troubled by Aydin's power and he tries to box outside as a result, Aydin could force a brawl in the later rounds and produce a stoppage when Guerrero has to stand and fight.
Guerrero's future as a welterweight and his campaign to face divisional kingpin Floyd Mayweather Jr rests on the outcome of this contest and that just may provide the Gilroy native with the incentive he needs to overcome Aydin in what will surely be a thrilling fight.
The undercard in San Jose features exciting welter prospect Shawn Porter 19-0 (14) who meets veteran Alfonso Gomez, 23-5-2 (12), in a ten rounder.
Gomez holds wins over big names such as Jose Luis Castillo and Arturo Gatti but those fighters were far past their prime, which was not the case with both Miguel Cotto and Saul Alvarez, each of whom stopped Gomez in world title bouts.
Gomez is a tough, crafty Mexican fighter who relies on the left hook to the body and a sneaky counter right hand but he'll likely spend most of his time trying to deal with the faster hands and quicker feet of Porter.
A past sparring partner of Manny Pacquiao when "Pac Man" was preparing to face Shane Mosley, former amateur star Porter has a hard-punching, swarming style that is bound to cause a whole raft of problems for the far less mobile Gomez.
If Porter is genuine world class material, he'll stop Gomez but if the Ohio man has simply been feasting on a resume full of the usual suspects as his career has taken shape, we could see Gomez expose that fact under the bright lights of HP Pavilion.
Expect Porter to have a bit of difficulty sorting Gomez out in the early rounds but once he has the Guadalajara battler's timing down it shouldn't go the distance.