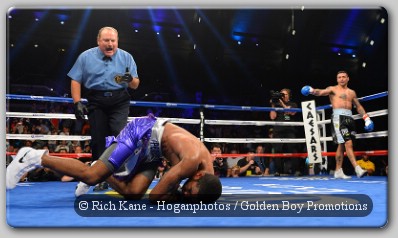 The light welterweight division was shaken up last night as Lucas Martin Matthysse destroyed Lamont Peterson in short order at Atlantic City's famed Boardwalk hall.
Neither Matthysse's WBC Interim crown or Peterson's WBA belt were on the line but that failed to make an impression on the fighters, who went at it full bore from the opening bell.
The first frame saw Matthysse pressing hard, lunging in with lefts, rights and body jabs, which mostly missed, sometimes wildly. Peterson kept on the move, maintaining distance with his jab. In the closing seconds, the Washington DC native slowed down for just a second and was caught with sharp right at the bell.
Peterson began the second round trying to hold his ground but scurried away every time Matthysse opened up his offense. Peterson went back to moving away from his antagonist, clinching whenever Matthysse got in range.
While being held by Peterson, Matthysse banged away with rabbit punches, prompting Peterson to lobby referee Steve Smoger.
Peterson again attempted to hold the center of ring, but Matthysse teed off to the body, catching his quarry with a good left hook, prompting Peterson to hold.
The fight began to turn rough in the clinches; Matthysse rabbit punching, while Peterson retaliated by hitting the kidneys. Peterson finally scores with a right hand and Matthysse missed wildly with a returns salvo.
Things began to go rapidly downhill for Peterson the second Matthysse lands a hard right that rocks the American. From that point on, Peterson became wary of Matthysse's power.
Matthysse went on to land a right to the body and then a left hook to the temple while Peterson is on the ropes. Although Peterson was hurt by the sequence, his foot hit a ringside photographer's camera and he fell onto the canvas where he was given an eight count.
Wasting no time, Matthysse went right to work, battering way with a left and a right, causing Peterson to crouch and grab Matthysse around the knees. While trying to throw Peterson off, Matthysse got in a good right and left while Peterson landed a hard shot at the bell.
Peterson started the third trying again to hold his ground but to no avail as Matthysse dug in with a right before missing wildy, falling to the canvas. Matthysse shook off the embarrassment by going after Peterson.
The fighters wrestled and rabbit punched before Smoger warns Matthysse about the infraction. The fighting and wrestling resumed in center ring, and both boxers landed punches. This pattern continued but Matthysse did better better, landing an uppercut and a right.
The next exchange saw the fighters land simultaneous left hooks. Matthysse's was the better punch and Peterson went down hard. Peterson tried to get up, fell over but somehow made it to his feet, swaying on the ropes as he convinced Smoger he could go on.
Peterson was in deep water as Matthysse drove him back, landing a right and a left, dropping Peterson to the canvas again.
Peterson started to get up before Smoger calls it off with 46 seconds left in the third.
Although Matthysse did not acquire a title with the victory, he raises his standing in the division and should now near a big fight with WBC/WBA kingpin Danny Garcia.
The 30 year old Buenos Aires area man improves to 34-2 (32), while Peterson drops to 31-2-1 (16).
On the undercard, IBF welter champion Devon Alexander, 25-1 (14), saw off late replacement opponent Lee Purdy, 20-4-1 (13), in a non-title bout.
Purdy was game throughout the contest but just didn't throw enough punches to compete with the far more experienced Alexander, who threw and landed far more shots as Purdy spent most of the time tucked in behind a high guard.
By the seventh, Purdy had absorbed a good deal of punishment to the head and body and while he was never in danger, his corner decided to call off the contest, despite the protests of their fighter, before the start of the eighth.
In other bouts on the bill, Shawn Porter, 21-0-1 (14), won a battle of undefeated welters by dropping Phil Lo Greco, 25-1 (14), in the tenth and final round enroute to posting a 100-88, 100-88, 99-89 points win.