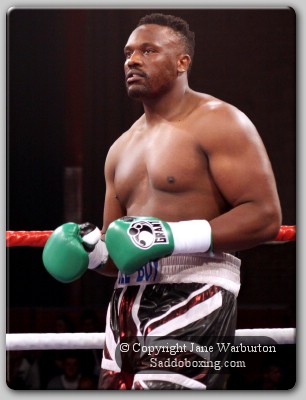 Whenever Dereck Chisora fights, one thing is certain: things might get weird.
The 29 year old Londoner is back in action on Saturday when he meets American visitor Malik Scott in a heavyweight contest that has the vacant WBO International strap on offer.
Chisora is seeking to right the ship that began to list after Tyson Fury took away the British and Commonwealth titles of "Del Boy" in 2011. Later that year, Dereck Chisora outworked and bullied heavily hyped prospect Robert Helenius, only to be denied the decision in Helenius' home ground of Finland.
Uundeterred, the Finchley man got back on the horse and managed the career high point of giving WBC champion Vitali Klitschko his most difficult bout in a decade, losing a close points verdict in Germany last year.
These two losses weren't considered setbacks but the same can't be said of a KO Chisora suffered at the hands of David Haye one year ago.
The fight with Haye was the culmination of a long list of Chisora shenanigans, consisting of the Zimbabwe born brawler kissing and slapping opponents at weigh-ins, spitting water in the face of world heavyweight champion Wladimir Klitschko before having a extra curricular tear-up with Haye at the Vitali Klitschko post-fight conference.
Dereck Chisora was his usual self during the contest, bulling Haye onto the ropes before unloading wide roundhouse punches, some of which caught and rocked the former WBA champion.
The fight was alternately thrilling and sloppy as many clinches occurred between the exchanges, but by the fourth round, the speed, skill and accuracy advantage of Haye began to show as Chisora was getting shaken.
By the fifth frame Chisora saw the writing on the wall and began to go for broke, leaving himself wide open in the process and this allowed Haye to land devastating shots.
Chisora rose from one knockdown but was in no shape to continue following a second flooring with one second left in the fifth frame.
Can Malik Scott replicate Hayes success?
It's doubtful.
Scott has never faced a top level opponent over the course of his 13 year career, never gone 12 rounds and barely got past 2008 Olympic bronze medallist Vyacheslav Glazkov in a draw in February.
The 32 year old from Philadelphia has good defensive skills but is bereft of the cat-like quickness of Haye and has nowhere near the crippling punching power of "The Hayemaker".
The lack of ring good movement, lack of power and potential lack of stamina from never going past ten rounds will all likley result in Scott finding himself in the position of having to slug it out with Chisora in the second half of the contest.
And that should prove to be disastrous for Scott.