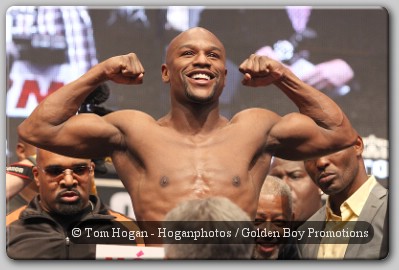 There is the perception among some boxing fans that perhaps Floyd Mayweather Jr. has achieved his 45-0 record and world titles in five weight classes by avoiding many deserving opponents during his 18 year professional career.
It's an interesting theory and one that deserves a closer look.
After exhaustive research, taking into account many variables too numerous to list here, the following is a list of potential top level opponents, who were in the same weight class at the time, who Floyd Mayweather Jr. did not fight:
Super Featherweight 1998-2001
Acelino Freitas, Joel Casamayor, Robert Garcia, Steve Forbes, Jong Kwon Baek, Takanori Hatakeyama, Lavka Sim and Jorge Barrios.
Lightweight 2002-2003
Paul Spadafora, Leonard Dorin, Stevie Johnston, Artur Grigorian, Raul Balbi, Juan Lazcano and Javier Jauregui
Light Welterweight 2004-2005
Kostya Tszyu, Miguel Cotto, Ricky Hatton, Vivian Harris, Carlos Maussa, and Junior Witter
Welterweight 2006
Miguel Cotto, Ricky Hatton, Antonio Margarito, Kermit Cintron and Luis Collazo
Light Middleweight 2007
Cory Spinks, Vernon Forrest, Joachim Alcine, Serhiy Dzinziruk and Roman Karmazin
Welterweight 2007
Miguel Cotto, Shane Mosley and Paul Williams
Welterweight 2009-2011
Manny Pacquiao, Miguel Cotto, Andre Berto, Joshua Clottey, Vyacheslav Senchenko and Jan Zaveck
Light Middleweight 2012
Saul Alvarez, Austin Trout and Cornelius Bundrage
Welterweight 2013
Manny Pacquiao, Timothy Bradley, Devon Alexander and Marcos Maidana
Light Middleweight 2013
Erislandy Lara and Austin Trout
The super featherweight list doesn't feature anyone who could have likely put a loss on Floyd's record and perhaps only Stevie Johnston could have come close during the lightweight period but the former WBC champion was already on the slide at that point.
Things get much more interesting during the light welterweight era as the argument could be made that Kostya Tszyu, who only had one bout in both 2004 and 2005, was "available", and arguably was still a very dangerous fighter although a bit past his 1999-2001 best.
The 2004-5 version of Cotto would have been a far fresher fighter than the one Mayweather faced in 2012, after the Puerto Rican had been in brutal wars against Antonio Margarito and Manny Pacquiao.
Cotto's name comes up in every year on the list from 2004 to 2011, aside from 2008 when Mayweather did not enter the ring.
Ricky Hatton was also in far better form in 2004-2005 than the 2007 version that Mayweather faced as "The Hitman" could be seen to have lost a step as early as the Luis Collazo bout a year earlier.
Having already mentioned Cotto and Hatton, the remaining names on the welterweight list of 2006 were unlikely to have given "Money" serious trouble.
At light middle in 2007, only Spinks and Forrest come close but both were several years past their best.
The 2007 welterweight list is a bit more interesting, with Cotto and Shane Mosley, already years past his top form but fresher than the 2010 version that Mayweather did face, and was hurt by.
Paul Williams is also on the 2007 list but having had a close fight with Margarito and losing to Carlos Quintana the next year, is not likely to have posed a serious threat to Mayweather.
The welterweight list of 2009-2011 has Cotto and Manny Pacquiao, who was at peak form and definitely represents a clear danger to the undefeated record of Mayweather.
The light middle list of 2012 presents no one that would have troubled Floyd, as Alvarez was later handled at peak form but the return to welterweight in 2013 sees the name of Timothy Bradley pop up and the Californian could potentially give "Money May" problems.
The final list, 2013 at light middle, features Erislandy Lara and Austin Trout, who are unlikely to unseat the pound for pound king.
The names that stand out on this list as being completely ducked are Pacquiao and Tszyu. Both were fast, powerful and could take a punch at their prime and of the fighters Mayweather never fought, are clearly the most dangerous.
Mayweather did face more than a few fighters well past their prime but in many cases, he wasn't in the same weight class during those fighter's top years but that cannot be said of Miguel Cotto, who appears to have been avoided for almost a decade.
Were Pacquiao, Tszyu and a younger Cotto avoided for financial reasons or did contractual difficulties exist in setting up those fights?
If Mayweather had fought those three at peak years, would he have won those contests? Mayweather has the most trouble with right hands and Tszyu had a hell of one but Hatton found a way to neutralize it, chances are that Floyd could have done so as well.
Cotto gave Mayweather perhaps his hardest fight when they finally met in 2012, could the Puerto Rican have produced an upset earlier?
While Cotto had lost a few steps by 2012, the same could be said of Mayweather. A fresher, younger Floyd probably would have beaten the left-hand happy Miguel.
That leaves Pacquiao.
We can take a look at common opponents. Oscar De La Hoya, Hatton, Cotto, Mosley and Juan Manuel Marquez.
De La Hoya was well past it for both fights. Mayweather had the harder time but Oscar was a year older when he fought Pacquiao and also significantly weight drained.
Mayweather also had more difficulties with Hatton but Ricky was almost two years older when he faced Manny, who had no trouble at all stretching out "The Hitman".
Cotto did better against Mayweather than he did Pacquiao and he was also almost three years older when he faced Floyd. Mosley? He did better against Mayweather but was a year younger.
Which brings us to Marquez. Pacquiao went life and death with Marquez in their four fights and sandwiched right in between bouts two and three, Marquez could barely lay a glove on Floyd.
Mayweather never signed to fight Pacquiao in what would have been the most lucrative fight of his storied career. This, from a boxer who has made no bones about taking the bouts that will earn himself the biggest paydays to the point of giving himself the nickname "Money".
Think about that and what answer do you come up with when considering of Mayweather ducked Pacquiao?