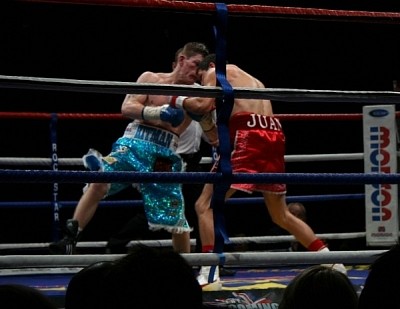 © Curtis McCormick / Saddo Boxing
Another fight on the card that interested Ricky Hatton for more then one reason was the rematch between IBF title holder Paul "The Magic Man" Malignaggi 25-1 (5) and former titlist Lovemore "The Black Panther" N'Dou 46-10-1 (31). Malignaggi who won the title from Lovemore in June of 2007 was ordered to give N'Dou his mandated rematch after allowing him to defend the belt against Herman Ngoudjo in January of this year.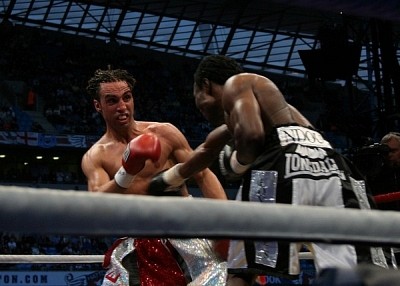 © Curtis McCormick / Saddo Boxing
The champion Malignaggi started off in much of the same fashion as he did during their first outing, using his jab and foot work to score points. Just as the night seemed it could not go any better for Malignaggi it is rumored he broke his right hand in round six rendering it useless. When matters seemed bleak enough the hair extensions in which he sported as part of his new hairdo began to get into the champions eyes. In fact they became such a problem trainer Buddy McGirt had to cut them off in the ninth round to escape further disaster.
At the finish of what started out as a masterful performance ended as an embarrassing one as Paul Malignaggi retained his championship via split decision. S cores read 115-114 N'dou, 116-112 and 116-113 Malignaggi.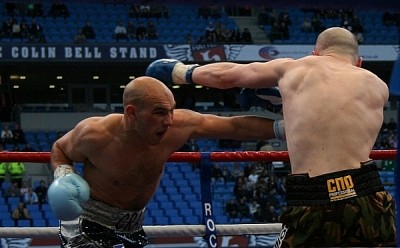 © Curtis McCormick / Saddo Boxing
On the undercard Craig Watson 13-2 (4) retained his Commonwealth (British Empire) Welterweight Title via unanimous decision over Matthew Hatton 33-4-1 (13), Mark Moran 10-0-1 (3) claimed the vacant BBBofC English Super Bantamweight Title via ninth round TKO over Danny Wallace 12-5-1 (6), Andrew Facey 19-5-2 (6) fought to a draw against Thomas McDonagh 31-1-3 (6).
Full fight report from Jane Warburton to follow.