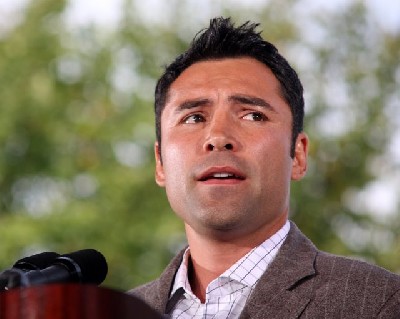 © Jim Everett / Saddo Boxing
Winning a world title is every fighter's dream, winning world titles in six different weight classes, earning more in ring money then any other fighter in history, becoming the CEO of boxing's biggest promotion company and having your name as the sports most popular active participant world wide, is perhaps beyond even the most zealous of young fighter's dreams.
Oscar De La Hoya seemed destined for boxing success from the day he fought his first Olympic bout, we all knew that something special aired around the East Los Angeles native, although no one knew exactly how far he would go, in truth how could we?
Yet for every world title he has won and every PPV he has headlined, there is one thing that Oscar has that may define him more then any of the previous mentioned. A resume untouched by any other fighter in the game today, or possibly the gloved era.
On his card you will see names such as Jorge Paez, John John Molina, Rafael Ruelas, Jesse James Leija, Julio Cesar Chavez, Pernell Whitaker, Hector Camacho, Ike Quartey, Felix Trinidad, Shane Mosley, Fernando Vargas, Bernard Hopkins, Felix Sturm, Floyd Mayweather Jr, Ricardo Mayorga, Jimmy Bredahl, Stevie Forbes, Genaro Hernandez and Raul Perez.
In reality, Oscar faced every fighter worth mention in every division he fought in, something I don't think any fighter alive today who has fought in multiple divisions can say with the exception of Evander Holyfield, yet even the great Evander can only claim two divisions of world title success. Oscar has six!
With all the success Oscar has achieved, one would believe he is beaming with pride, you would only assume that he is looking forward to retirement from the ring and focusing on his other en devours, after all, he has succeeded in everything he has ever set out to accomplish as a professional, some would say he has had a beyond perfect career if not for one thing. Oscar De La Hoya has never beaten a prime opponent in the pound for pound rankings!
In each of De La Hoya's.highest profile fights, he has come up short. In his bout with Felix Trinidad, he mistakenly thought he was further ahead on the judge's scorecards than he actually was, believing he had the fight won, he took the latter rounds off choosing to stay away from Trinidad and avoid any unnecessary chances. It was a mistake that cost him the decision.
He was outboxed by Shane Mosley twice, knocked out by Bernard Hopkins in his attempt to become undisputed middleweight champion and in his last high profile outing lost a split decision to Floyd Mayweather. Each of those bouts, except the one with Hopkins were lost due to slight mistakes, minor deviations from the game plan if you will.
When you take a look at De La Hoya's skills when compared to these other men, none were more talented, none were really more proficient in one area or another. Things just slightly went wrong in those bouts and Oscar came up on the short end, although it is not so much the losses that seem to put a sting into Oscar's psyche. It is the fact each of those opponents were at that time his biggest rival as boxing's number one star.
Once you reach the level Oscar has in his career, there is little left to accomplish, world titles become trinkets, rankings become nothing but numbers. The only thing left is to known as the best in your era when the history books are written, you want to be known as the standard all others abide by, you want to be the man who's name is mentioned first 25 years from now when experts compare the greats of each era.
With all the titles won in different divisions, Oscar's name still can not be the one that is held in such a regard due to that specific reason. He lost the big one each and every time he stepped on the stage.
With boxing in a big transition and the pound for pound #1 changing often since the retirement of Floyd Mayweather Jr, Oscar is running out of prime named opponents to gain that so coveted marquee victory.
At 154 lb, the top tier is shaky at best. Vernon Forrest is 1-1 with Sergio Mora, Cory Spinks is not reliable in his performances, Verno Phillips is looking for one more big fight of his own before retirement. At 147, things are even more confusing on who is the division's best. Miguel Cotto was the obvious choice before his loss to Antonio Margarito, Paul Williams holds a win over Margarito but is 1-1 with Carlos Quintana. Shane Mosley and Zab Judah have not looked stellar in their last outings.
In fact, none of the above mentioned are at a point in their careers where their names carry enough weight with mainstream media to garner one half of a mega type bout. In truth, there is only one attainable name that De La Hoya has a shot in beating that can be considered: Manny Pacquiao!
The man from the Philippines carries the weight of mainstream media to attract his share of viewers, he has wins over Marco Antonio Barrera, Erik Morales, Juan Manuel Marquez, Oscar Larios, Jorge Solis and David Diaz. He is a three division world champion, he is exciting, he has a loyal fan following and he is 5'6" with a 67" reach.
Something not quite fair about that last part. Yes, Manny is tough and Manny will go all out, but let's face it, there comes a time when size does matter, the size of the dog outweighs the fight in the dog. This is one of those times.
I understand Oscar wants that big name on paper, but does he want that big name victory with a question mark next it? Does he want to be known as the fighter who was great but needed to find the smallest man he could for an elite victory? He already has question marks next to his wins over Julio Cesar Chavez and Pernell Whitaker, due to the fact both were long past their best days when Oscar defeated them.
What if Oscar lost to Pacquiao? How would that look? He would not only retire on a loss from yet another elite fighter in their prime, but one who campaigns three divisions below his and to make matters worse, Manny has only fought once at 135 lb. This would make everything Oscar has accomplished almost void! The loss would haunt him, he would be ridiculed. It would be like the bully who was flattened by the geek at lunchtime.
I personally hope Oscar has thought about this bout long and hard, I hope he feels the risk is worth chancing just to have that elite name on paper with a "W" next to it, because that is the only place it will mean anything if he does beat Manny Pacquiao.
If he ends up with a "L" on his resume after the bout, he will be the man who always "choked" at the big game. When all is put into perspective, the name of this PPV should be called "Catch 22" because the only one with anything to gain and nothing to lose December 6 is Manny Pacquiao.
In just a little less than two months from now, the "Golden Boy" is in serious danger of tarnishing his legacy forever, he will be 36 minutes away from disaster once the bell rings to start round one.
They say all that glitters is gold, but somehow I don't see the Golden Boy shining come fight night, no matter what the outcome.
Then again, I have been wrong before.