By Al Bernstein September 1st, 2009 All Boxing Articles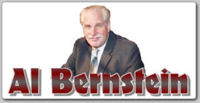 I can count on one hand the times in my 30 year career that I have expressed disagreement with any of my broadcasting colleagues in a public forum.
Mind you, I have often disagreed, but seldom if ever have I spoken out. My style as a communicator is not built on argument or confrontation and I don't really understand "media feuds." And, I am certainly not trying to ignite one here.
All that having been said, I feel called upon to strongly disagree with some of the opinions expressed by ESPN commentator Teddy Atlas in a recent interview I read on the internet.
I'll further qualify this (how much qualifying can one man do?) by saying that Teddy and I have never had any issue with each other on a personal basis, and we have many mutual friends.
So, this column is really a reaction to his comments and there is nothing else behind it.
In this recent interview, Teddy makes some all inclusive comments about the internet that I think are very unfair and inaccurate. In the process, he diminishes one of the strengths of the sport, in much the same way uninformed members of the mainstream media have been doing in recent years.
First, even though the interview he did was with an internet writer and was dispensed on the internet, he completely dismisses the internet as a means of providing accurate or meaningful information.
Here is some of what he said:
"I don't read any boxing internet articles unless someone sends me something or faxes me something, which I really don't care to read in the first place. There is just so many boxing websites that I wonder how they survive.
"For a sport that doesn't seem to get enough attention, proper attention in the proper areas when it's doing something right, it just seems that there is not a proper presence of media attention.
"And then I get calls from "so called" writers who say I am Joey Pulako and I write for ringside boxing or I write for Left Hand Boxing or Bloody Nose boxing. I'm like how many of these sites exist out there? For a sport that doesn't get any attention it seems like there must be a trillion websites."
He goes on to say, "I see some of these so called writers and I say, oh boy how do they get to be writers…the internet has no restrictions or standards."
He adds that some are given an opportunity to write with no journalism backgrounds and said, "the only thing they seem to be good at is having some agenda or vent against someone. Then again I see some of these message boards from the fans and these fans seem to be just as bent and just as maladjusted as some of these writers that are not responsible and shouldn't have access to vent with the writers who are twisted and bent. I'm like these people get a life, this is insane."
Clearly, anyone with any intelligence knows that there are irresponsible things written and shown on the internet. And, boxing is not immune to that, but the broad brush that Teddy uses to paint boxing websites is unfair and inaccurate.
And, let me ask this question. If, as he suggests, he never looks at boxing websites, how would he know about the "maladjusted and bent" folks who contribute to the message boards?
Let's deal in some facts here. First, because boxing, in the United States especially, has not been covered appropriately on the mainstream media, the internet has become a major source for fans to get not just opinion, but also news and information.
And, Teddy's characterization notwithstanding, there is a mountain of information dispensed on boxing websites. To suggest that it is all biased opinion is absurd. A good portion of the material on any boxing websites is made up of fight schedules, rankings and press releases sent out by boxing organizations, networks like the ones Teddy and I work for, promoters, managers and even the boxers themselves.
The press releases usually run without any editing, and while that might fly in the face of some journalistic cannons, it refutes Teddy's argument that bias is what drives these websites.
Often a press release will appear in close proximity to a column written by someone who is criticizing the very thing the press release is promoting or offering information about. This is the true essence of the internet, a free flow of ideas and information.
There are writers on boxing websites who lack journalistic training and sometimes it shows. Some are the overly opinionated bias hacks that Teddy talks about, but many others are very good and very fair. And many are, in fact, the same newspaper writers that Teddy refers to as "true journalists", they just happen to also write on the internet.
And many have now moved totally to the internet. Teddy Atlas was a boxing trainer before he got into television. I was the managing editor of a newspaper and a radio host. Does my journalistic training and experience suggest that I should be allowed to dispense boxing information and opinion on television and Teddy should not?
No. Teddy is a world class trainer who understands the mechanics of boxing, the psyche of fighters and the business of boxing. That's why he was hired as a boxing analyst for matches and given a bigger platform as a broadcaster.
His communication skills and adherence to sound journalistic standards have been his responsibility to learn. How well he has done it is ultimately judged by the critics, the public and his employers.
In my case, there was a different challenge, communication skills aside, I had to win the trust of boxing fans in terms of the x's and o's of the sport. Calling upon my meager experience in the ring as an amateur and gleaning knowledge from the likes of Gil Clancy, Angelo Dundee, Emanuel Steward and other boxing folks, I have tried to do that.
And, I have tried to fulfill my responsibility to provide anecdotal and informational material on the boxers that are also part of the responsibility of a good sports-television analyst. How well I have done that is ultimately decided by the critics, the public and my employers.
Just as Teddy Atlas and Al Bernstein bring different backgrounds, training and qualifications to television, so too do the boxing website writers bring varied skills to the internet. I would never defend them all or castigate them all.
But, I will not only defend the internet as a viable means to dispense information, I will suggest that it is a VITAL way to dispense that information, especially for a sport like boxing that has been inappropriately cast aside by mainstream media outlets in some places like the United States.
Since I have been involved in boxing coverage on television for almost 30 years, I was there to help invent the boxing coverage on the network that now employs Teddy, and since I have also been involved in pioneering video coverage of the sport with the first all boxing channel on the web, and since I write for this website—I think I am in a uniquely qualified position to understand how meaningful, the internet is now to the sport of boxing.
Boxing's future DEPENDS on the internet. If Teddy chooses to ignore the internet, that's his prerogative. But, he does so at his own peril, because this is where the flow of information and, yes, opinion, helps move the sport. This is the place where fans are created and maintained for the sport of boxing.
It is done here on the internet because the sport is covered here. If the quality of that coverage varies in terms of quality and accuracy, well then that is no different than with television, radio or newspapers, where the same variance in excellence exists in coverage.
In his comments Teddy suggested that the are "proper" places for boxing to get coverage and the implication is that the internet isn't one of them. I have worked in newspapers, radio and television and I am now very involved in the internet, and I can tell you that none of those other modes of communication feel more "proper" to me than the internet. This is simply another way of communicating…and a darn good one.
One of my biggest disagreements with Teddy's comments involved the fans, the ones who post messages and blog. He is so wrong to dismiss them en mass as "maladjusted" people with axes to grind.
Some opinions are expressed much too colorfully on the internet and often criticism feels far too personal. But, for every one of those type of postings, I could point out several others that are well thought out and insightful. Some may contain an opinion that you disagree with, but that's what the free flow of information is all about. In fact, that's what Democracy is all about.
We just held a series of town meetings in the U.S. in which I am absolutely convinced corporate interests created theatrics that were designed to seem like spontaneous outbursts. But, whether they were choreographed or spontaneous doesn't really matter. Because the right to give those opinions is protected in the U.S. constitution.
On a world wide basis, the internet provides that kind of freedom. It can be messy, it can even be unfair, but it allows everyone a voice. Those who use it to talk about boxing (not one of the world's most important topics) are not all maladjusted or bent.
Taken as a group, they are, in fact, the lifeblood of boxing. So, for the sport of boxing that Teddy Atlas and Al Bernstein love so much to remain viable, we better hope that these people stay involved.
Click to read more boxing articles by Al Bernstein
Discuss in Boxing Forum
---
Boxing News Tags: Al Bernstein, ESPN, Teddy Atlas