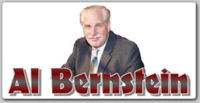 When an athlete or any celebrity writes a book, an all important element is the title. And over the years, many projects have had titles that did not make the final cut.
I had a book project that had an original title that I thought was inspired--"My Life As Boxing's Sex Symbol." For some unfathomable reason, an editor ruled it out. Go figure.
Here are some other book titles that you will never see on the front of a book jacket.
Creative Baby Names
By George Foreman
Father Knows Best
By Floyd Mayweather Jr.
Weight Loss Guaranteed
By James Toney
Defend Yourself At All Times
By Arturo Gatti-- with a foreword by Mickey Ward
Guide To Good Taste In Public Speaking
By David Haye
The Wisdom of George W. Bush
By Bob Arum
The Art of Brevity
By Don King
Solutions To Overpopulation
By Evander Holyfield
My Life As An Overachiever
By Sam Peter
Humility Is A Virtue
By Floyd Mayweather Sr.
Mr. Lucky
By Joshua Clottey with a foreword by Glen Johnson
Punching Power Made Easy
By Antonio Margarito--with a foreword by Panama Lewis
* * *
The death of Alexis Arguello this week has hit many hard. For those who knew him through his exploits and those of us who knew the man as well, this was not an easy death to swallow.
Alexis Arguello lived a life filled with irony and contradiction. He was on one hand a most delightful man who avoided personal conflict in virtually all social situations. And yet, his two passions, politics and boxing, were all about conflict and confrontation.
He was a man who excelled under pressure, and yet felt the pressure of life far too keenly. He had the look of a man who was sailing through life. Alexis had a natural elegance, good looks, and talent.
Without saying a word he changed the climate in a room when he walked into it. If Alexis Arguello couldn't charm you, then you could not be charmed. But, with all that, he was not a man sailing through life. There were many bumps in the road, some circumstantial and some, self made.
Through all of it he was a classy gentleman, known as a tough competitor, but still a true sportsman. Inside the ring he was as good as it gets—a silky smooth destroyer who used patience and quick lightning strikes to beat a raft of Hall of Fame fighters.
When Alexis died, he was serving as Mayor of Managua, Nicaragua. Ironically he won that post with only a little over 50% of the vote, but for boxing fans, the vote for him as an icon of the sport is fairly unanimous.
The warmth and charm of Alexis Arguello was just as potent as his right hand. I mourn the passing of both.