Click for larger image © Tom Casino / Showtime Boxing
Super Six World Boxing Classic standings leader Arthur Abraham and Andre Dirrell both took part in a media workout at Detroit's famed Kronk Gym on Wednesday, just three days before they kick off Group Stage 2 of the Tournament on Saturday, March 27 at the Joe Louis Arena in Detroit, Mich., live on Showtimeat 10:30 p.m. ET/PT, delayed on the west coast.
The Armenian Abraham (31-0, 25 KOs) currently leads the Super Six point standings with three points by way of his last-second knockout against American Jermain Taylor Oct. 17 in Berlin, Germany.
The former middleweight bronze medalist at the 2004 Summer Olympics from Flint, Mich., Dirrell (18-1, 13 KOs) dropped a close 12-round decision to Carl Froch for the WBC Championship the same night in Nottingham, England.
This fight will be available to a record 54.4 million households as part of the Showtime All Access Free Preview Weekend on Showtime, Showtime HD and Showtime On Demand. From Thursday, March 25 through Sunday, March 28, viewers across the country will have the opportunity to sample the premium network's award-winning programming via linear service, On Demand and in HD, including two live events from Showtime Sports.
The event is being promoted by Gary Shaw Productions and Sauerland Event.
What the fighters had to say on Wednesday at Kronk Gym: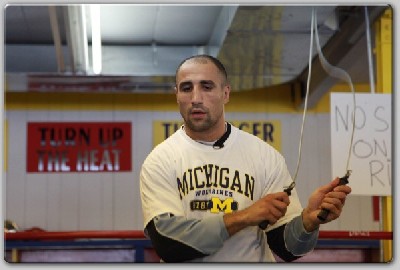 Arthur Abraham: "It is a pleasure to be back in America. I have adjusted well to the time difference. We have been doing light workouts and I feel ready for Saturday night.
"Dirrell is fast but that will not help him. I am in the Super Six to become a legend in America. I need a win on Saturday to accomplish that goal. And I will get that win.
"My trainer, Ulli Wegner, has prepared a special game plan which will help to defeat Dirrell. You will see on Saturday how that works.
"I like Detroit, I have seen a little bit of the city. It is different from German cities. What I like most about Detroit is the famous Joe Louis Arena. I have visited it and it was very impressive. I am thrilled to be fighting there."
Ulli Wegner, Abraham's Trainer: "Arthur is in great shape. He has coped very well with the time difference, but for someone like him – someone in top shape – it is very easy to adjust.
"We are looking forward to fighting in America again. Everybody said we were crazy when we came over to fight in Edison Miranda´s backyard in June 2008 and Arthur knocked him out. I think the outcome will be the same on Saturday - a great victory for Arthur."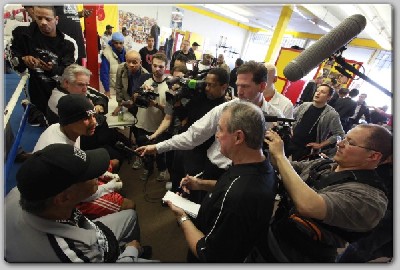 Andre Dirrell: "Nothing can get in the way of my dedication and achieving my dream. You have to have a different game plan for each fighter you face, and we have a strong game plan for me to execute with Abraham. I have faced power punchers before, none as explosive as Abraham, but I have fought power punchers in my career and handled them well.
"I'm smarter, faster and more elusive and I feel that I have the most skill and speed. It will be difficult for him to catch on to my style but not for me to adjust to his. I won't feed into him and fight his fight, but I will let these hands fly.
"I'm going in with a strong game plan and I'm going to execute it to the best of my ability. Whatever he brings, I will be ready for it. My natural ability gives me confidence. I've put in hard work and I'm ready for Saturday night.
"I met him (Arthur Abraham) on the media tour and at the press conference and he seems like a nice guy, but in the ring, it's all business.
"There are two championship belts at stake (in the Super Six tournament) and I want them. Arthur Abraham is a stepping stone in my game plan to get those two belts. I want to get him out of the way and get those titles."