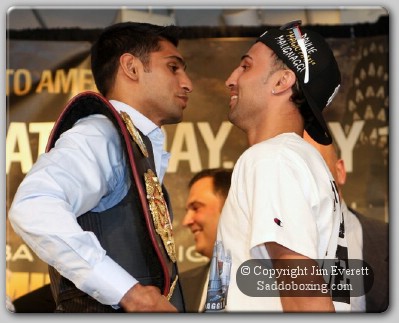 Click the above image to see all photos from this Event
On Saturday May 15, 2010 WBA Super Lightweight Champion Amir Khan, 22-1 (16), will make his U.S. debut when he steps into the ring at Madison Square Garden in New York City, the "Mecca of Boxing".
He will defend his title against local favorite and former lightweight champion Paulie Malignaggi, 27-3 (5).
In the co-feature, former world champion Nate Campbell, 33-5-1 (25), will face rising star Victor Ortiz, 26-2 (21).
Ortiz looked relaxed as he addressed the media, "As far as the fight it will speak for itself on Saturday night. I'm ready to go, as I'm sure Nate is to. I'm ready to get home with a nice victory."
Campbell is returning to the ring after a bit of a lay off since his bout with Timothy Bradley last August, which was ruled a no-contest. "I don't have a whole lot to say, I'm not going to make any idle threats, I'm going to let my hands do the talking," said Campbell.
"For those of you who know me, I don't care who you put in front of me, I never have," continued Campbell . "I grew up in the ghetto, I was a foster child, was by myself most of my life. What you do is what you do. With me I'm going to do what I have to do and that's win."
Although the main event with Khan and Malignaggi isn't scheduled until Saturday their fight began two months ago at the kick-off press conference. It began with verbal jabs that have continued over the internet with the two going head to head "twittering" back and forth.
Malignaggi wants to prove that he is here to stay, "This is my redemption. This is what I've been waiting for because nobody thought I was going to back in a championship fight. This is a big redemption for me, the opportunity just to be here and the chance to beat a champion that everybody says is so great and that he's the future and all this."
Paulie continued, "Don't forget after the fight Saturday night after I beat him I don't want to hear that Amir Khan was overrated, that Amir Khan had to go to Vancouver , I don't want to hear anything! Amir's manager said he wants the biggest fights in America he wanted Paulie Malignaggi, you know what they say bro' be careful what you wish for."
Khan politely chuckled at Malignaggi's statements, "Paulie keeps talking too much. I'm happy to fight someone like that just to shut him up. I want to send a statement to the 140 pound division. I can't wait to beat him".
Khan concluded, "Paulie needs shutting up. I think I'm going to be the one guy who is going to shut him up properly. I think this is his last chance he is going to get at a championship; I don't think he will get any chances after this."