**With Slideshow**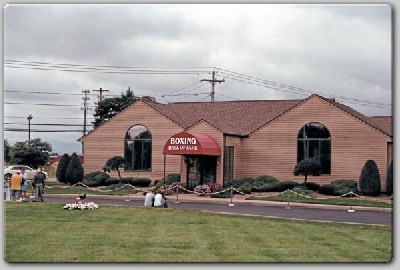 © Heidi Sherwood
The 2010 Hall of Fame weekend in Canastota, NY has ended and as with previous ceremonies, excitement filled the air for both fighters, fans, honored guest and inductees.
While the weather for the event was less than desirable, not only hot but excessively humid, fans came in abundance to watch the sport pay tribute on its most anticipated non-fight card weekend.
Over the four day event, names associated with the sport in one form or another consisted of George Chuvalo, Carmen Basilio, Billy Backus, Al Bernstein, Angelo Dundee, Livingstone Bramble, Marlon Starling, Bert Sugar, George Campbell, Bruce Trampler, Buddy McGirt, Willie Monroe Jr, Ray Mercer, Ron Lyle, Ernie Shavers, Micky Ward, Ken Norton, Aaron Pryor, Tony De Marco, Nino Benvenuti, Sergio Martinez, Lucian Bute, Robert Guerrero, Riddick Bowe, Leon Spinks, Steve Cunningham and more.
On Thursday, June 10Th the gala started off with lectures from past inductees and current associates of the sport followed by book signings and the opening ceremony. Friday consisted of more ringside lectures, celebrity fist casting, open workouts by some of today biggest stars and hottest prospects.
The day's activities ended with Madison Square Garden night where the "Mecca" of boxing's greatest moments were relived by those who participated and witnessed the iconic buildings greatest moments.
Afterward, the attendees headed over to Graziano's famous Italian restaurant, mingling over drinks while swapping stories of what took place behind the scenes during their prime glory years.
Saturday June 12Th brought along more festive activities for fans; a 5k race, celebrity golf tournament and autograph signing event started off the day. Later, fans were treated to Q&A sessions with former Middleweight Champion and HOF alumni Vito Antuofermo, while current middleweight champion Sergio Martinez displayed his skills with an open workout.
As the day wound down, we gathered at the VIP cocktail reception then finished off with the Banquet of Champions which took place at the Syracuse Oncenter Complex. Honorees were dressed to the nines as they sat center stage and were toasted for their contributions to the sport.
Finally the weekend took close on Sunday the 13Th after a tribute by the US Postal Service, then Canastota's citizens lined the streets along with visitors to catch a glimpse of boxing's elite in the annual Parade of Champions led by Grand Marshalls Carmen Basilio and Billy Backus, the two local champions who inspired the hall's creation in 1990.
Local law enforcement, fire departments, high schools, state officials and even area congress participated in helping make our champions of the past feel welcomed and appreciated.
Closing ceremonies consisted of the inductees arriving on the platform to receive their Hall of Fame ring and deliver speeches to the fans about their feelings on being inductees, while sharing a moment or two of their storied careers.
Those who were inducted and made speeches were Promoter Wilfried Sauerland, Manager Shelly Finkel, Matchmaker Bruce Trampler, Journalist Ed Schuyler, Referee and Commissioner Larry Hazzard, former light flyweight champion Jung-Koo Chang and former featherweight champion Danny "Little Red" Lopez.
Acknowledged as well were posthumous inductees who were voted in by the Boxing Writers Association along with a panel of boxing's most respected historians. Those posthumous inductees were light heavyweight Lloyd Marshall, former featherweight champion Young Corbett II, former lightweight champion Rocky Kansas, light heavyweight and heavyweight contender Billy Miske and announcing legend Howard Cosell.
This was a weekend fitting those who earned their way to immortality and a tribute to men of the sport who greatly deserved the honor.
I look forward to the 2011 weekend.