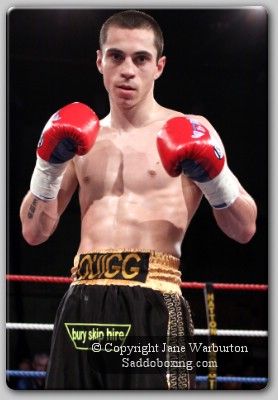 Click the above Image for more photos by Jane Warburton
At the packed Castle Leisure Centre in Bury, England, Hatton Promotions hosted a fight-card which headlined the vacant WBA Inter-Continental Super-Bantamweight Contest between local man Scott Quigg and Argentinean – Santiago Allione.
Boxing gets under way and Quigg gets to work using the left jab while Allione seems content to 'wait'. In fact, after having thrown the opening punch of the round – it's then almost a minute before he throws another (!) He picks it up in the second minute and Quigg concentrates on the left, but it's been a cautious opening round for both men.
It's a better round two as both boxers increase the work-rate. Quigg lands a solid body-shot mid-way through the round which rouses some cheers from supporters, but the Argentinean starts to throw more shots.
Quigg lands headshots which rock back the head of his opponent and with a minute remaining – a big left hook lands on target and Quigg fans roar their approval. Allione throws a barrage of shots inside the closing half-minute of the second frame and Quigg is forced on the back foot.
Both men find success as they begin the third round but with just over a minute remaining – a glancing right hook sees Allione fall to the canvas. He does not make the count and Quigg wins the Super-Bantamweight Belt by third round knockout.
Afterwards the local boxer told Hatton TV that he felt he had 'learned a lot from those three rounds'.
The contest was broadcast live around the world on Hatton Boxing TV.
Other results Included:
Graeme 'Dezzie' Higginson (Blackburn) v Sid Razak (Birmingham)
6 Round Lightweight Contest
Higginson wins on points and improves to 12 wins (3 by KO) 8 losses (3 by KO) and 1 draw, while Razak drops to 4 wins (1 by KO) 51 losses (3 by KO).
Jez Wilson (Sheffield) v Max Maxwell (Birmingham)
6 Round Middleweight Contest
Contest is declared a draw. Wilson's record now stands at 6 wins (4 by KO) 1 loss (1 by KO) 1 draw. Maxwell's record now stands at 12 wins (3 by KO) 9 losses (1 by KO) 3 draws.
Kenny Anderson (Edinburgh) v Carl Wild (Sheffield)
6 Round Super Middleweight Contest
Anderson wins by TKO round 5 and improves to 12 wins (8 by KO) no losses, while Wild drops to 9 wins (1 by KO) 14 losses (4 by KO) 3 draws.
Wayne Reed (Sheffield) v Steffan Hughes (Pentrefoelas, Wales)
4 Round Light Heavyweight Contest
Reed wins by fourth round TKO and improves to 5 wins (2 by KO) 1 loss (1 by KO), while Hughes drops to 3 wins (1 by KO) 2 losses (2 by KO).