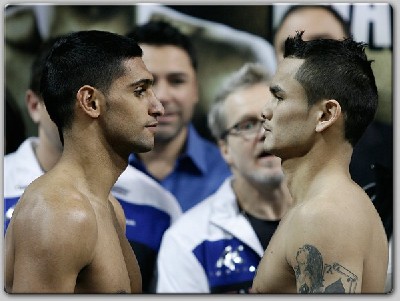 © Tom Hogan - Hoganphotos / Golden Boy Promotions
Tonight, Great Britain takes on the world as James De Gale, Nathan Cleverly, Amir Khan, Matthew Macklin, Frankie Gavin, Tony Bellew and Kell Brook are all fighting…not each other, in a massive royal rumble type of affair…individually of course.
Amir Khan is topping the bill and leading the charge as he defends his world light welterweight title against Argentine danger man Marcos Maidana. Nathan Cleverly looks to secure his own title shot, in an eliminator for the WBO light heavyweight crown against Alejandro Lakatos.
James De Gale looks to end his year in style by fighting Paul Smith for his British title and on paper it's a massive step up for De Gale, but it should be just the test he is looking for.
European light middleweight champion Matthew Macklin fights Ruben Varon whilst Kell Brook fights unknown African Philip Kotey.
Tony Bellew fights Ovill Mckenzie and Frankie Gavin fights Dean Harrison for the vacant WBO inter-continental light-welter weight title.
Let us begin with James De Gale, who has a hard night's work ahead of him. Paul Smith, 29-1, 15 KO's, is a seasoned operator. Smith has been performing at domestic level for a good few years now and feels that perhaps it is his time to move on to world honours.
He has faced a few good fighters on his way to being British Champion, good on a domestic scale obviously - Tony Dodson, Tony Quigley and Steve Bendall.
In the past, Smith has shown that he has good conditioning, a good chin and can bite down and fight hard when asked of him. In his last bout, he was cut, twice, around the same eye in the first round but continued to fight on and get the decision.
He is a solid fighter and a tough challenge for anyone at super middle in this country, but De Gale has shown signs of fighting on a different level altogether. Carl Dilks was a good domestic fighter, with a solid chin, great heart and had proved himself in some great fights but De Gale hammered him in the first round.
Some say Dilks froze; Smith will not freeze. Being a Liverpudlian and these fights taking place in Merseyside, De Gale will really be walking into the lion's den. De Gale is incredibly confident, with borderline arrogance, besides what he says though, he has been doing the job and has not looked to be really tested yet.
De Gale's long time arch-rival George Groves was tested against Kenny Anderson three weeks ago. Groves was caught, hurt, put down and had to find it within himself to go out and win…which is what he did.
Bearing in mind this is De Gale's ninth fight, it's his trial by fire. And as such would set up a fight between himself and Groves, De Gale will be too cute for Smith in what should be a belter of a fight and De Gale will probably see out a points victory.
Amir Khan has a hard nights work too, what with dealing with Marcos Maidana. Maidana, 29-1, 27 KO's, is a huge puncher and this fight falls down to the old boxer/mover vs relentless puncher.
Maidana has been known to struggle with boxer/movers before, as he lost against Andreas Kotelnik, who Khan completely outboxed. The danger with Maidana is letting him settle into his own rhythm and slugging it out with him. Victor Ortiz tried that and found out the hard way that Maidana can definitely punch.
If Khan can keep on the outside and pick his shots with Maidana for twelve rounds, which we all know he can, then he shouldn't have too many concerns. Khan says he was chinny at lightweight as he was drained from making the weight, and that he can take a punch. As long as he doesn't try to prove that theory he will walk away with a points decision victory.
Maidana is not hard to hit, Khan will find the gaps and his footwork will be key.
Nathan Cleverly continues his rise through the rankings fighting Alejandro Lakatos, 31-5-2 23KO's. Cleverly has had some really impressive wins recently, nearly everytime he has fought, he has shown us quality. What's more is every time he does fight he will reveal a skill set we haven't seen from him before., which shows he is still learning and improving from good opposition.
Cleverly, now 20-0, with 10 KO's, is looking for his world title shot. He has a good technical boxing brain, which he often ignores and tends to slug it out, which is great for us, he has also shown a solid chin, has never been wobbled or put down or looked to be in serious trouble. He has a great work rate and has learned to sit down on his shots, showing knockout power.
Lakatos is 37 and at the tail end of his career. Everytime he has stepped up to get his own world title, he has fallen. He's an experienced operator at a European level, but nothing the younger, stronger, fresher, sharper and faster Cleverly hasn't dealt with before. Lakatos has been stopped before, once overwhelmed and once knocked out. Cleverly will be too much for Lakatos and will overwhelm him forcing a referee's stoppage in the middle rounds.
Philip Kotey, 21-5-2 15 KO's is the man standing in Kell Brook's way. Brook, 22-0, 15 KO's, is another man of the moment and would equal Cleverly in upcoming fighter status. Kotey is normally a light-middleweight, and is coming down to fight Brook at weltereight.
Not a great deal is known about this fighter, which also makes it a dangerous match up. What I can tell you though is that the every time Kotey boiled down to fight at welterweight, he has lost.
And in one of those fights he was knocked out late in the contest. That already stands Brook in good stead, as Brook will want to get out there and send a message. Brook really believes he is ready for the big boys of the division and he should be looking to take Kotey's head off early.
Brook is a well schooled fighter, with good power and good movement. After a lacklustre performance against Michael Jennings in his last outing, coupled with the statement he wants to make, this should make for an explosive Brook.
If Brook goes out there firing on all cylinders he should stop Kotey. In reality he needs to if he wants to cement his status as an upcoming elite world class fighter.
Matt Macklin, 27-2, 19 KO's, fights Ruben Varon, 35-5, 16 KO's. Macklin is another Brit here who wants to show that he belongs in a higher class than where he is operating at present.
After winning the European middleweight title off Jomardashvili earlier on this year, he plans on defending said belt and then he wants his shot. He has previously been calling for a shot at newly crowned middleweight king Sergio Martinez. Hold your horses there Mack, let's see how you handle your first defence.
Not only do I not give Macklin a chance against Martinez, he has broken one of the fundamental rules of pro-boxing…never look past the man standing in front of you. The same goes for Amir Khan, who has recently been calling out Floyd Mayweather.
Macklin is a good fighter, and a fan favourite. He has under-rated boxing ability and has knockout power, although he has been in the game a while, he still has the hunger to do well and the fire still burns inside, he will stand and trade happily. Who can forget his domestic classic with Jamie Moore?
Varon has really only ever been European class, no shame in that, but if Macklin were to not do so good against him then it would most certainly establish what level Macklin was on. Another fighter with something to prove and a message to send.
Frankie Gavin, 8-0, 7 KO's, is a man who is steadily building stock and learning his craft. Perhaps the most promising of all the Olympians ( even though he didn't perform ) Gavin has looked good in all his outings, albeit only eight of them. A sharp southpaw who is accurate and economical, he will throw from different angles and works the body exceptionally well.
He goes up against Dean Harrison, 16-4, 5 KO's. Harrison has fought for the English title before, losing twice on points. He has also fought for the British title, but was stopped in four rounds by Paul McCloskey. He Isn't known for his power, and has struggled when matched against really talented guys.
Gavin should finish this early. He has too many tools at his disposal and will give Harrison serious trouble before stopping him.
Last, but by no means least is Tony Bellew, 14-0, 9 KO's, who had a bit of a nightmare performance in his last fight and will be looking to get some of the spark back. He fights former Prizefighter winner Ovill Mackenzie, 18-9, 7 KO's.
What Mackenzie lacks in skill he makes up for in heart. But the bottom line is that he has lost to guys Bellew has beaten. When Bellew turns it on, he looks good and although Mackenzie will be courageous and come to fight, Bellew will outclass him and win on points.