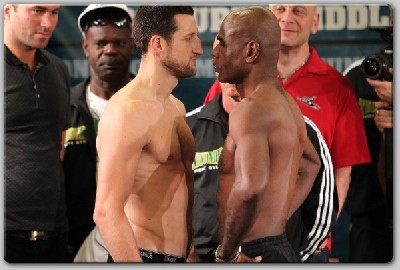 © Tom Casino / Showtime Boxing
In meeting Glen Johnson tonight at Boardwalk Hall in Atlantic City, NJ, Carl Froch continues his run of hard fights against top-level opposition.
Froch's last five fights were Against Jean Pascal, Jermain Taylor, Andre Dirrell, Mikkel Kessler and Arthur Abraham.
It is refreshing to see a fighter face top-level boxers one after the other, as recently boxing, as a sport, is taking some flack in regard of top guys not facing each other.
Johnson himself has had his fair share of hard fights against excellent competitors, meeting the likes of Bernard Hopkins, Sven Ottke, Clinton Woods (three times), Roy Jones Jr, Antonio Tarver (twice), Chad Dawson (twice) Tavoris Cloud and Allan Green.
Johnson face all these and more in a pro career spanning 18 years. His record stands at 51-14-2 with 35 KO's. And although the opponents named above are impressive, he lost to Hopkins, his first and only career stoppage. He lost to Ottke, with Woods he went 1-1-1.
The two times he fought Tarver, he was 1-1. Dawson beat him twice and Cloud also beat him. Johnson defeated Jones Jr and Green. So a varied top-level record, generally when he meets elite fighters at the top of their game, he will lose. (Jones was past prime, and Green isn't elite)
Still Johnson is nicknamed "The Road Warrior", and that's exactly what he is. He is a tough old veteran, who has fought anyone, anytime, anywhere. That is how he is even in this fight with Froch, as a substitute in the Super Six Tournament. He certainly announced his arrival by knocking out Green in round eight of their qualifier back in November, 2010.
Although he made weight against Green, at 42, one must wonder how difficult Johnson finds it to cut down to 168, when he has been campaigning at 175 since 2001.
Johnson comes in with good pressure, nearly always pushes the fight and he has a heavy right hand which he throws often and also a good left hook. His chin and heart are huge attributes; to go through his career and never really be in trouble once, even in his stoppage against Hopkins, is quite impressive.
By trouble, I mean wobbled, on the canvas or just surviving a round. Rather, Johnson's losses come from being outclassed.
The most skilled fighter he is not. Does he have the best footwork? Not at all. Though limited in his ability, he always gives good fighters hard nights.
Froch shares some of Johnson's qualities, although I believe the Englishman has more in his arsenal.
Froch is 27-1-0 with 20 KO's, and over the course of his previously mentioned last five fights he is 4-1, losing only to Kessler in a close, hard fight.
Froch is an unorthodox puncher, he likes to throw unconventional shots from outside, but showed in a career best performance against Abraham, that he can stand inside with a big puncher, if need be.
Most say that all Froch needs to do is box the same way he did when he faced Abraham. Yes, his foot work and angles should give Johnson trouble, but as Abraham can cover up and switch off, he can make a good fighter look great sometimes simply because of his inactivity.
Johnson will not just plod forward with his guard held high, well…he will, but he is effective at doing it. Not usually a standing target, he knows well enough by now that small movements and rolling with punches is enough to get him out of harms way, but even if he does get caught, Johnson wont budge.
Johnson has faced bigger punchers than Froch, so I don't see Froch stopping Johnson, but he can outbox Johnson and outwork him as the younger, fresher guy.
This, potentially, could be Froch's hardest fight to date. If he keeps his cool, doesn't get dragged into a tear up, which is going to happen with these two in the ring, and stays outside, sticking and moving, gets inside, gets his shots off, and gets out again, then the fight could be easy.
Johnson, though, has never given anyone an easy night, Froch takes the decision but he will have to earn it.