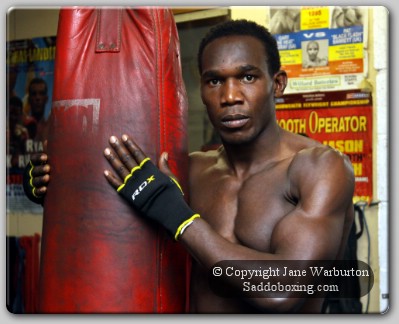 Former Prizefighter winner - Ovill McKenzie is ready for his rematch with Tony Bellew next week and the Shinfields Boxer is keen to settle a score against the Liverpudlian.
The pair met at the Echo Arena, Liverpool, in December for the Commonwealth (British Empire) Light Heavyweight Title. 'Bomber' Bellew was on the canvas in the first round from a right to the top of his head, then again in the second – this time from a huge right but Bellew jumped up straight away saying he was alright.
A great left hook in the eighth round saw McKenzie fall on his back, he took the count and fighting resumed but Referee Phil Edwards stepped in almost immediately to stop the fight before any shots were landed. Team McKenzie were clearly not happy with the stoppage and just a few weeks later hear they will have a rematch.
McKenzie is still bemused by Bellew's firey outbursts since their fight, at press conferences with Nathan Cleverly and McKenzie. Bellew is looking for a 'scrap' with 'Clev'. It was scheduled to happen just a few weeks ago but Bellew wasn't going to make the weight in time so the McKenzie fight was back on. Bellew and Clev had already had a heated exchange at their press conference which saw the pair up to fighting there and then – with Bellew being escorted away by security guards. The Welsh Champion – who has been sparring with McKenzie this week – will be watching with interest on Saturday.
The Press conference with McKenzie got off to a bad start. Team McKenzie weren't happy when Bellew said that he had stopped McKenzie in the eighth - "You didn't stop him – the Referee did!" said Jason Shinfield. Then McKenzie suggested that Bellew was 'on something'. Saddoboxing.com spoke to Mckenzie yesterday who explained "when he got back up (in round 2) he turned to face me and I could see his eyes – they were 'wild', I'm a doorman, I know that look." Bellew didn't appear upset by the suggestion though – infact he laughed it off as being flattering!
Likeable McKenzie has the biggest grin in the business (!) but his face was serious when he told Saddoboxing "I've been working very hard for this fight, I'm going for the kill this time! I'm a good fighter and I'm a harder puncher than him, he'll be staying down this time!"
Tony Bellew v Ovill McKenzie II for the British Light Heavyweight Title is on the under-card of the Ricky Burns v Nicky Cook Fight-night at the Echo Arena in Liverpool on Saturday 16th July. Promoted by Frank Warren – the show features four title bouts and is screened live on SkySports1 and HD.