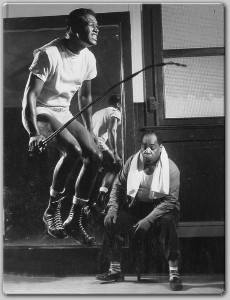 The following article is on a subject I hold very dear to my heart. 10 years ago I was contacted by Harry Wiley Jr, the very proud son of Harry Wiley Sr, who trained the man that most experts call the greatest fighter to ever to grace the ring; Sugar Ray Robinson.
Harry Jr is 51, not in great health and has no family line to pass on the thousands of stories he knows about his father so they might sadly never get told.
Harry Jr has only ever truly wanted one thing in life and that is for his father to get the recognition that is so rightly deserved.
To that end, Harry Jr has campaigned for many years to get Harry Sr inducted to the International Boxing Hall of Fame (IBHOF) in Canastoda, NY, an effort which has included an article I ran in 2001 when this website was just starting out, called "The Forgotten Trainer"
It is sadly very hard to put any article together about Harry Wiley Sr as there is very little info about this amazing man's life, but with the help of Harry Jr and a lot of searching through old news reports, books and youtube clips, I now have the following appeal that I will be submitting to the IBHOF in a bid to get Harry Wiley Sr's place in boxing history cemented.
Harry Wiley Sr was born in New York, NY on October 23,1907. At the age of 16, he decided to take up boxing and instantly fell in love with the noble art.
He soon found that he was quite good in the ring and managed to rack up 11 wins before one fatal day in Manhattan when he was crossing the street and was struck by a taxi cab.
The incident left Harry with a badly broken leg, thus ending his short lived career as a boxer. But boxing was now in his blood and he loved the sport so much that he carried on hanging out at the gym to help the development of the young fighters that trained there.
Sometime in the 1920's, Harry hooked up with Jack Blackburn, the great Hall of Fame trainer who went onto train one of the best heavyweights of all time, Joe Louis.
Wiley and Blackburn really got on really well and learning the trade from one of the best was so invaluable for Harry that he decided to become a trainer himself.
Blackburn was hard on young Wiley, teaching the very keen student everything from how to work with young fighters, how to bandage hands, giving rub downs, motivating the boxers and most importantly, getting them into tip top shape.
Wiley must have been doing something right because just before 1932, he got offered the position of trainer to the USA Olympic Boxing team, something Harry was very proud of all through his life as he believed he was the first ever African-American trainer in the USA Olympic Boxing program.
That year, five of the eight boxers on the team producing two Gold and three Bronze medals. It took America another 20 years before they got another Gold medal for boxing, so Harry's input that year must have been pretty good.
Sadly for Wiley, his skin color meant he never made it to the end to enjoy the celebrations. Harry noticed that all the Caucasian fighters got fresh milk, fresh eggs and steaks, but the African-American fighters got powdered eggs, pork chops and powdered US Army issue milk. Harry was not happy as he wanted steaks for the African-Americans too.
Unfortunately for Wiley, his complaints made their way to the Olympic chairman, Kenesaw Mountain Landis. For those who do not know, Landis was known famously for cleaning up corruption in the sport of Baseball. He was known as "The Judge" and his word was final; no one would dare argue with him.
Landis also had very obstinate views on race and thwarted all attempts to integrate Baseball under his watch. He repeatedly upheld the sport's unwritten ban against African-American players.
This incident led to Wiley being fired by Landis from the USA team and was another very hard lesson about the realities of skin color in those dark times of history.
Wiley went back to the gym and it was there he met and started training and working the corner of Hall of Fame legend Henry Armstrong, the only boxer to ever hold world titles in three different weight classes simultaneously.
It is not confirmed if they first met when Armstrong briefly changed his name to Melody Jackson in his failed bid to join the 1932 Olympic boxing team but I feel the connection is worth mentioning.
Wiley was good friends with George Gainsford, who invited Harry to come help with the Salem Crescent Church boxing team.
At the same time, a very young kid tarted hanging around the gym, stating he wanted to learn to box like his idol, Joe Louis. Gainsford and Wiley let the kid hang around the gym for a few years as the youngster tried to copy the styles of other fighters.
The young man's name was Walker Smith, later re-named Ray Robinson after avoiding the AAU's age restriction by borrowing a card from his friend, who was actually named Ray Robinson.
While Gainsford was busy with the team, young Ray went everywhere with Wiley. Wiley would do a lot of sparring with Ray until, in his own word said, "he [Robinson] just hit too damn hard later on for this shit".
Wiley became Ray's trainer and chief second, Gainsford would handle the business while Wiley would handle the boxing end, such as acquiring sparring partners and so on. This is what Wiley Jr recalls his dad saying and gets annoyed when he reads the false claims that Gainsford did it all by himself.
In truth, Robinson owed his greatness to Gainsford, Harry Wiley Sr and the little known Charles Beale, who never seems to get any credit.
Ray Robinson's greatness speaks for itself with 85-0 record as an amateur with 69 of the victories via KO, 40 of which came in the first round alone.
Turning pro at the age of 19 in 1940, by 1951 Robinson had an outstanding pro record of 128–1–2 with 84 KO's. Robinson held the world welterweight title from 1946 until 951, when won the world middleweight title.
Robinson retired in 1952, only to come back two and a half years later and regain the middleweight title in 1955. He was the first boxer in history to win a divisional world championship five times. Most experts pick Ray as the Pound for Pound best boxer who ever lived.
Harry Wiley Sr was the chief second for Robinson for over 24 years and played a key role in Ray's success.
After working with Robinson, Wiley went on to train Jamaican fighter Bunny Grant, England's hopeful golden boy Billy Walker and top ten 1970's fighter Carlos Marks among others..
Wiley also helped train Sonny Banks for his up and coming fight with Muhammad Ali, then named Cassius Clay.
American journalist A. J. Liebling visited Harry's Gym while Banks was training. The following is his description taken from Liebling's article Poet and Pedagogue published in New Yorker magazine on March, 3, 1962 about Harry Wiley's Gymnasium on 137th Street and Broadway in New York.
I felt back at home in the fight world as soon as I climbed up from the subway and saw the place -- a line of plate-glass windows above a Latin American bar, grill, and barbecue. The windows were flecked with legends giving the hours when the gym was open, the names of fighters training there. The door of the gym --"Harry Wiley's Clean Gym," the sign on it said. Inside was full of didactic signs among the photographs of prizefighters and pinup girls. "Road Work Builds Your Legs," the sign said, and another, "Train Every Day -- Great Fighters Are Made That Way". A third admonished, "The Gentleman Boxer Has the Most Friends." "Ladies Are Fine -- at the Right Time," another said.
Wiley was in Bank's corner that night, and while Sonny lost to Clay, with hindsight Banks actually did very well indeed by being the first of only four fighters to ever put Clay/Ali on the canvas and he did it in the first round.
When Harry was asked after the fight what the turning point was and where it when wrong for Sonny, Wiley said, "Things just went sour gradually all at once. You got to respect a boxer. He'll pick you and peck you, peck you and pick you, until you don't know where you are."
Harry was very impressed with young Clay that night and it turns out that Clay was also impressed with Harry as a trainer because after trying to get Harry into his camp a few times over the years, he finally did as head trainer for the Jimmy Ellis fight as Angelo Dundee was in Ellis's corner.
Ali sang Wiley's praises after that fight, in fact at the post fight press conference Dundee said Ali looked like his old self to which Ali replied, "That's because I had Harry Wiley."
Wiley was proof that you can in fact teach an old dog new tricks because during a TV interview Ali had with Howard Cosell, Cosell mentioned Ali rolling his shoulder to avoid the right hand. Ali stated that Wiley taught him that as well as a few other things.
Ali was so impressed with Wiley as a trainer he told Cosell that he would be keeping Harry in his corner for all his fights and was true to his word as Wiley and Dundee where both in Ali's corner for his very next fight against Buster Mathis.
Sadly that was to be the last fight that Harry cornered and he just missed out on the ride that was the second coming of Ali as Wiley passed away just over two months later on February 7, 1972.
In closing, my humble appeal is for this great trainer and man, Harry Wiley Sr, who spent 50 years of his life involved in Boxing and playing a major role in the history of this great sport, to be inducted into the International Boxing Hall of Fame, but I will leave the final word on this to "The Greatest", Muhammad Ali, with a direct quote taken from his book, "The Greatest, My Own Story", published in 1975 by Random House.
"Wiley, is a brilliant trainer, worked with Sugar Ray Robinson for twenty-four years, had been in the corners of Baby Joe Gans, Kid Chocolate, Henry Armstrong, Joe Louis, knew the habits of Jack Johnson, Sam Langford, Jack Dempsey, Harry Wills."
.....................
Please help get the word out on this great trainers achievements that time seems to have forgotten by linking this article to your Facebook, Twitter, Google Plus or Blog and anyone wishing to copy this whole article for their own website is quite welcome to with or without credit, as I feel remembering this great man is the main issue here. Also anyone wishing to talk to Harry Wiley Jr about Ray, His father, boxing back then or to produce your own article can contact me and I will gladly pass his contact details on to you.