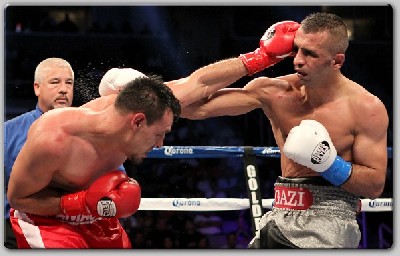 © Tom Hogan - Hoganphotos / Golden Boy Promotions
Last night at San Jose's HP Pavilion, local man Robert Guerrero overcame both opponent Selcuk Aydin and a jump of two weight classes to win the vacant Interim WBC welterweight title.
A former world champ at featherweight and super feather as well as an Interim lightweight beltholder, Guerrero shook off over a year of inactivity and got right to work
once the bell rang to commence combat last evening.
After a long, grudge-filled pre-fight buildup to the fight, Guerrero and Turkey's Aydin went directly at each other, swapping hard punches that saw Aydin winging right hand bombs while Guerrero threw leather from both hands.
Soon after, a pattern developed that prevailed through most of the remaining rounds as southpaw boxer Guerrero looked to maintain distance and use his faster hands to counter while Aydin sought to cover that gulf with the jab and get in close with his powerful rights.
After fielding a few of Aydin's power shots, Guerrero proved he could take the efforts of a big-punching welter while the Turk discovered that although Guerrero didn't have the same concussive power in his hands, the Californian had to be respected on the strength of his combination throwing abilities.
Guerrero was the far busier man last night, outworking Aydin, who landed with greater accuracy and power and even managed to shake up the larger Black Sea area fighter in the fourth.
Aydin recovered quickly and reeled off a barrage to let Guerrero know he wasn't badly hurt and by the seventh, was rocking his tiring rival with a raft of rights.
But Aydin couldn't better his work and was back on the receiving end in the next round before storming back in the ninth to trouble Guerrero. Aydin picked up the pace in the following two rounds, mounting a heavy campaign that attacked Guerrero's body to great effect and had the Gilroy native clinching on many occasions.
The final round saw two tired fighters both grabbing hold and swinging with every ounce of energy that had left until the bell signaled the end of the bout.
When the scores were read, Guerrero won all three cards by surprisingly wide margins of 117-111, 116-112 and 116-112, improving to 30-1-1 (18), while Aydin loses for the first time in his career, going to 23-1 (17).
While Guerrero did prove that he could defeat a very strong and determined welterweight, it is significant that Aydin managed to land with a fairly high degree of accuracy and that does not bode well for Guerrero's campaign to face full WBC champion Floyd Mayweather Jr, to whom Guerrero is now mandatory challenger.
The undercard featured a competitive welter clash between highly touted prospect Shawn Porter and seasoned veteran Alfonso Gomez.
Porter's advantages in mobility and speed produced some flashy results but were somewhat offset by the timing abilities of Gomez, who managed to land effective counter punches.
Head clashes produced cuts above both of Porter's eyes and those injuries, coupled with the ability of Gomez to take a punch, allowed the increasingly battered Mexican to last the distance, losing a 98-92, 97-93 and 96-94 points verdict after ten rounds.
If Porter is to realize his potential, he must improve his defense as the competition from this point on with be much more skilled than the record building opponents he has faced prior to Gomez.
Another much-publicized prospect was on the card in San Jose, British and Commonwealth super middleweight champ George Groves, 15-0 (12), who made his second American appearance a good one, fighting through cuts to halt experienced Mexican puncher Francisco Sierra, 25-6-1 (22), at 2:15 of the sixth.
Groves is scheduled to return to the UK where he is penciled in at London's Wembley Arena in September to rematch Scotland's Kenny Anderson, however, a cut suffered against Sierra could postpone that clash.