"The Hitman" Goes The Distance In Final Manchester Training Session
Click for larger image © Jane Warburton / Saddo Boxing
Ricky Hatton's fearless trainer Billy Graham donned the huge bodybelt which symbolizes the final hard workout of every Hatton training camp and the two men went 15 grueling rounds yesterday at Graham's Phoenix Camp gym in Manchester. "The Hitman" was absolutely relentless in pounding the bodybelt, working nonstop, his punches consistently powerful and at times making the taller, heavier Graham topple back.
The power behind Hatton's pressure could actually be felt in the gym, a breathtaking display. The WBA Light Welterweight Champion was so impressive it was hard to visualize anyone standing up such savage attacks. Round after round he kept up the punches from every angle. The uppercuts were fierce and the body punches came hard and fast.
During the last three rounds, many in attendance were enthusiastically clapping and shouting "come on Billy, come on Rick" and after the bell for the 15th and last round, there was cheering and appreciative applause for a really impressive training session.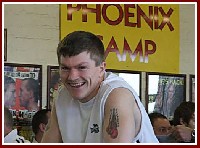 Ricky Hatton has officially begun his one man invasion of America after touching down at Logan Airport this morning on a flight from Manchester, England. The occasion marks the final countdown to Hatton's hotly anticipated US debut taking place next Saturday at the TD Banknorth Garden in Boston where he'll meet WBA Welterweight Champion Luis Collazo on a joint Banner/Fight Academy promotion televised live on HBO World Championship Boxing.
With thousands of Brits due to flood Boston this weekend to see their massive UK idol in action, reigning WBA Champion Luis Collazo may find himself fighting essentially in front of the same hostile crowd that has unnerved many a previous Hatton opponent before the first bell has even rung.
Fight Academy and Banner Promotions present the Ricky Hatton - Luis Collazo WBA Welterweight title clash held on Saturday, May 13 at the TD Banknorth Garden in Boston, MA, televised live by HBO World Championship Boxing at 9:45PM ET/6:45PM PT. Tickets can be purchased online just check out Saddo Boxing's big fight build up page for details...
Rick Hatton - Luis Collazo Big Build Up