Click for larger image © Natasha Chornesky / Saddo Boxing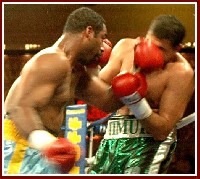 I have to give HBO credit for trying something new so I will let them slide for the boring segment of Boxing after Dark this weekend. Getting undefeated prospects to fight each other is virtually impossible these days and they managed to get two fights like this. In theory it was a very good idea because everyone loves a prospect and two of the fighters on the card were building some serious buzz in the business. Unfortunately in boxing when you get your hopes up you are usually disappointed. The fireworks that were sold turned out to be duds, there weren't any explosive moments in either fight and on top of that, we were forced to once again put up with Fran Charles and his horrible commentary.
The first fight of the night featured Joel Julio, the Columbian knockout artist who was recently plucked from the Showtime stable of fighters. ESPN's Dan Rafael pegged him as the 2005 prospect of the year; Jim Lampley was live on the air last week saying he was a fighter you just have to see. While the suits at HBO were praying that he impressed, he was handled rather easily by the lesser known Carlos Quintana who stays perfect at 23 - 0. There were no knockdowns and not many fiery exchanges, Quintana controlled the pace throughout and showed the ability to put punches together. Julio did show a few flashes but just couldn't handle an opponent who knew how to box. Quintana wasn't overly impressive but did do enough to earn another televised fight against a more established name opponent. I personally would like to see him fight Luis Collazo but a fight against Ricky Hatton isn't completely out of the question either. The Welterweight division is pretty open right now, Judah is gone for a while, Mayweather is always moving in weight for the big money fight. The only constant at the moment is the Gatti - Baldomir fight set for July. so this is the perfect opportunity for an unknown fighter to make a name for himself, we will see if Quintana can do it.
The headliners were a couple of the hopefuls in a clustered Heavyweight division. "The Boxing Banker" Calvin Brock has beaten the best of the rest in the heavyweight in the division but has yet to get in there with a big name. On this night he was set to due battle against Timor Ibragimov, an undefeated Russian who earned 21 wins against very soft competition. Brock has been talked about for quite some time now and there were whispers that he could be the next challenger for Wladimir Klitschko and the IBF title. A big performance on his first nationally televised fight would have sealed the deal for a pay per view headline slot and lots of money. I think this match was a victim of the old saying styles makes fights. While Brock clearly won this contest, it wasn't very entertaining. Ibragimov was like a big slug and couldn't force the action. Brock seems to be better when facing a quicker fighter who will let the hands fly. While this wasn't Calvin's best performance, I still feel that he deserves a crack at a major title. I mean why not? Owen Beck got a shot at a belt last month and what the heck did he do to deserve it....... ever? If Brock can't seal the deal for a fight against Klitschko, he might not get his chance for quite some time. The WBC title is tied up for at least the next year with Rahman set to face Oleg Maskaev in April and the WBC has already named James Toney as the mandatory for the winner. The WBA champ Nikolay Valuev just had knee surgery and will be out of action for a little while. Besides that, he is promoted by Don King which means he will have every softy imaginable rolled out in front of him. Rumor has it that Monte "Two Guns" Barrett will be the next challenger for the WBA title. John Ruiz is still creeping around there too. The WBO belt might be a possibility, there is some Lamon Brewster has a rematch clause with Sergei Liakovich. Brewster is still recovering from a detached retina from their April thriller and probably will not be able to fight for another couple of months. There is talk of a fight against James Toney which will bring in a lot more cash then against Brock. My opinion, try to get the title shot but if that doesn't happen fight Sam Peter to find out who the real number one contender is in the division.
Click for larger image © Natasha Chornesky / Saddo Boxing
All questions & comments can be sent to keithfmt3@hotmail.com