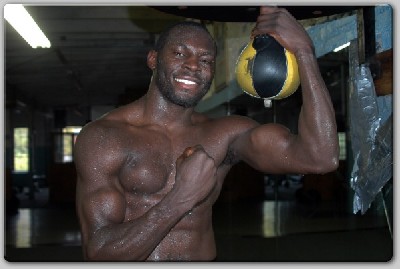 In an an exclusive SaddoBoxing interview ringside at the Sands Casino Resort Bethlehem before the start of the NBC Sports Network boxing card live broadcast on Saturday evening, November 8, 2014, former world cruiserweight champion and current heavyweight contender Steve 'USS' Cunningham spoke about his current situation.
Cunningham last fought in October 2014, when he came off the canvas to stop previously undefeated Natu Visinia in the seventh round at 2300 Arena in Philadelphia.
Cunningham won the USBA Heavyweight title in April 2014 when he came off the canvas three times to win a ten round decision over the previously undefeated Amir Mansour. Cunningham's recent two wins come over opponents with a combined record of 30-0.
Steve and his wife Livvy have temporarily relocated from Philadelphia to Pittsburgh, Pennsylvania, with their nine year old daughter Kennedy, who is on the waiting list for a heart transplant to save her life.
A fund was established online to cover Steve's relocation expenses during the medical waiting period. Health insurance has covered his daughter's medical equipment. The Cunninghams also have two other children with them, Steve. Jr. is 11 and Cruz is three years old.
SaddoBoxing: Steve, What is your current situation heading into Thanksgiving 2014?
Steve USS Cunningham: "My daughter, Kennedy, who is nine years old, needs a heart transplant. The situation is urgent enough to put her at the top of the list (Pennsylvania). There's no time limit for a potential recipient to receive a donor heart. The doctor told us my daughter Kennedy remains on the list until my daughter suffers heart failure."
SB: How long can Kennedy survive with her present heart?
SC: "My daughter's heart is functioning. Her heart is functioning normally, but is underdeveloped."
SB: Can any similar heart do for Kennedy?
SC: "My daughter needs the heart of a nine year old. She still might need another heart in the future, even if she gets a heart transplant now and lives."
SB: You moved from Philadelphia to Pittsburgh where your daughter's surgery would take place if a suitable compatible donor heart is found.
SC: "We moved to a leased residence in Pittsburgh. The state provided medical equipment. My daughter is on feeding tubes. She is being fed through a 'G' tube in her stomach. She sleeps with a machine which helps her with her airwaves."
SB: Does your daughter require medication until her heart transplant arrives?
SC: "She's on an extensive amount of six different medications, maybe more. My wife Livvy knows more about that."
SB: A fund was established for your expenses.
SC: "The fund was to help my family with the move from Philly to Pittsburgh."
SB: Will a donor heart be coming soon to save your daughter's life?
SC: "We've been getting calls for hearts. They notify us whenever a donor heart of any kind becomes available. We've had six calls of hearts which were available, but they were not the right size. My daughter's doctor lets us know when a heart becomes available, and we discuss it.
"We expect to get a donor for Kennedy by Christmas. After her transplant take place, the transplant doctors want us to remain in Pittsburgh for eight months to a year, to give them time to monitor my daughter's heart [post surgery] for rejection and other things."
SB: When will you fight next?
SC: "I'm always in the gym. Main Events will have me fighting against early next year. I'm always working out with cardio and running."
SB: Has your daughter's health situation affected your career? Would you prefer the transplant took place before your next bout?
SC: "I would really like to wait, but if it takes longer, I would really like to provide for my family."
SB: Which heavyweight would you like to fight next? WBC champion Bermane Stiverne? WBA champion Ruslan Chagaev? The winner of the Wladimir Klitschko-Kubrat Pulev bout? Or would you go back to cruiserweight and fight a rematch with Yoan Pablo Hernandez?
SC: "I think I can beat them all. Stiverne is skillful and strong. Chagaev is strong. Wladimir is strong. I believe with the proper training I can beat them all. It'll happen when G-d lets it happen. I'm getting stronger, seasoned and better.
"That's actually a bad thing for these other fighters, especially as a heavyweight I'm getting better at dealing with their weight and size. I would consider going back to cruiserweight I went back straight into a world title fight, like if Marco Huck wanted a rematch.
"I'd fight Yoan Pablo Hernandez again if he comes to America, but not in Germany again. They took two fights away from me when I had the win. Hernandez has too much following over there."