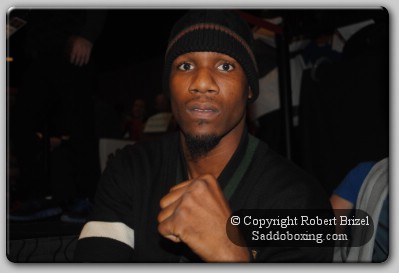 In an international exclusive interview with SaddoBoxing, former World Welterweight and Light Middleweight champion Paul 'The Punisher' Williams spoke about his new charitable foundation, The Paul Williams Foundation, his role as motivational speaker to at-risk youth, and his trip to Rutgers University to view the results of a promising study of stem cell research in China.
Williams spoke ringside at Resorts World Casino in Queens, New York, watching a New Legend Boxing fight card on Friday evening, November 21, 2014. Williams was a guest of New Legend boxing promoters Felipe Gomez and Kevin O'Sullivan.
Williams remained cheerful, posing for pictures, signing autographs, and engaging in serious conversations with young fighters on the card providing suggestions and advice. Boxing champions joining Williams at ringside during the card lending moral support were Luis Collazo, Paulie Malignaggi and Junior Jones.
Williams, 33, last fought in February 2012, when he won a 12 round decision over Nobihiro Ishida. Though paralyzed from the waist down due to a motorcycle accident in May 2012, Williams maintains a positive attitude, and is hopeful he will be included in a new stem cell research study in the near future which might enable to regain his ability to walk and fight again.
"I want to walk again. I want to fight again, for the fans!" an enthusiastic Williams noted.
SaddoBoxing: How did your Paul Williams Charitable Foundation get started?
Paul Williams: "Five months ago, my brother-in-law Corey said 'You have story to tell, maybe you could help out someone else who has gotten hurt, [who is] in the same position and help them to deal with it' and the foundation was born in that moment."
SB: Paul, you still have a magical sparkle in your eye. Your injury has not defeated you. How have you stayed so positive in the face of adversity?
PW: "I realized after I was injured, I had one problem. You don't want to have two problems."
SB: Where did your public speaking to youth begin?
PW: "I have given motivational speeches inside gymnasiums. I have been in and out of the gyms, and I tell today's athletes to do something responsible with their money. You need something to fall back on. Today I am just Paul Williams. you have to have something to fall back on. Like the monopoly game, I invested in real estate, and that kept me financially afloat. I'm not with a Mercedes car or flashy jewelry, but I can put food on the table and provide for my family."
SB: "You still have that special Paul Williams self-confidence. How does that relate on the young athletes you talk to to, and what impact do you wish to have on influencing their future?
PW: "My brother-in-law Corey accompanies me, and we go around and talk to today's youth, the young athletes. We tell them to stay in school and stay positive. Despite the hardships that may come your way, if you don't believe in yourself, nobody else will. You have to be a role model and set an example. I plan to travel the world through my charitable foundation, speaking with youth and rising athletes, to spread my message."
SB: You came to New York city as a guest of light middleweight Boyd Melson, whose charity, Team Fight To Walk, raises money inside and outside the ring for stem cell research, to enable paralyzed people to walk again."
Reader's Note: U.S. Army Captain and light middleweight boxer Boyd Melson's charity website is at teamfightowalk.com
Paul Williams: "Significant stem cell research is currently underway in New York, New Jersey and Philadelphia. I traveled to Rutger's University-Camden to see the results of the first experimental stem cell research study in China. 20 people participated who were either paralyzed from the waist down, or from the neck down. Of these 20, 15 are walking again, while the other five have regained feeling. "
Reader's Note: In February 2008, StemCyte Cord Blood Bank of Covina, California, and Rutgers University entered into a research and licensing agreement for a spinal cord injury therapy being developed by Wise Young, M.D., Ph.D., that uses StemCyte's proprietary human umbilical cord blood (UCB) stem cells in conjunction with lithium. StemCyte provides financial sponsorship for Dr. Young's work at Rutgers' W.M. Keck Center for Collaborative Neuroscience, and retains exclusive commercialization rights to the therapy.
SB: If you could participate in the next stem cell research study being conducted in China as a volunteer participant, would you go? If not, where would your first opportunity arise to participate in a stem cell research study?
PW: "If I were selected to participate in the Chinese stem cell research studies, would be there in China tomorrow. The next stem cell research study will be conducted in India next year. Rutger's is currently applying for approval to conduct the first stem cell research trial in the United States in 2015 from the Food and Drug Administration. I would like to be part of the first stem cell research study in the United States. I think about all of the military personnel, police officers, firefighters, and kids that got hurt in cars, with spinal cord injuries who are living with paralysis. These are people we can look forward to stem cell research curing int he near future. Stem cell research, I am all for it. Dr. Young at Rutger's is going up for approval in 2015 to approve the American stem cell study."
SB: "Could you be one of the volunteers now paralyzed who is selected to participate in the 2015 Rutger's stem cell research study?
PW: "Hopefully I will be able to participate in a future study. They will be selecting 40 people for the first study, primarily from New York, New Jersey and Philadelphia. It starts with stem cell surgery. After that the participant will have to undergo a lengthy hospitalization, and then a rehabilitation period. Team Fight To Walk is raising six million dollars to support the Rutger's study. It costs 150 thousand dollars for each of the stem cell study volunteers to participate in the study. The cost breakdown is as follows: 50,000 thousand dollars for the surgery, 50 thousand dollars for subsequent hospitalization and recovery, and 50,000 dollars for six months of daily ongoing rehabilitation therapy."
SB: What else did you learn at Rutger's?
PW: "I saw videos of the people in the China stem cell study for six hours, and I saw how they regained feeling, and went through rehabilitation and recovery. Those that succeeded are the key to future participants, how they came through the surgery, rehabilitation and recovery successfully. Hopefully for future studies they will be looking for people with no feeling from the neck down or the waist down who are completely paralyzed. I would therefore be a (qualified) candidate for one of the future stem cell studies."
SB: How can sports fans keep informed with your progress and activities?
PW: "I am on Twitter as Paul Williams, and I am on Facebook as Paulthepunisher (one word) Williams."
SB: What is your main goal of participating in an upcoming stem cell research study?
PW: "My main goal is to be able to feel and walk for my kids. And if all goes well, I'd give it a run, get in the ring again and fight for my fans!"
Reader's Note: For more information on The Paul Williams Foundation, go online to http://www.paulthepunisher.com/#home
Paul's online site includes a merchandise shop featuring hats, shirts, and autographed gloves, found at http://www.paulthepunisher.com/shop/