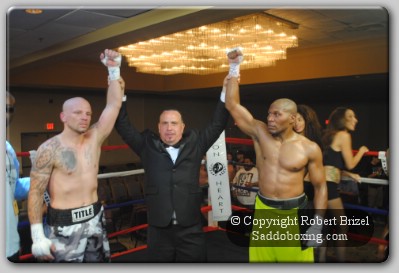 In an exclusive interview with SaddoBoxing, Philadelphia, Pennsylvania veteran middleweight Eric Mitchell, 23-11-2 with 11 knockouts, talked about his two upcoming bouts, including his vacant World Boxing Union 10 round World Middleweight championship bout in January 2015 with Harry Joe Yorgey, a rematch.
Mitchell drew with Yorgey in his last bout in July 2014. The bout with Yorgey, originally scheduled for December 2014, was rescheduled for a month later due a minor hand injury incurred by Yorgey.
Nicknamed 'Murder', Eric Mitchell has been a pro boxer since 1993, over 20 years, and is also the twin brother of retired middleweight boxer Aaron 'Homicide' Mitchell, 27-1, who fought between 1993 and 2008.
SaddoBoxing: Eric, will your WBU championship bout with Harry Joe Yorgey take place on a rescheduled date?
Eric Mitchell: "Yes, I think so. I was told the date will be January 17, 2015, but I am not sure of the venue."
SB: Why are you taking a fight with unbeaten but unknown Jarrett Hurd in the meanwhile?
EM: "Hurd has not fought anybody on my level. He is undefeated but he has no titles. he has not fought anybody. He is 13-0, but if I knock him out [people will say] I was supposed to."
SB: Are you happy to still be fighting at age 45?
EM: "I am very happy. Boxing is something I am supposed to do."
SB: You were training for a WBU world championship fight when Yorgey pulled out last week. Are you in tip top shape?
EM: "Yes, I am."
SB: Have you done any sparring with your brother Aaron?
EM: "Yes I did, maybe about 20 rounds with Aaron for this fight. Overall I sparred around 80 rounds for my upcoming fight, doing a lot of sparring."
SB: Your fight with Hurd is scheduled for Harrah's Philadelphia in Chester, Pennsylvania. Ever fight at Harrah's before?
EM: "I have fought at Harrah's in Atlantic City, but not at the Harrah's in Chester."
SB: Is your brother Aaron training for a comeback in 2015?
EM: "Aaron is planning to return to the ring in 2015. He is currently training for a comeback, training and sparring. He is definitely on his way back to making a comeback."'
SB: Will your WBU 10 round championship bout with Harry Yorgey be at 154 or 160 pounds?
EM: "We are supposed to fight between 154 and 160 pounds, with a catchweight of 157 or 158 pounds. I am at 156 to 157 pounds right now, so for me the weight is not an issue."
SB: Have you seen any fight footage on your next opponent in December, Jarrett Hurd.
EM: "Yes, basic stuff. 1-2-3 combinations, jab, left hook to the head, left hook to the body. Hurd is a basic fighter, not much to figure out."
SB: Eric, you are out of Philadelphia. Does that give you a hometown advantage over a fighter like Hurd, who comes from Maryland?
EM: "Definitely."
SB: What is your prediction for your fight with Jarrett Hurd?
EM: "To tell you the truth, I don't think this kid [Hurd] can take my punching power. I don't think he will go the distance with me I predict a knockout win in five or six rounds. Then I will be right back into the gym for my bout with Yorgey on January 17."
SB: What were the real reasons Harry Joe Yorgey pulled out of the first scheduled WBU title bout with you?
EM: "One of Harry's hands got messed up, according to him. Harry thought it best to delay the bout. For a few weeks more, Harry will be able to fight me at his best, fighting me for the WBU world championship at 160 pounds middleweight."