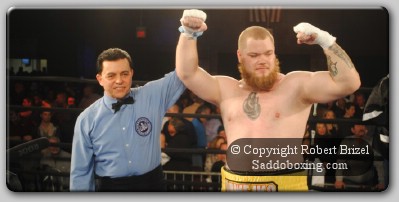 On May 8, 2015, Philadelphia heavyweight Joey Dawejko will face the toughest challenge of his career.
Dawejko, now 14-3-2 with seven knockouts, and 6-0 with four consecutive first round knockouts since signing with Russell Peltz Promotions, will face the dangerous Amir Mansour, 21-1, 16 knockouts, Wilmington, Delaware, for the vacant USA Pennsylvania heavyweight title in the 10 round main event at 2300 Arena in Philadelphia, Pennsylvania.
An eight bout card will be presented by Peltz Promotions, including super featherweight Jason Sosa in a 10 rounder.
In an exclusive SaddoBoxing interview at ringside recently, Dawejko outlined the reasons why he will beat Amir Mansour. In addition to Mansour, UBF All-Americas champion Lyle McDowell recently called out Dawejko in the event that Amir Mansour pulls out.
SaddoBoxing: "Joey, can you beat Amir Mansour?"
Joey Dawejko: "Yes I can! Without a doubt in my mind I will beat him."
SB: "We've seen you hit with power, Joey, but you are still only 23 years old. Why do you feel at this early stage in the game you can beat an experienced heavyweight contender like Mansour? He's older, but he is still a power hitter. Do you think your power is stronger than his?"
JD: ""I do, and my skills are way better than his too."
SB: "In what way?"
JD: "In every way, boxing, punching, it doesn't matter. I have way better skills than Amir Mansour."
SB: "Joey, you have been wanting the fight with Amir Mansour for awhile. Promoter Russell Peltz, your promoter, has stated if you realize a top 10 worldwide heavyweight ranking in the world ratings in the current contract, he will sign you to a new two year contract. Is this the fight in which you think you will accomplish the dream of getting signed against with Peltz Promotions, and getting a world title shot?"
JD: "I'm on top."
SB: "Is the United States Boxing Association USBA heavyweight title, now going to the winner of Steve Cunningham versus Vyacheslav Glazkov in Montreal, a belt necessarily you want? Is it important? Would you like to fight the winner of Cunningham versus Glazkov if you beat Amir Mansour in May?"
JD: "Yes, I could fight the USBA titleholder. A belt like the USBA is important. I would fight for it if given the opportunity, because that puts you into the worldwide ranking of the International Boxing Federation."
SB: "What things have you been working on in your conditioning to improve your speed and timing?
JD: "I am doing a lot of things differently. I'm in great shape. I am ready."
SB: "How many weeks will you have to train for the Amir Mansour bout?"
JD: "About nine weeks."
SB: "If Mansour backs out or pulls out, how do you handle the substitute opponents? Lyle McDowell, for example, called you out."
JD: "I did not know anything about my last opponent at 2300 Arena, Enobong Umohette, and I knocked him out. Everyone's a challenge, whereby I always come out on top!"