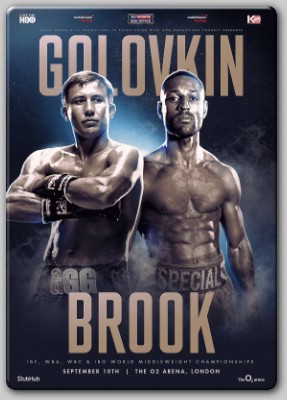 We will finally get to see how special the 'special one' is on Saturday 10th September when IBF welterweight champ Kell Brook faces the top middleweight, and most feared boxer, on the planet, WBA 'super'/WBC/IBF king Gennady Golovkin at Manchester Arena.
We know Brook (36-0 25 KO's) is a world class fighter, we have known this since he went to America and took the IBF belt off Shawn Porter at the back end of 2014.
However, it would be easy to forget this fact as the old boxing proverbs say 'you are only as good as your last fight'.
If this is the case then Brook is as good as Kevin Bizier. Let's go easy on Brook, the boxing business is not as straightforward as that. The fight before that was against Frankie Gavin and before that was against JoJo Dan.
These are not fights that excite even the hardcore fans, so god knows how Brook managed to get up for them, especially when domestic rival Amir Khan was off chasing the likes of Manny Pacquiao and Floyd Mayweather and headlining at the MGM in Las Vegas.
Brook needed a massive fight to recapture the public's belief in him again; he has almost slipped off the radar entirely, which is criminal for a boxer with Kell's skillset.
In Golovkin (35-0-0 32 KO's), Brook finds his big fight and then some. Golovkin, or 'GGG', for those who don't already know, is one of the hottest fighters pound for pound at the moment.
A fantastic amateur, winning numerous amateur world championships, he came up short in the Athens Olympics in 2004, only getting a silver but since he has turned over, he has been unstoppable as a professional.
Holding a 91% KO ratio, it is evident Golovkin is a natural puncher, those rare breed of fighters that every shot they throw has power, so when they dig in, it can be quite devastating.
All prior opponents of Golovkin have commentated on his astonishing power, and how he negates their strengths by taking away what they do best and closes them down with intelligent pressure.
He is a master at pacing on the shots, and switch-hitting mid punch, i.e throwing the right and stepping across with it, therefore offsetting the opponent. He does everything very well indeed.
Some detractors may point out that Golovkin does get hit a bit too much and they would not be completely wrong. Is it just that he has not faced a proper puncher yet? Or anyone skilled enough to give him trouble?
David Lemieux was a huge puncher but could not tag 'GGG' consistently or even get past the jab.
Golovkin has faced different styles over his career, from erratic southpaws such as Grzegorz Proksa, tough boxer/punchers like Gabriel Rosado, Curtis Stevens or Marco Antonio Rubio to straight up and down boxers like Daniel Geale, Dominic Wade and Willie Munroe Jr.
Brook is different from these fighters, though. A product of the Ingle Gym and tutelage, the same facility that produced Naseem Hamed, Herol Graham, Jonny Nelson, Junior Witter and more recently, Kid Galahad.
When Brook is switched on like he was against Porter, he can be sublime. His timing is second to none, his footwork is famously Ingle drilled, i.e he can be very elusive, make them miss make them pay and he can punch with a 70% KO ratio himself.
This fight is taking place at middleweight, a division that at first glance you would think favours 'GGG', however Brook walks around at a much higher weight that his welterweight belt suggests. This looks like a comfortable move for him, heightwise, there looks to be very little in it.
The smart money is obviously on Golovkin, but Brook could very well give him nightmares with movement and boxing ability.
I am not sitting on the fence though and I think that GGG takes away what Brook does best and engages him in the later rounds, possibly forcing a stoppage in what looks to be a fantastic match up.