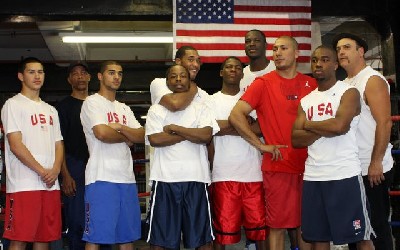 © Jim Everett / Saddo Boxing
will feature the opening ceremonies of the 2008 Summer Olympics in Beijing, China. Nine boxers will proudly represent the United States in hopes of bringing home the gold medal.
Luis Yanez: Duncanville, Texas
Light Flyweight 106 lbs
Rau'shee Warren: Cincinnati, Ohio
Flyweight 112 lbs
Gary Russell, Jr: Capitol Heights, Maryland
Bantamweight 119 lbs
Raynell Williams: Cleveland, Ohio
Featherweight 125 lbs
Sadam Ali: Brooklyn, NY
Lightweight 132 lbs
Javier Molina: Commerce, California
Light Welterweight 141 lbs
Demetrius Andrade: Providence, Rhode Island
Welterweight 152 lbs
Shawn Estrada: East Los Angeles, California
Middleweight 165 lbs
Deontay Wilder: Tuscaloosa, Alabama
Heavyweight 201 lbs
The U.S. Olympic boxing team was originally set back in August of 2007. The team consisted of eleven boxers which still needed to qualify for their spots internationally to remain on the Olympic team. The light flyweight through light heavyweight division boxers needed to finish in the top eight and the heavyweight and super heavyweight boxers needed to place in the top four.
The boxers would have three opportunities to compete internationally to qualify, the 2007 AIBA World Championships in Chicago, Illinois and two Americas Olympic Qualifiers the first in Port of Spain and the second held in Guatemala City, Guatemala.
Unfortunately two of the boxer's light heavyweight Christopher Downs of Fort Carson, Colorado and super heavyweight Michael Hunter of Las Vegas, Nevada did not qualify for the team, losing their last opportunity at the Americas Olympic Qualifier in Guatemala.
The team has already been though some tough times which the media attributes to head Coach Dan Campbell clashing with the boxers. Campbell reinstituted USA Boxing's residency program which did not sit well with several boxers who hoped to work with their personal coaches.
One of the more publicized media highlights was when light flyweight, Luis Yanez left the Olympic training facility in Colorado Springs and did not return. He was originally leaving to attend his high school graduation and never returned breaking off all communication with his coaches. Yanez was kicked off the team on July 1 after missing three weeks of mandatory training and refusing to respond to a letter from USA Boxing insisting he return or risk expulsion.
Yanez was reinstated two weeks later with an agreement that overturned the decision to dismiss him from the team. Yanez released the following statement, "I want to thank USA Boxing for its understanding and sense of forgiveness. I sincerely apologize to head coach (Dan) Campbell, to my teammates, and to USA Boxing for not only breaking the rules of the Athlete Code of Conduct, but also for my lack of candor regarding the circumstances of my absence from the Resident Program."
Mitch Abramson of the New York Daily News summarized some of the additional problems the team has gone through in a recent article after the Yanez incident.
"One of his (Yanez) Olympic teammates also disappeared and went home around the same time, and only came back after being threatened with expulsion. Then another boxer went home and extended his stay to the point where he was threatened with a financial penalty.
Then yet another U.S. boxer was apparently told to pack his stuff and leave the Olympic barracks in Colorado Springs, and he spent the remaining weeks of his training at a nearby hotel. Two other Olympians said they were basically urged to quit.
That's six of the nine fighters on the 2008 U.S. Olympic boxing team who have been disgruntled or come close to quitting."
The U.S. Olympic boxing team has come a long way and has already had to deal with adversity inside and outside the ring. Some critics think the problems may cause them to lose focus in Beijing while others are still hopeful that the number two ranked team in the world still has a chance at Olympic glory.
Saddoboxing had the pleasure to meet the U.S. Olympic boxing team at a workout session at the famous Gleason's Gym in Brooklyn, New York before they left for Beijing. Make sure to visit our web-site for exclusive interviews with the boxers as well as photos from their workout session beginning tomorrow.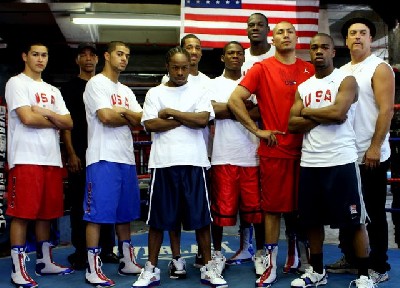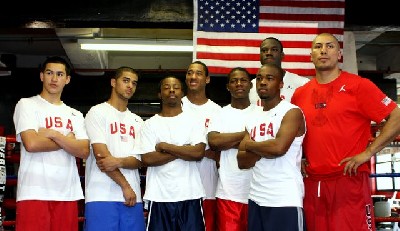 © Jim Everett / Saddo Boxing