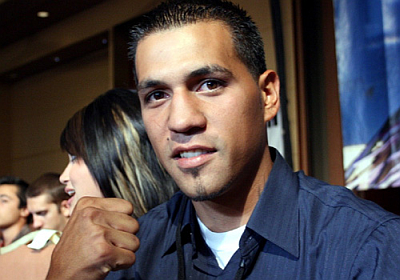 Photo ©William Trillo
Next week at the Morongo Casino Resort in Cabazon, California lightweight prospect Dominic Salcido, 16-0 (8), will put his unbeaten record to the test as he steps up in competition to face 2004 Olympian Vincente Escobedo, 18-1 (11).
Although Salcido has only been a professional fighter since 2003 he went through a period of inactivity having to take off eleven months to heal a broken right hand after delivering a technical knock to Odilon Rivera in March 2006. He quickly made up for lost time returning to the ring in February 2007 and competing in seven fights last year.
SaddoBoxing had the pleasure to speak to Dominic Salcido in an exclusive phone interview to discuss his big upcoming fight and his career.
SaddoBoxing: Next week you will be facing 2004 Olympian Vincente Escobedo; how do you feel about getting into the ring with someone with that much experience?
Dominic Salcido: "It's a great opportunity, a big step for me; it's a big opportunity for me to face a former Olympian. He was a great fighter at 130, it's a big fight for me, a really big step, and I'm excited."
SB: How did the fight come about for you?
DS: "The matchmaker called me and asked if I wanted this fight and I did, I took it right away. I always wanted to fight Escobedo since the amateurs. We never got a chance to meet up in the amateurs."
SB: What have you been doing to prepare for the fight?
DS: "Right now I have been going to the gym for the last three or four weeks. I'm in shape and mentally I'm already there. I have wanted to fight Escobedo for a long time, I knew it was just a matter of time before the opportunity came up and finally it did. I have trained my butt off for it!"
SB: Did you work on anything specific to match up against Escobedo?
DS: "Not really, just beat him to the punch; use my feet and my skills."
SB: Would you care to offer a prediction on the outcome of the fight?
DS: "I got to say it's going to be a chess game, it's going to be a good fight where we are both trying to pick each other off, I definitely see the fight going ten rounds."
SB: You mentioned previously that you didn't get a chance to meet Escobedo in the amateurs, tell me a little bit about your amateur career.
DS: "I only had about sixty or seventy amateur fights. At the time I was trying to make the Olympics squad but I wasn't at a National level. I never went to any National tournaments I had a slow career when I was an amateur.
"Once I moved to Big Bear I was training with the pros, no one really knew who I was because I never really went to tournaments which is why we never had a chance to meet up."
SB: What got you into boxing?
DS: "My dad. My pop took me down to the gym and introduced me to it when I was ten years old and ever since then I fell in love with the sport."
SB: You mentioned that you didn't have a lot of amateur experience, what prompted you to turn professional?
DS: "Back in 2002 I tried to make the Olympic team and tried to go to Nationals through the Golden Gloves. I got all the way up to the finals and I got bad calls. It seemed like they had their mind made up who they wanted to represent California , it was bad politics at the time. After that I just said forget it, I'm turning pro."
SB: Do you feel your style lends itself better to the pros versus the amateur point system?
DS: "Definitely, that was my problem with the judges too, I would sit back and take my shots I never do two-hundred punches a round. I like setting up my shots, show them one thing and then give them another."
SB: Speaking of poor judging, I don't know if you have been following the Beijing Olympics but the scoring had been pretty awful.
DS: "I've been watching it and wonder what's going on, I don't like the way they judge it. It's ridiculous."
SB: With this fight what type of doors do you think it will open up for your career?
DS: "After this fight and I get the victory I just want to be in the rankings. If I can get ranked at 1-15 that would be great, once I get the ranking it's all about fighting the best and being the best."
SB: Your division has a pretty deep talent pool, how do you rate some of the other top fighters in your division?
DS: "A fighters. A or B fighters. The best in the division is Manny Pacquiao; he's the man right now."
SB: Would you like take this opportunity to say anything to your fans?
DS: "I'd like to thank Vincente Escobedo for taking this fight, I'm glad he gave me the opportunity. I'd also like to thank Rachel Charles for setting up this interview. To all my fans out there come September 26 I will shine!"
SB: On behalf of Saddoboxing, I wish you the best of luck next week and in your career.
DS: "Thanks, I appreciate it."