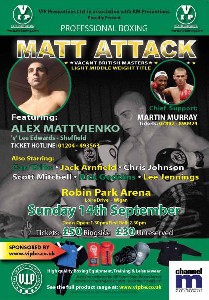 This Sunday, September 14, Steve Wood of VIP Boxing hosts a full afternoon of exciting fights as he presents "Matt Attack" at the Robin Park Arena in Wigan, England.
The bill is headlined by Alex Matvienko as he faces Lee Edwards of Sheffield for the vacant British Masters Light Middleweight title.
Popular Matvienko - "Bolton's One Man Riot" - has eleven wins under his belt, four of which were by knockout and two draws. Lee "Brown Sugar" Edwards has won seven of his eight bouts with one loss.
The afternoon also features middleweight Martin Murray of St.Helens, who will be looking for his eighth successive win - this time against Carl Wild of Sheffield.
Promoter Wood is excited about the prospect of Murray's rise in class and expects popular middleweight to be ready for a title shot in 10 months time.
Undercard action includes super middle Carl Dilks, light middles Jack Arnfield and Chris Johnson, heavyweight Scott Mitchell, welterweight Rick Goddins and lightweight Lee Jennings.