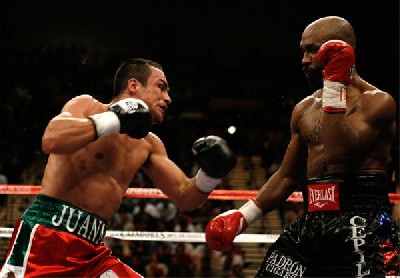 © Tom Hogan / Golden Boy Promotions
Reversing his shocking loss to Sergio Mora this past June, Vernon Forrest regained the WBC Light Middleweight title in the rematch, decisioning the former Contender star to take a wide points verdict while Juan Manuel Marquez made the transition to lightweight by stopping Joel Casamayor in the 11th frame of their Ring Magazine title bout at the MGM Grand in Las Vegas.
During their first bout, 37 year old Forrest wasn't able to maintain his early pace and was beaten to the punch and outworked by the much younger Mora, who had moved down from middleweight.
This time Forrest was able to gain control of the bout and never let his foot off the gas, out-hustling his 27 year old opponent before flooring him in the seventh on the way to a comfortable points win, 119-108, 118-108 and 117-110. Forrest connected on many more punches than Mora and used good footwork to keep his rival from setting up a consistent offense.
Forrest improves to 41-3 (29), while Mora goes to 21-1-1 (5).
Former world feather and super feather world champion Juan Manuel Marquez, 49-4-1 (46) went up to lightweight to shock ex-super feather and lightweight world champ Joel Casamayor, 36-4-1 (22), and annex the Ring Magazine Lightweight belt.
After a long and heavily decorated amateur and pro career, Casamayor's reflexes no longer were what they once were as the 37 year old Cuban southpaw walked into many punches from Marquez and was simply outboxed by the crafty Mexican.
Marquez also proved difficult for Casamayor to hit as the former Olympic Gold Medallist couldn't seem to connect on most of his shots and couldn't trouble Marquez when he did land solidly.
But much credit must go to Marquez, who's superb punch selection and unrelenting drive powered a remarkable performance, capped off by two knockdowns in the 11th to stop Casamayor, who had never previously been finished off as a professional or amateur.
Light welter Victor Ortiz, 22-1-1 (17), stopped Roberto David Arrieta, 30-14-4 (13), in the fifth to win the vacant WBO NABO title, middleweight Danny Perez, 33-5 (17), outpointed Julio Cesar Garcia, 41-4 (35), who has already had 45 bouts at just 21 years of age, and featherweight Daud Cino Yordan, 22-0 (16), posted an eight round majority decision over Antonio Meza, 24-5-1 (16).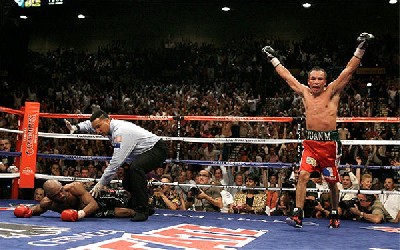 © Tom Hogan / Golden Boy Promotions