**With Slideshow**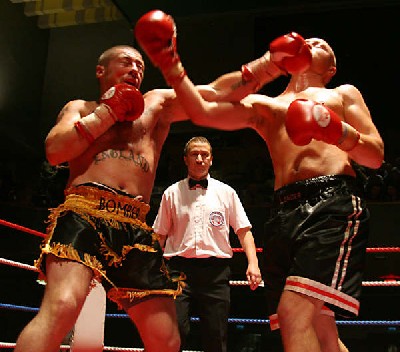 © Jane Warburton / Saddo Boxing
Friday night at Wolverhampton Civic Hall, in West Midlands, England, First Team Promotions (PJ Rowson and Errol Johnson) staged another entertaining night of boxing.
First to fight were likeable Keiron Gray from the Wednesbury Boxing Academy against late opponent - Davey Jones of Shinfield's Gym in a four round middleweight contest. 'Slammer' Gray of Telford had a tough test against the Lincolnshire man who landed some good right shots through the defence of Gray. Mid-way through round three and Jones lands a right hook but Gray returns with a solid body punch.
A good win for Gray, 40-37, who notches up his third win since turning pro in May of this year.
Next up was Wolverhampton southpaw Russ Colley, as he faced Preston-born Chris Brophy in a six round light middleweight contest. Colley, aka 'Rooster', dominated the fight and despite being an inch shorter than his opponent, seemed to 'tower' over Brophy - throwing numerous long-reaching 'rights'. There was big support for Colley from the West Midlands crowd as chants of 'Rooster, Rooster' rang out around the 'Civic'.
Brophy - who was down inside the first round - did well to 'come back' and with bloodied nose - fought it out to the last bell. Colley wins on points 60-54 to secure his third professional win since turning pro in April this year.
Making his professional debut on Friday was Wolverhampton boxer Chris Lewis, who fought veteran-fighter Peter Buckley in a four round light welterweight contest. Lewis did well against experienced Buckley, throwing a combination of shots to secure a 40-37 points win.
At this point, Martin Gethin - the newly crowned English Lightweight Champion - was introduced in to the ring to 'show-off' his belt. The quiet Walsall man held his belt aloft to huge cheers and applause from the watching crowd.
Also making his pro-debut on Friday night was Dudley man Chris Male, who faced the more experienced Telford/West Bromwich boxer - Shaun 'Slasher' Walton, in a four round super-featherweight contest. A good first fight for Male who wins on points 40-36.
Next up was tough lady-boxer - Lyndsey Scragg of Wednesbury. A popular fighter - Scragg was to face Bulgarian Galina Gumliiska for a second time, having won on points in a four-round contest just three months previous.
A messy fight at times - but Scragg had a great round four, landing a number of right shots in succession which rocked back the head of the Bulgarian. "We love you Lyndsey we do, oh, Lyndsey we love you" the crowds sing. Scragg flies after her opponent at the start of round five and despite sweeping back some loose strands of hair which had escaped from her braiding - she still managed to land a peach of a right!
Scragg wins on points 60-54 and improves to 7 wins, 3 by knockout.
Joe 'Skelly' Skeldon faced Welsh-man Mark Phillips in a four round light middleweight contest. The popular Tipton man enjoyed the support from the crowd as he started with a good round over a 'tentative' Phillips. Finishing the end of round three in 'big' style - Skeldon achieved a 39-37 points win over his taller opponent and improves to 3-2 (1).
Perhaps the most entertaining fight of the night was the four round light welterweight contest between hugely popular Steve 'Bomber' Saville of Walsall and Chris 'Longer' Long of Calne, Wiltshire. Having been born in Wolverhampton - 'Sav' is well-known for his Wolverhampton Wanderers shorts and always receives big support from the crowds. But it was a case of 'Long by name and Long by nature' as the taller man loomed over the shorter West Midlands man!
This wasn't going to be an easy ride for Saville who - despite catching Long early in the first round - got caught with a shot himself which briefly 'ruffled' him (probably more annoyed with himself than anything). The crowds sing 'There's only one Stevie Saville, walking along, singing a song…..' as they come out for round two. Sav always looking for the big shot and Long calmly looking for the long-reaching shots.
It was a hard nights' work for the tough Walsall man who looked to be frustrated with himself at times and was cut in round three. But he secured a 40-38 points win to improve to 18-4(7).