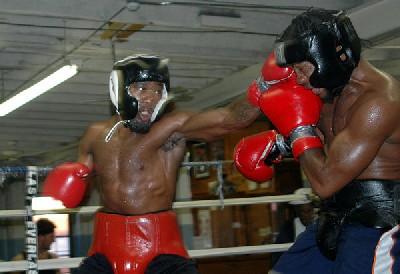 © Gianluca (Rio) Di Caro
Popular Philadelphia middleweight, Jamaal 'Da Truth' Davis 7-4 (6), has been training hard at the James Shuler Memorial Gym to prepare for his return to the ring at the National Guard Armory, Philadelphia on Saturday, October 4 against fellow local boy, Chris Hall 3-4-1 (2).
This will be Jamaal's first fight since his controversial loss to New Jersey's Richard Pierson at the Hard Rock Cafe, NYC earlier this year. Davis was just 81 seconds from certain victory when the referee stepped in to stop the fight after a cut received during an accidental clash of heads two rounds earlier re-opened.
Davis, who is trained by the highly respected coach Sharron Baker, clearly has no intention of leaving anything to chance as over the past weeks he has enlisted Gee Culmer 15-1 (3), Rock Allen 13-0 (7), Astaim 'BabyMan' Bagley 1-0 and fellow 'fightcard' mate on the September 4 bill, Simon 'Slick Fighting Irish' O'Donnell 6-1 (3), as sparring partners.
The sparring sessions have been particularly intense affairs, not the usual workouts at all. Jamaal is so fired up that he goes in hard and fast, not to be outdone each of his partners 'step it up' in response. It seems unbelievable that at the end of each session that the two combatants are still such good friends.
After one particularly tough sparring session with Astaim 'BabyMan' Bagley, Jamaal explained "There's no hard feelings, they know I want it full on. I'd rather fight every month, always ring ready but that just doesn't happen. I know what I need to do. I want to fight now. I'm ready."
As Davis headed off to destroy yet another heavybag, Sharron Baker, Jamaal's coach chipped in proudly "He's kicking ass and spitting nails."
Headlining the Philadelphia Worldwide promoted event will be former world junior middleweight champion Kassim 'The Dream' Ouma, 25-5-1 (15), against Martinus 'Magnificent' Clay 13-18-4 (5), from Wilson, North Carolina
The co-features are junior middleweight James Moore, 16-1 (10), a native of County Wicklow who fights out of New York, and middleweight Simon 'Slick Fighting Irish' O'Donnell, 6-1 (3), a native of County Galway who fights out of Philadelphia.