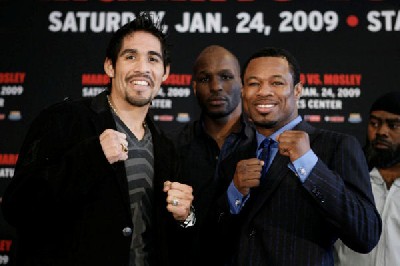 © Hoganphotos / Golden Boy Promotions
Antonio Margarito: Three-time welterweight champion
"I'm really prepared for this fight. We did our work in training camp and we know Mosley is a very experienced fighter.
"There are no secrets here, we know our styles and I'm very certain I will raise my hands in victory on Saturday night."
Shane Mosley: Four-time world champion in three weight divisions
"This is going to be a great event."
"We've worked on everything at camp and I feel great and sharp."
"This is going to be a great fight and I want to thank Margarito for taking the fight when he could've fought anyone."
"To fight right here in both of our back yards, where we both came up fighting the hard way...I've just been up here a little longer."
Bob Arum: Co-Promoter and Chairman of the Board, Top Rank
"This fight is going to be sold out. And it shows that boxing is alive and well and is going to do great in 2009."
Richard Schaeffer: CEO of Golden Boy Promotions
"This fight really belongs in Los Angeles."
"What a way to start of 2009 with a fight that could be on Pay-Per-View and we decided to put it on regular HBO. The fight fans are going to be the ones that benefit the most out of this because they will get to enjoy these fights without going into their pockets."
"We are proud to have Sugar Shane back in LA for this fight."
"I was told this morning that the total attendance for this fight will surpass the De La Hoya-Mosley fight with over 20,000 people at STAPLES Center on Saturday night! That really is a tribute to these two great fighters."
"Shane is a well know fighter all around the world and he deserves that recognition. He is going down in weight to 147, where he won most of his titles and is going to reclaim his reign over that division on Saturday night."
"We have one of the great young fighters, a young man from Southern California Robert Guerrero, fighting on this card. He joined us a few weeks ago and we wanted to get him in the ring right away. We have big plans for him in the future. He is moving up in weight to make a name for himself at lightweight."
Robert Guerrero: Former two-time world champion
"I'm excited and I cant wait to get back in the ring. I've stayed ready all year and am ready for Saturday night."
Bernard Hopkins: President of Golden Boy Promotions East
"This fight has two fighters from LA, fighting in LA, on regular HBO...that's a great thing. I'm really excited about this fight."
"2008 showed everyone, including me, that you think you know, but you need to be prepared to be surprised."
"Both fighters have come up putting on great fights and earning their own legacy. Shane's legacy is on the line here, but so is Margaritos."
Lee Zeidman: General Manager, Staples Center
"There are a few tickets still available, so make sure you get them while you can, because this fight will be sold out.
"This is exciting for us because Shane is the only main event fighter to fight at STAPLES Center twice."
Kery Davis: -HBO, Senior Vice President of Programming for HBO Sports
"Saturday is the first big event of 2009."
"We have two of the best fighters in the world. Margarito, who fought his way here and fought everyone that would face him. And then you have Shane who is one of the best fighters of our era and who has been there for over a decade.
"Shane has the rare combination of both power and speed, but they both have huge hearts, hearts as big as Staples Center."
"We knew we had to bring this fight to the fans, because we felt it was a 'can't miss fight'."
Naazim Richardson: Mosley Head Trainer
"I have the privilege of working with some of the greatest fighters today. But I'm not here to teach Shane how to fight, Jack Mosley already did a great job at that. I'm here to find the flaws in Margarito and help Shane exploit those."
Sergio Diaz:-Margarito Co-Manager
"Saturday is going to be a good fight. Margarito doesn't take anyone lightly."
"We think its time for Mosley to call it quits and Margarito will show him that on Saturday."
Javier Capetillo: Margarito Head Trainer
"I've known Shane a long time and I've seen Shane fight some great champions. But if it comes to war, he cant win a war with Margarito."
"Mexico is really proud of our Champion, as I'm sure the U.S. is of theirs as well."
Margarito vs. Mosley is promoted by Top Rank and Golden Boy Promotions and sponsored by Cerveza Tecate. Remaining tickets priced at $50 and $25, are available the STAPLES Center Box Office and all TicketMaster outlets, by phone at 213-480-3232 and online at www.ticketmaster.com.