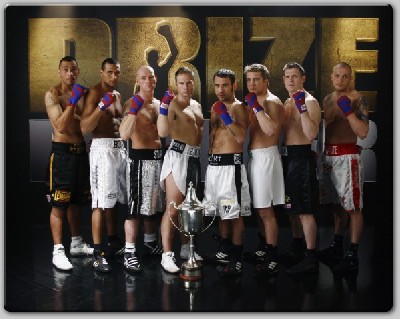 © Lawrence Lustig
The draw for the quarter-finals in next week's Prizefighter has been made - and there promises to be some cracking encounters.
Hotly-tipped pair Tony Oakey and Billy Boyle meet in what could be the tie of the opening round in the light-heavyweight tournament on Friday, February 20 at the York Hall in Bethnal Green, London.
Hampshire-based Oakey, 33, has previously held the British, WBU and Commonwealth titles, while Boyle, 32, who hails from Sheffield, is undefeated from 11 fights with seven of those victories coming by knockout.
That will be the second fight of the night after the show is started by bookmakers' favourite Courtney Fry against rank outsider Shon Davies, who, at 22, is the youngest of the eight men.
The four previous Prizefighter competitions have caused shocks galore and Davies, who is only priced at 25/1, will be aiming to cause a big surprise against former Commonwealth Games Gold Medallist Fry.
The third clash sees the other two undefeated fighters - Darlington's Bob Ajisafe and Liverpool's Carl Dilks - meet each other but which boxer will suffer the first defeat of their career?
The fourth fight of the night sees Oldham veteran Darren Stubbs, 37, take on Suffolk banger Steve Spartacus, who has gained 11 of his 19 victories by knockout.
Either Fry or Davies will meet Oakey or Boyle in the first semi-final with Ajisafe or Dilks meeting Stubbs or Spartacus in the second semi-final.
The draw, which was conducted by former WBO Super Middleweight Champion Chris Eubank at Claridge's in London, leaves open the prospect of an Oakey v Spartacus final. This would be a repeat of an epic British title contest back in May 2007 that Oakey claimed thanks to a 12th round stoppage.
Quarter-finals
1. Courtney Fry vs. Shon Davies
2. Tony Oakey vs. Billy Boyle
3. Bob Ajisafe vs. Carl Dilks
4. Darren Stubbs vs. Steve Spartacus
Semi-finals
5. Fry or Davies vs. Oakey or Boyle
6. Ajisafe or Dilks vs. Stubbs or Spartacus
Final
7. Winner of fight 5 vs. winner of fight 6
As in previous Prizefighter tournaments, two reserves – Ovill McKenzie and Ryan Walls – will be on standby and ready to step in if a victorious fighter is unable to fight in the next round due to an injury or cut.
Tickets cost £30 (unreserved) and £60 (ringside) and are available by calling Matchroom Sport on 01277 359900.
All the action will be live on Sky Sports 1 on Friday, February 20 from 9pm
The eight contenders.
Name: Bob Ajisafe
Age: 23
Home town: Darlington
Professional record: 6-0 (2)
Achievement: Undefeated.
Name: Billy Boyle
Age: 32
Home town: Sheffield
Professional record: 11-0 (7)
Achievement: WSO International Champion, undefeated
Name: Shon Davies
Age: 22
Home town: Llanelli, Carmarthenshire, Wales.
Professional record: 7-2 (3)
Achievement: Welsh Area Champion
Name: Carl Dilks
Age: 25
Home town: Liverpool
Professional record: 8-0 (3)
Achievement: Undefeated
Name: Courtney Fry
Age: 33
Home town: Liverpool
Professional record: 12-1 (5)
Achievement: Never been stopped.
Name: Tony Oakey
Age: 33
Home town: Havant, Hampshire
Professional record: 25-4-1 (7)
Achievement: Former British, former WBU, former Commonwealth champion.
Name: Steve Spartacus
Age: 32
Home town: Ipswich, Suffolk
Professional record: 19-5 (11)
Achievement: Fought for British title, former English champion.
Name: Darren Stubbs
Age: 37
Home town: Oldham, Lancashire
Professional record: 17-4 (7)
Achievement: British Masters Champion.
Reserves
Name: Ovill McKenzie
Age: 29
Home town: Derby
Professional record: 14-8 (5)
Achievement: Former Commonwealth Champion.
Name: Ryan Walls
Age: 29
Home town: Slough, Berkshire
Professional record: 14-6 (4)
Achievement: Former WBF International Champion and former Southern Area Champion (both at super-middleweight)