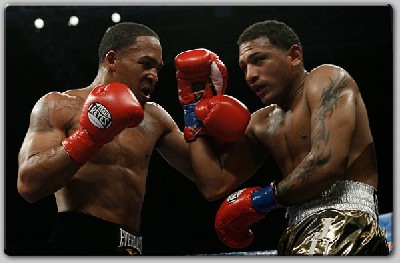 © Hoganphotos / Golden Boy Promotions
Last night at The Tank in San Jose, CA, light middlewight contender James Kirkland pulled off another impressive showing by outslugging Colombian power puncher Joel Julio, as the southpaw forced Julio to quit after six hard fought rounds.
Kirkland started off the bout by going right after Julio, mounting tremendous pressure. The Texan caught Julio by surprise with hard shots to the head and body but by the last third of the frame, Julio had begun to catch Kirkland on the way in with big shots of his own. Julio was cut under the right eye by a punch during the round.
The second began the same as the first with Julio trying to back away from the buzzsaw in front of him but he was taking heavy leather while punishing Kirkland from time to time with massive right hands that the American just walked through. Kirkland rarely stopped coming forward or punching, preventing Julio from ever really getting set to punch.
Kirkland began the third going slower and looking to cover his advances behind the jab. This let Julio trade more on even terms and soon a phone booth war broke out with bombs flying and landing from both men. Julio got back on his bike and they fought sporadic clashes anytime that Kirkland could close the gap.
Midway through the round, Julio hit paydirt and shook Kirkland with a series of right hands to head and body and it looked momentarily as if the Texas slugger was in trouble. But Kirkland simply soaked it up and let loose his own shelling, hammering Julio until the Colombian began to seek distance again.
The end of the round was slower as both combatants were a bit winded from the intense pace.
Kirkland was the fresher fighter to begin the fourth as he stalked and punished Julio, who tried to hold back the tide with single counter shots. Kirkland began losing control in the second half as he began to flag, leaving Julio an opening to score with hard punches but things evened up with sporadic engagements to end the frame.
The fifth opened up in thrilling fashion as Kirkland looked to steam roll the South American while Julio landed some massive counter rights and lefts. Kirkland was shaken a few times but just kept after his prey, reeling off ceaseless combinations, both upstairs and down, that were wearing down Julio, who's right eye was beginning to look very bad.
Kirkland came out on fire in the sixth and Julio tried to clinch but couldn't as Kirkland just wouldn't stop hitting him. Julio got on his toes again as Kirkland chased him down, forcing firefights and eating the occasional winging Julio shots. Julio lost some wind in his sails after fielding a body shot right up the middle and began to clinch again.
Julio was beginning to look wilted but would surprise Kirkland by coming alive to rattle off quick scoring combinations before moving off. Nothing Julio did could keep Kirkland from driving to the target and there was no end to his flow of offense as Julio looked more and more to clinch. The round ended with Kirkland punishing a tired looking Julio.
Before the seventh frame could start, Julio quit on his stool, handing Kirkland the sixth round stoppage.
With the win, Kirkand improves to 25-0 (22) and cannot be far off a world title opportunity. Julio drops to 34-3 (31) with his second loss in a row.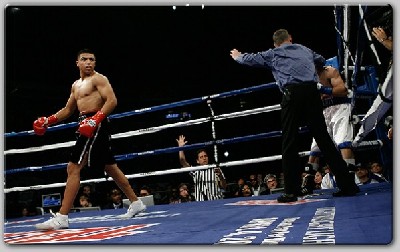 © Hoganphotos / Golden Boy Promotions
On the undercard, USBA titlist Mike Arnaoutis, 21-3-2 (10), clashed with NABF Champ Victor Ortiz, 24-1-1 (19), in a southpaw battle at light welter.
Arnaoutis came into the bout the more experienced man, having lost close bouts to Ricardo Torres and Kendall Holt, but that advantage evaporated when Arnaoutis tried an orthodox stance and saw Ortiz explode a hard left over the jab that caught the Greek national on the temple.
Arnaoutis was clearly stunned and could do nothing but try and cover up in the corner as Ortiz launched a follow assault that forced the end to the bout at 1:27 of the second round.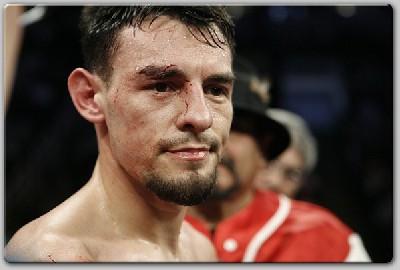 © Hoganphotos / Golden Boy Promotions
Also on the bill, former IBF Featherweight Champion Robert Guerrero, 23-1-1 (16), had a brief yet tough fight from virtual unknown Indonesian sharpshooter Daud Cino Yordan, 23-0 (17).
Yordan showed he was no mere opponent and was largely beating Guerrero to the punch by the second round until an accidental headbutt opened up a cut above Geurrero's eye.
The bout was declared a no contest at 1:47 of the second when Guerrero told the ringside doctor he could not see out of the injured eye.