© Lawrence Lustig
Ryan Brawley lived up to his billing as bookmakers' favourite to become the Prizefighter Lightweight Champion.
Brawley, 23, claimed a unanimous points decision victory over Liverpool's Stephen Burke in the conclusion of a thrilling evening of tournament boxing featuring eight British lightweights.
This was the first Prizefighter event to be staged in Scotland and Irvine-based Brawley also became the first Scottish fighter to win one of the competitions.
He wins £25,000 for the achievement but it will also give his career a massive boost and put him in contention for titles.
"This is the best day of my career," said Brawley. "It's absolutely brilliant - I don't know how to explain how good it feels.
"I know I was the bookmakers' favourite but a lot of people thought I wasn't strong enough to win. I've proved them wrong and that I'm one of the best lightweights around.
"The second fight, against Paul Holborn, was the hardest and I didn't feel too good in that but it the final I felt better, although it was a hard, hard night.
"Hopefully, winning Prizefighter will give me a big stepping stone in my career and it feels great to become the first Scottish fighter to win Prizefighter.
"This has put my career back on track now."
It completes a remarkable couple of years for Brawley as he nearly had to quit the sport two years ago after sustaining an elbow injury that threatened to end his boxing career.
Brawley, who was also fighting for the first time since June after having a knee operation at the end of 2008, also defeated Ben Murphy and Paul Holborn before beating Burke in the final.
Burke reached the final in controversial circumstances as semi-final opponent Gary McArthur was stopped due to a bad cut sustained in the opening round. McArthur's representatives claimed it had been after a deliberate clash of heads, although Burke maintained his innocence.
The other results at the Kelvin Hall in Glasgow saw Holborn defeat Scottish Champion Charlie King, McArthur beat Steve Saville and Burke triumph over Stuart Green in the quarter-finals.
This was the sixth Prizefighter event and follows two successful heavyweight tournaments and other exciting competitions at welterweight, middleweight and light-heavyweight.
The next Prizefighter will be on Tuesday, May 19, will again be screened live on Sky Sports and will feature eight cruiserweights battling for the £25,000 top prize.
RESULTS
1. Quarter-final 1 – Ben Murphy lost to Ryan Brawley - PTS 28-29 x 3
2. Quarter-final 2 – Charlie King lost to Paul Holborn - PTS - 27-30 x3
3. Quarter-final 3 – Gary McArthur bt Steve Saville - PTS 30-27 x3
4. Quarter-final 4 – Stuart Green lost to Stephen Burke - PTS 28-29, 27-30, 28-39
5. Semi-final 1 – Ryan Brawley bt Paul Holborn - PTS - split decision - 29-28, 28-29, 29-28
6. Semi-final 2 – Gary McArthur lost to Stephen Burke RSF - R1 - McArthur sustained bad cut
7. Final – Ryan Brawley bt Stephen Burke – PTS – 29-28, 30-27, 30-27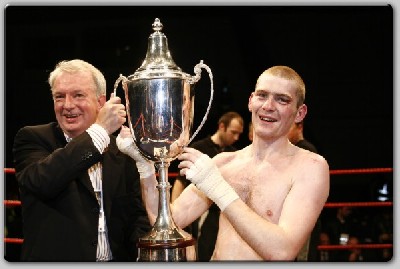 © Lawrence Lustig