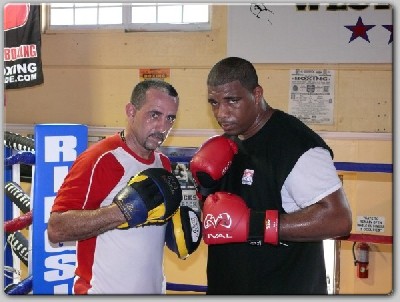 © Arena Box Promotion
In the last couple of weeks it has been quiet around heavyweight sensation Odlanier Solis.
After dominating and stopping "Big Man" Kevin Burnett in his US and ESPN debut on January 9, "La Sombra" suffered a hand injury while preparing for a fight against "Fast" Fres Oquendo.
Now the three-time world amateur champion and 2004 Olympic gold medallist is back in training. According to his promoter Ahmet Öner, Solis will be back soon and better than ever before in his pro career because the 29-year-old is finally reunited with his former amateur coach Pedro Luis Diaz Benitez.
"I always said that Solis will be the next big thing in the heavyweight division", says Öner. "He started off his pro career impressively. He knocked out high quality opponents in his first couple of fights. And he did all that without even working with a real own trainer. He was basically training himself.
"Now we finally managed to bring Pedro Diaz to Miami . I am convinced that working with his old amateur coach will turn Solis into the invincible force that I always knew he would be."
"It feels great do be with my coach again", adds Solis. "I know that I still have to prove myself as a pro. In my two years of being professional I always had the feeling that I got room for development but didn't know how to take the next step. Now I found the missing piece. My coach will lead me to becoming a true champion – as he did in the amateurs."
Pedro Luis Diaz Benitez has been coaching the Cuban National Boxing Team for 15 years working with legends like Felix Savon or Joel Casamayor. He has also worked successfully in Asia and different countries in North and South America making numerous world amateur champions and Olympic gold medallists such as Dominican Felix Diaz Manuel Guzman at the 2008 Games in Beijing.
"I don't want to compare Solis to Yuriorkis Gamboa", states Öner. "But for Gamboa it was very important that we brought his old amateur coach Ismael Salas to Miami to work with him. I think the connection of Solis and Diaz will be similar. They are making a great team and I can't wait to see the results of their work in the ring very soon."
Meanwhile Solis wasn't amused about Fres Oquendo calling him a "Cuban coward" after their fight had to be cancelled due to Solis' injury. "Actually I don't want to comment too much on that", says "La Sombra".
"I will give my answer in the ring by the time we meet. Who is Oquendo to call me out anyways? He has never won anything! Instead of running his mouth he should start training. It won't help him though. He's not even close to being in my league and will get knocked out."