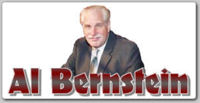 SaddoBoxing has the honor of introducing Al Bernstein and his new exclusive column, "Al Bernstein On Boxing"!
Al is unquestionably the top television analyst in the sport today, appearing on Showtime since 2003 along with stints at ESPN and NBC and currently hosts the Internet's premier boxing channel on iBN Sports.
A winner of the Sam Taub Award for excellence in boxing broadcast journalism, Al is also a recording artist and has appeared on the stages of major casinos and resorts across the U.S.
In addition, Al authored the book "Boxing For Beginners", has written for The Ring and Boxing Illustrated and held the position of Managing Editor for Lerner Newspapers in Chicago.
We now live in a world where perception is much more powerful than reality. We see it in the political arena where spin doctoring by those in office and bias driven reporting by the media often colors public opinion more than actual facts…if we can still ascertain actual facts in that arena.
In America, many years ago there was a television police drama called Dragnet. In just about every episode the chief investigator Sgt. Joe Friday would interrupt a meandering witness by saying to them, "Just the facts." Anyone who is truly involved with the sport of boxing, as a fan, a person who covers it, or someone working in the industry, would probably like to scream that Sgt. Friday phrase at the top of their lungs, to try and make some people actually care about the facts.
The perception by mainstream media outlets and thus many sports fans, certainly in the U.S. and maybe some other parts of the world, is that boxing is a sport that has a damaged product. That, they say, is why it is a niche sport in some countries, like the United States. That is not a fact.
The product is not damaged. I am not a cheerleader for boxing, even though I love the sport, and I certainly acknowledge that boxing does not hold the same lofty position in sports it did even 30 years ago. There are issues the sport faces that will probably always damage it for most sports fans.
Those problems have to do with the structure of the sport that does not let boxing offer the sports fan the one thing he or she needs in a sport…a sense of order. Boxing has too many groups claiming to run the sport, multiple champions in each weight division and more weight divisions than Evander Holyfield has children.
In the 1990's the overall product of boxing WAS added to the list of the problems above. That's when boxing fell into a dangerous abyss. In the 1990's, boxing, for the most part, was not making the best matches and the ones people wanted to see. Since about 2001 boxing has fixed that, apparently without the knowledge of the mainstream media and some others.
This year is exhibit A in making the case for that. Here are matches that have happened already in 2009.
Shane Mosley vs. Antonio Margarito
Juan Manuel Marquez vs. Juan Diaz
Chris John vs. Rocky Juarez
Carl Froch vs. Jermain Taylor
Brian Viloria vs. Ulysses Solis
Tim Bradley vs Kendall Holt
Paul Williams vs. Winky Wright
Cory Spinks vs. Deandre Latimore
Manny Pacquiao vs. Ricky Hatton.
As knowledgeable boxing fans you can look at that list and know that every one of those fights provided one or more of these elements; exciting action, a brilliant performance, surprising results, high drama. If Sgt. Friday were here now he would accept those as "the facts."
Next year I will celebrate my 30th year as a boxing broadcaster, and at no time during that period have I been more interested in the fighters, match-ups and storylines in the sport of boxing. When I guest on a sports radio talk show and they ask me about the "state of boxing" as if we were attending a funeral for the sport, I go into a diatribe along these lines that includes "the facts," and usually startles my interviewer with it's intensity.
Boxing can be criticized for many things, but right now, the product is not one of them. And for all of us who enjoy the sport, that's a good thing.
* * *
This weekend we will all be looking carefully to see if Alfredo Angulo is, in fact, a superstar in the making. This Mexican Olympian has all the right stuff. He is an exciting fighter with a winning personality and the will and savvy to make himself accessible to his fan base.
He has to get by former champ Kermit Cintron this week to earn a world title shot. He is favored to do it, and if he does so in impressive fashion he will enter his name in the sweepstakes as one of the next great Mexican champions. There is no more noble aspiration than that in the sport of boxing.
My guess is he will win this weekend and I think he will become a champion. Anything beyond that is like predicting who Oscar De La Hoya's next trainer was going to be. In other word, good luck.
* * *
In next week's column I'll preview the Miguel Cotto-Joshua Clottey fight and give you a prediction. I think that match will add another exciting match to the list above for the year 2009.
* * *