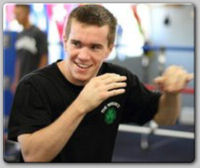 Dublin born Jamie "The Nuisance" Kavanagh is a talented young Irish boxer based in Los Angeles, California who fights out of the Golden Boy Promotions stable and currently trains at the Wild Card Gym under legendary trainer Freddie Roach and Sedano Ruiz.
Kavanagh is a natural in the truest sense of the word; few individuals in any sport have received as many national and international accolades at such a young age. Walking into the Crumlin boxing gym at the tender age of 10 and beginning to compete at the age of 11, Jamie racked up over 180 wins in his amateur career, while losing only twelve bouts.
From the years 2001 to 2009, Jamie attained no less than seven Irish national titles and six regional titles. Since turning pro as a light welter in May, 2010, Kavanagh, now 21 years of age, has recently fought as a lightweight, decisioning Marcos Herrera in July to improve his record to 8-0 (3).
SaddoBoxing: What got you into boxing in the first place? Which fighters have inspired you?
Jamie Kavanagh: Boxing has always been in the family and it's just one of the things you're gonna try out when it's your time. There's a lot of fighters who have inspired me. I train with two, Manny Pacquiao and Amir Khan. They have done so much - Manny has eight different titles in different weights.
Also, the way Khan started at such a young age and came through everything, the ups and the downs and now he's world champion. All through the years, there have been so many [inspirational fighters] and just too many to mention cause today I sparred one in Manny Pacquiao and saw one spar today, which was Amir Khan in the the gym, which is weird.
SB: I know that your amateur record was fantastic, but what difference have you noticed going from amateur to pro?
JK: As an amateur, you do so good then it's kind of out of your hands because it's up to the national team to pick you and help further your career, where professional is kind of taking it into your own hands a bit more.
They're both hard in there own ways, but professional is harder because of the sacrifices made and living the life as a fighter. The training is hard but you have to be away from your family and friends, that's the hardest sacrifice you have to make in this profession.
SB: Who has been your toughest opponent, amateur or pro, to date?
JK: As an amateur, it's hard to say because there's been so many fights, maybe the quarterfinal of the world championships in Mexico. I boxed a Czech Republic boxer and he was the favourite in the tournament, he was so much more stronger and developed than I was.
As a pro, I would say my last fight in Las Vegas against the Mexican, Marcos Herrera. He was tough and took some punches. He had a hard head. I have only had eight professional fights, so I'm sure to have harder fights in the future.
SB: What are your biggest aspirations in boxing?
JK: Winning a world title is every one's dream and one of mine, of course. If you don't aim high then your aiming in the wrong direction, so if you aim as high as you can, that's best. That's also why I came to America. The best boxing is here and I want to learn my trade from the best in the business.
SB: What was the reaction of your family when you first told them you wanted to be a fighter?
JK: They have always supported me in everything I have done, which is great because some parents wouldn't understand. But like I said, it's been in my family so it wasn't really a shock at all. My mum gets very nervous, but my dad's always with me so that kind of takes the nerves from him because he sees how hard I work.
SB: What was it like making your professional debut at New York City's Madison Square Garden on May 15, 2010?
JK: Yeah, it was an experience in itself, just being there watching a world title fight but then to actually be part of the event was awesome. Everyone was coming up to me, asking for photos and this and that. I was kind of taken aback slightly, but it's great.
SB: Can you tell me what it's like to be trained by the renowned Freddie Roach, along with your amateur trainer Sedano Ruiz?
JK: Yes, it's great. Just small things Freddie tells you makes all the difference, but when the big guys like Amir and Manny are around it's hard that's why I have my other coach. There isn't a big difference between them both, Sedano knows me better than my parents and understands everything so well. I am lucky too have someone like that, especially at this stage in my career. It can be the worst thing in the world sometimes, being away from everyone.
SB: You have been sparring recently with Manny Pacquiao. Can you describe for us what that experience has been like for you?
JK: Yes, I have been brought into Manny's camp as a sparring partner for the Marquez fight. I have sparred Manny before for the Clottey fight, but to tell you the truth, it does feel like its the first time. Manny is amazing and it's such a great experience for myself, to share the ring with a legend like Pacman.
SB: You're a young talented up and comer in the combative world. You have a fight coming up hopefully on the Amir Khan vs. Lamont Peterson bill on 10th December in Washington. How are you preparing yourself for this bout?
JK: I was due to fight on the 28th of October but it got cancelled. So, we have gone into camp with Manny and then we will come out and keep it on the straight and narrow until the Khan undercard. The training will start to pick up closer to the fight, but we will keep in shape at the moment.
SB: All of your pro fights have taken place in America to date, bar one that took place in Manchester, England. Why is it that you have not fought professionally in Ireland and would you like to in the future?
JK: Of course, they say there is no place like home and I'd love to fight there. People ask me that everyday, but to tell you the truth people start over there and after a while want to come over to the US.
I came here to start it off and learn from the best, like I said, but when I get a chance or an opportunity to fight at home I will. I'm with Golden Boy Promotions, so it would be good if they could sort stuff out for a chance to fight at home.
SB: How would you describe your fight style?
JK: My fight style as a boxer is to break the opponent down little by little. When you see that happen, sometimes it's better than watching a knockout because you get to show everything, then the KO comes. You kind of take everything away from the opponent and then knock him out.
SB: Favorite all time boxer and favorite fighter at the moment?
JK: I like Nigel Benn and Thomas Hearns, I like those aggressive styles. I don't try to act like them the way other fighters do. I also like the boxers like Sugar Ray Leonard, but then again, who doesn't? People that like him know boxing. It looks like he runs, but he doesn't he's boxing and that's the difference.
SB: What do you do when you are not boxing?
JK: I just spend time with my girlfriend or with the family. There's not a lot really, I just like to relax and forget about the boxing, that's all.
SB: What would you do if you weren't a boxer?
JK: If I wasn't a boxer, I'm not sure. That's a hard one because it's all I know is to fight. Maybe I should have stayed in school but then I wouldn't be where I am now, which is funny. I wouldn't mind being a Fireman, I always thought that was a good job and you also have to keep in shape, which is good.
SB: I ask everyone that I interview this question; do you think that the Mayweather vs Pacquiao fight will happen and if so, who will win and why?
JK: I'm sick and tired of hearing that question, to be honest, and I think if the fight happens it's not going to be what people expect because it has been blown up so much. Look at all the ones that have been blown up: Tyson vs. Lewis, and more recently, Haye vs. Klitchsko. People make them so big and put them on a such a high pedestal that the only thing they can do is fall.
Would I like too see it? Yes. That's just to kind of put my head at rest, but I don't think it will happen. If it did I'd like Manny to win cause its Mayweather's fault it has been dragged out this long, with all his nonsense talking about drug tests and things like that.