By Nick Chamberlain May 26th, 2012 All Boxing Articles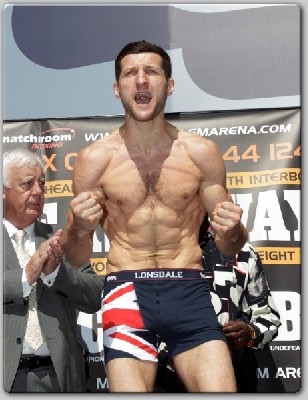 © Lawrence Lustig
Carl Froch 28-2-0 with 20 KO's, has most certainly earned his place amongst the top super middleweights in the world.
Lucian Bute has not.
Yes, Bute is an extremely talented fighter and the IBF champion but his record is not of the same quality as Froch's. This Saturday will be his Montreal resident's hardest fight on paper, and in reality.
Bute, 30-0-0 with 24 KO's, has only fought outside of Canada four times, and two of those were in Romania, his birth place. He is used to having home crowd support and being the favourite going into a fight.
This fight takes place in Nottingham, England Froch's back garden, where Bute will have little if any support.
The fighters Bute has faced are standard of an up and coming fighter, so yes he is undefeated but he should be beating those kinds of fighters, Zuniga, Andrade, Miranda, Brinkley, and Magee.
And even then he had a bit of a controversial ending to the first Librado Andrade fight, where he had won every round and out boxed Andrade, but Bute had run out of gas and was getting caught, he looked gone and was dropped late in the round.
The referee gave a long ten count, stopping half way through to order usher Andrade back to a neutral corner, which, incidentally, gave just enough time for Bute to be saved by the bell…and he needed it.
In the rematch, Bute destroyed Andrade, and looked really good in the process. Andrade went in with the attitude of 'You can't hurt me, I have felt your power, and I will walk through you'. Bute stopped him with a peach of a body shot in the fourth.
This is what should have happened in the first meeting.
Andrade, though, had already shown the world that Bute could be hurt. Not by a technical boxer, who could out box him or by some one who was faster or a defensive master, but by someone who was tougher than him. Ok, Andrade is tougher than most but Froch is no push over himself.
Only having been caught with a flash knockdown, given to him by Jermain Taylor, we have not seen Froch in the kind of state Bute found himself in against Andrade.
Froch is old school and has no problem fighting the best wherever that may be, whenever that may be.
Froch has fought solid opposition and even in his two losses, to Andre Ward and Mikkel Kessler, both on their turf, he has never really looked completely outclassed or in trouble, he looks like he belongs there.
Andre Ward is a superb talent who will go on to even bigger stages in his career; he is pretty much a complete fighter.
The Kessler clash had a slight smell of hometown decision, but it was by no means a robbery, both men fought hard and it was a great fight.
Along with the losses to Kessler and Ward comes wins against Arthur Abraham, Glen Johnson, Andre Dirrell, Jean Pascal and the already mentioned Taylor .
Win or lose, that's a great deal of international elite level experience.
Froch's strength's are his work rate; he has a great engine and always shows up in great condition, his chin, which is very solid and almost makes up for his perilously low held left hand, and he can bang a bit.
It is the pressure he will put on Bute that will be telling.
That being said, Bute has his own strength's as well. A southpaw who can hit hard, although the only measuring stick we have for that at World level is Glen Johnson…and Johnson is incredibly durable, neither Bute nor Froch could stop him.
Bute has good movement and footwork, and is a good counter puncher.
If Bute sticks to his game plan and out boxes Froch, he could make it an easy night's work for himself, Froch is going to want to drag him into a fight. And Bute could end up like he did with Andrade.
Not being able to hurt a man who wants to walk you down and punish you can break a fighter's heart. These are the tests that are expected of you when you are a world champion and Bute needs to look good because Froch will, as always, bring his best to the ring.
If prompted to pick a winner, I would say Bute over the distance but I would not be surprised at all if the opposite happened, and almost more importantly this fight will answer the question of whether or not Bute is an overprotected hype job or not, we know Froch belongs up amongst the best, we will find out Saturday Night if Bute belongs up there too.
Click to read more boxing articles by Nick Chamberlain
Discuss in Boxing Forum
---