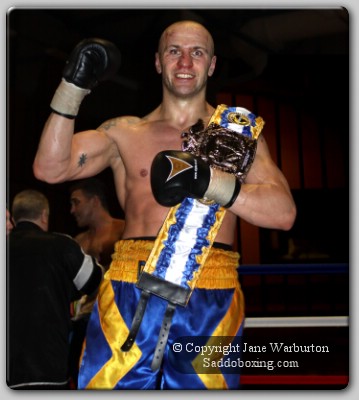 Click the above Image for more Louis Cuddy Vs Paul Drago Photos
At the Robin Park Arena, Wigan, last night, Paul Drago won the International Classic Challenge Belt by stopping Louis Cuddy in the sixth round.
The Steve Wood – VIP Boxing Promotions event featured seven contests in total. Results as follows:
Louis Cuddy (Liverpool) v Paul Drago (Bolton via Lithuania)
10 x 3 Cruiserweight Contest for the 'International Classic Challenge Title'
Drago (aka Pav) has the better start in round 1 but Cuddy settles in later in the round and starts to land body-shots. It's a better round 2 for Cuddy who begins to offload more body-shots and some great uppercuts.
Each time Pav lands a shot – Cuddy makes him pay for it (!) and his uppercuts this round become more frequent. Pav sustains a cut to the right eyelid and in round five sounds like he is having trouble breathing through his nose. Both men tire this round but Cuddy is on the canvas in the sixth from a head-shot. He takes his time to get up but makes the count. Referee Mark Lyson waves the contest off in 2.38 minutes of round 6.
Paul Drago wins by TKO Round 6
Artif Ali (Accrington) v Russ Midgley (Leeds)
4 x 3 Super-Featherweight Contest
Ali wins on points 40-36
Tom Barlow (Wigan) v Nathan Hardy (Debut)(Sheffield)
4 x 3 Welterweight Contest
It was a wobbly start for the debutant but he settled in later in the round, then stunned everyone by landing a peach of a shot in 2.38 minutes of round 2 which floored Barlow. The Wigan man had fallen heavily face down and the fight was stopped immediately while he was given attention by ringside doctors. Thankfully he eventually got to his feet to see Hardy's hand raised.
Hardy wins by second round KO
Lloyd Campbell (Liverpool) v Lewis van Poetsch (Lydney, Glos.)
4 x 3 Super-Middleweight Contest
Campbell wins on points 40-37
Sean Lewis (Birkenhead) v Sonny Whiting (Rochester)
6 x 3 Middleweight Contest
Lewis wins on points 60-54
Chris Conwell (New Moston) v Youssef Al Hamidi (Dewsbury)
4 x 3 Super-Lightweight Contest
Conwell wins on points 40-37
James (Jay) Farrell (Liverpool) (Debut) v Elvis Dube (Derby)
4 x 3 Cruiserweight Contest
A cautious start to round 1 for the debutant but he opens up in the last half minute of the round. There was hardly a punch thrown at the start of round 2 and Referee Darren Sarginson tells them to 'pick it up' so Farrell goes for it in the second half of the round.
A close contest but Farrell nicks it with a points win 38-37