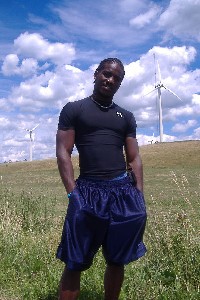 Prize Fight Boxing will host their latest installment of "Fights at the Fitz" tonight at the Fitzgerald Casino and Hotel in Tunica, MI. Although the main event will feature a battle for the NABO Featherweight title between Rafael Valenzuela 9-1 (4) and Robbie Cannon 10-1 (6), many fans will be on hand to watch hot new middleweight prospect Fernando Guerrero 2-0 (2) in his third professional fight.
Guerrero is a native of the Dominican Republic and moved to the United States with his family when he was eight years old looking for a better life. After a few years in Buffalo, New York his parents settled in Salisbury, MD where he got his first experience with boxing at the Main Street Gym with Hal Chernoff.
"I was always an athlete and started boxing pretty quickly," recalled Guerrero as he reminisced about following his two older brothers to the gym at age fourteen. "I had only been training for two weeks and had my first competition. I was always doing other sports in school so I was a fast learner."
When asked how he did in that first bout with two weeks experience Guerrero laughed, "I lost but I didn't do that bad." In retrospect the early loss was probably the best way for him to begin his boxing experience. "I had a person that obviously had more experience than me and he knew a lot more than me but that's not what really caught my attention. I lost and I didn't like it and I never wanted to lose again."
Within the next two years Guerrero won the Junior Golden Gloves and the International Junior Olympics at the age of sixteen as a Dominican. When he turned seventeen he began competing in the open class winning silver at the National Golden Gloves.
The highlight of his amateur career came in June of 2007 at the U.S. National Championships in Colorado Springs. Guerrero forced Terrance Hanaway of Lander, NY to retire, and then stopped Donta Woods of Atlanta, GA, before defeating Shawn Porter of Cuyohoga Falls, OH in the finals. This victory gave him the number one amateur ranking in the country.
Guerrero recalls dreaming of going to the Olympics, "When I was fifteen my brother Carmello Guerrero made it to the USA Nationals and whoever would have won that would have a spot on the 2004 USA Olympic team. What really left an impression on me was watching the top guys signing autographs and being interviewed and I thought that's where I want to be. I saw Andrew Ward, Lamont Peterson, Rock Allen and Dirrell; I saw them all, I was right there with my brother and I wanted that for myself."
Although he wasn't able to make the 2008 Olympic team Guerrero was not discouraged and took the opportunity to become a professional fighter. "I didn't make it to the Olympics and I've gone as far as a person can go; I felt it was time." His manager Hal Chernoff agrees and feels his style is better suited for professional fighting rather than the point system of the amateurs.
After five months of negotiations a multi-year promotional contract was signed with Prize Fight Boxing. "We are obviously very excited to sign with Prize Fight, they have a great reputation as one of the best promoters in the business… we are looking forward to getting in the ring and fighting our way to the top, we could not be happier," said Chernoff.
Guerrero made his professional debut in December against Derrick Douglas forcing a stoppage at 1:22 of the second round. In January he needed only 1:03 to knockout Anthony Reese in the first round utilizing his speed and power.
In some ways Guerrero finds the professional ranks to be easier than the amateurs, "I always expected the pros to be a bigger challenge but when I compare it to the amateurs I was fighting five days straight; fighting the top guys in the country and in the pros I'm fighting about once a month."
Guerrero and his team hope to gain national exposure later this year with securing a date on ESPN's Friday Night Fights. Like Kelly Pavlik before him the Guerrero team looks to move up the ranks of the middleweight division to win the title and put his hometown of Salisbury, MD on the map.