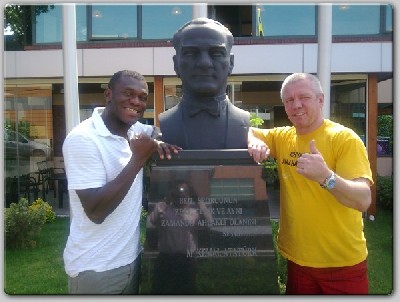 © Arena Boxing
While preparing for his upcoming fight next Friday, June 26th, in Völklingen, Germany at a training camp in Istanbul, Turkey, Herbie Hide again called out Marco Huck to face him within the next couple of months.
"You see, there is one thing about Marco Huck I just don't understand", says Herbie. "How can he keep on ignoring me when I am not only living, training and knocking out people in his home country for more than two years now but also continuously calling him a coward and a pussy?
"Not only that I have called him out several times I have insulted him. If somebody would do something comparable to me in England I would kick his ass right out of the country to wherever he belongs.
"Still Marco Huck refuses to even react to it. This shows me that he and his handlers must be very afraid of me. I can't blame him though. If Marco Huck ever dares to step into the same ring as me I will deliver the worst thrashing he ever got in his whole life."
One of the "Dancing Destroyer"'s sparring partners in Istanbul is Huck's last opponent, Vitali Rusal. "I cannot believe that it took Huck five rounds to get rid off this guys", adds Herbie. "I have been beating him up so bad in sparring that they had to stop the session after two or three rounds although I was only playing."
Hide's trainer, former world champion Graciano Rocchigiani, would also love to see his protégé take on Marco Huck.
"I believe this would be a huge fight in Germany ", states Rocky. "Both men are well known. They are both heavy punchers as well. So I am pretty sure this one would be short and very entertaining. Herbie would certainly beat Marco Huck. He is in a different league as far as technique and experience are concerned."
Actually Hide is the mandatory challenger for WBC world champion Giacobbe Fragomeni who recently defended his title by draw against Krysztof Wlodarczyk. "It is certainly hard to get a decision win against Fragomeni in Italy ", explains Herbie.
"But I would fight him wherever he wants anyways. Judges can do a lot but they can't steal you a k.o.-win. And that is what I will deliver. Fragomeni doesn't stand a chance against the 'Dancing Destroyer'. I will be the next cruiserweight champion of the world."
The show on June 26th at Hermann-Neuberger-Halle in Völklingen will be broadcasted live on Eurosport.
Besides Herbie Hide the international card also features German heavyweight prospect Steffen Kretschmann in his toughest test so far against Russian Denis Bakhtov and the WBC international middleweight championship between Kofi Jantuah and Dmitry Pirog.
For Tickets visit www.eventim.de or www.boxgala.tv