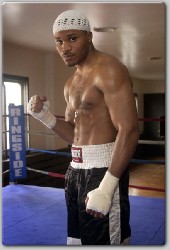 Sensational amateur boxer Naziyr Bell will move to the professional ranks on Saturday, August 1st as he makes his pro debut at an evening of world class boxing, presented by Chet Koerner's TKO Boxing Promotions, at the Sovereign Bank Stadium.
A native of nearby Lancaster, Pennsylvania, Bell finished his amateur career with a record of 93-7. The 27 year old father of three was a five time Pennsylvania State Champion, most recently winning the 2009 Pennsylvania Golden Gloves.
Guided by longtime trainer Barry Stumpf, Bell will make his pro debut in a scheduled four round light heavyweight bout.
"Naziyr has been a fantastic amateur and his world class skills will really have an impact in the professional ranks. We're glad that he's making his pro debut so close to home as there will be a large contingent of fans from Lancaster " said Stumpf.
"He's overcome a lot in his life. When I first met him he was at the ARC of Lancaster for at risk kids. Now he's a counselor there, helping other kids, he's really turned his life around and making his pro debut is a huge personal step for him."
Said Chet Koerner, "As a promoter you're always on the lookout for new talent. I've heard great things about Naziyr for the last couple of years and TKO Boxing is proud to have him on our show in York for his pro debut."
More information on Bell 's pro debut will be announced shortly.
Also appearing will be York's Carney Bowman, 13-0-0 (5KO's) Eric Nemo, 7-1-1 (3KO's) and Stevie Weimer, 3-0-0 (2KO's), Dominican knockout artist, welterweight Francisco Contreras, 9-0-0 (9KO's), Johnstown cruiserweight Andres Taylor, 8-1-0 (4KO's), undefeated featherweight Rafael Lora, 10-0-0 (5KO's) and undefeated Philadelphia middleweight prospect Dennis Hasson, 8-0-0 (2KO's).
Additional information on amateur bouts will also be announced shortly.
Tickets, starting at $20 for general admission in the grandstand of the stadium, can be purchased in advance through the York Revolution Box Office (717-801-HITS, www.yorkrevolution.com ). Ringside table seating is also available through the box office.
Sovereign Bank Stadium is operated by the York Revolution Professional Baseball Club, a member of the Atlantic League of Professional Baseball. Sovereign Bank Stadium is located at 5 Brooks Robinson Way, York, PA 17401.
For more information, please call 717-801-HITS (4487), or visit the Revolution online at www.YorkRevolution.com.
Photo Credit: Lancaster Intelligencer Journal