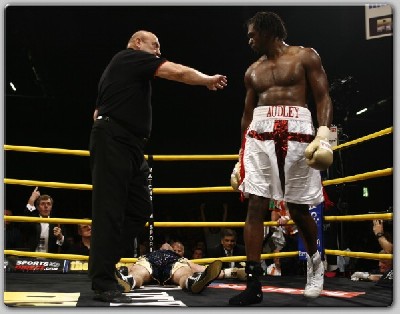 © Lawrence Lustig
The latest edition of Prizefighter, Heavyweights III, was highly entertaining with well-known fighters in the equation of Audley Harrison, Danny Williams and Scott Gammer. The tournament had decent domestic talent in the mix despite Michael Sprott's withdrawal.
Harrison and Williams were touted to meet each other in the final. Williams, the current British Champion, and Harrison, who was heading for great things once upon a time, had met twice before with a points victory for Williams and a stoppage victory for Harrison on the books. Both were looking for redemption.
Harrison has always been the most frustrating fighter, in the respect that we all know he has the skills of a counter punching skilled southpaw, but he just decided to never use them. He would prefer to put a couple of rounds in the bank and then coast nice and safely to victory by holding and spoiling, which aggravates the fans, and after he was knocked out by Sprott in 2007, it seems he was scared of it happening again so never fully engaged.
Worse was the fact that he never seemed to understand why the British fight fan never got behind him, when it was quite obvious, and he continued to speak of this ever elusive world title that he craved so much.
But the fans were fed up of hearing about it when he just didn't fight in the ring. After a losing effort against former Prizefighter winner Martin Rogan, Harrison claimed, "I am still going to win my world title by 2010, I am still world title material". A baffling statement to make after a British title fight loss.
This in a nutshell is why the British public never really got behind Harrison; fed up of his lack of drive when he stepped in the ring, and fed up with the grandiose self-proclamations even when he had just lost a fight.
During this past weekend's Prizefighter, we saw a different Audley Harrison. The first fight saw him in the ring with Scott Belshaw, a former Tyson Fury victim, and Harrison, after entering the ring to boos, knocked Belshaw out with some great counterpunches in the first, and was not extra-cocky afterward. There was none of the previous bravado…even though he had just done a number on his opponent.
The second fight was against novice Danny Hughes and unfortunately, we again saw the Harrison of old; scared to take chances, happy to hold and spoil when Hughes turned it up, content to sit and pick him off with the jab and winning on the scorecards.
However, the final saw Harrison again change his tactics when meeting Irishman Coleman Barrett. The first round looked a bit shaky for Harrison but he ended Barrett in the second with good-looking power punches on the counter, and again was quite humble afterward.
Harrison now feels that he has his redemption after winning those three fights. But, they were three round clashes, a distance to which he was and to a certain degree, still is more accustomed to. That's the distance where he had a great deal of his accolades i.e. Gold at the Commonwealth Games and at the Sydney Olympics. And so, Harrison feels that he is once again ready for a world title shot.
With his record now standing at 26-4 (19), and aged 37, he isn't exactly past such things, but then again, Audley is no spring chicken. The path he chooses now will determine whether he gets that world title shot or not as this is last call.
Domestically, Harrison has some old foes in the mix who would love to send him to retirement.
Danny Williams would obviously love another crack, to be honest, I doubt we will see Williams again after this past weekend's Prizefighter performance. Martin Rogan, the winner of the first Prizefighter, has already beaten Harrison on heart, determination and grit alone, Harrison probably would not want that fight again.
Harrison would likely avoid a rematch with Michael Sprott after the knockout loss he suffered. After all, if Williams, British champion was beaten in the first round of Prizefighter and thus has vacated his belt, I think that we will see Harrison try and pick that up, perhaps against the winner of the rematch between Rogan and Sam Sexton when they go at it for the Commonwealth crown.
If Harrison defeats either Rogan or Sexton, and that's a big if, then it's expected that he will probably go for European honours,a title which is currently vacant.
That would be a big step up as there are some danger men in that division. Not only that, but to Harrison's probable annoyance, Sexton, Rogan, Matt Skelton, Williams and Sprott are currently all rated above him in the EBU rankings.
Recently, it has been rumoured that Skelton may not fight again; Williams said he would subsequently retire after the Prizefighter loss; Sexton and Rogan are to fight again, which leaves Sprott.
At the top of the EBU leader board we have David Haye and Alexander Povetkin, people Harrison does not want to tangle with, but should he manage to wrangle himself a meeting with second ranked Alexander Dimitrenko for the vacant EEEU title, there is a chance for Harrison.
Being away from home has to help Audley as he gets no love from the British fight fan, which is a shame, but a bed that he himself made.
Perhaps setting him up for a world shot somewhere down the line, is a bout against Francesco Pianeta, the European Union champion. As Pianeta previously beat Scott Gammer and Matt Skelton, Harrison might feel this is the right fight for him as in effect it is extra accolade along with an EU title!
The only problem is that we have seen it all before, heard it all before and watched it all go down the drain! Harrison is capable of being an excellent boxer, but we saw the best of him in Prizefighter because it is as close to an amateur tournament as you are going to get, with three rounders, and Harrison is comfortable there.
Back in the pro game however, there is a strong chance we will see the Harrison of old; boxing well for a couple of rounds and then losing confidence and heart, seeing flashes of brilliance but generally monotonous mauling.
If Harrison had boxed through his career like we all know he can deep down, then I wouldn't be asking if he could be British Champion again or maybe even at a stretch, EU Champ…he would have been world champion a while back.